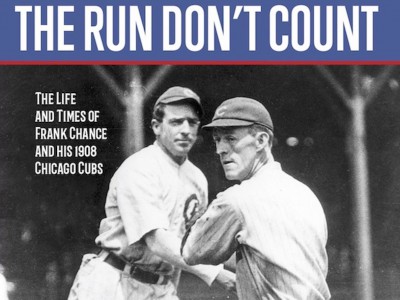 I've filled several requests for signed copies of my novel, The Run Don't Count: The Life and Times of Frank Chance and His 1908 Chicago Cubs. It's pretty clear that's a popular way to go
I'm feeling so honored. I'd like to handle the requests in a timely fashion that doesn't have any of us playing Beat the Holiday Clock.
So here's the deal: A 48-Hour sale. Ends midday Wednesday, so I can ship them all that day.
Limited quantities. Seriously limited.
If this shortage of books makes me a bad businessman, well, duh. . . I spent my life in newspapers. Remember them? But this will help me figure out how many more books to print. And I will be thrilled to do more signed books when I have them.
I know I'm no "Chubby Charlie'' Murphy, who was a sportswriter before he went on to fortune and infamy as the Cubs' owner. (It's all explained in the book.)
This also makes me think of my dad, who owned a small Rexall drug store in Lake Zurich, when Lake Zurich was so tiny that a 10-year-old me and Dad's high-school clerk, Drew, could paper the whole town with fliers for the Rexall one-cent sale on a Saturday and still have time for a burger at the Dew Drop Inn.
Dad, who moved an amazing amount of holiday merchandise at his little store, would be grinning from ear to ear, and laughing his butt off inside—at his son's limited retail skills.
Let me know who to inscribe it to, and any message you would like—or if you would like to me to add something Cub-fan relate. $25 per book. I can do Zelle or Venmo. First come, first served at herbgould85@gmail.com.
And of course, The Run Don't Count is available at Amazon Books in paperback and Kindle versions.
Happy Holidays! And thanks for reading.