A golf trip across the pond tends to be a sensory overload. Days are jam-packed with golf on unfamiliar courses that fill the senses and the brain with wonder and challenges.
Unique and fascinating holes. Blind shots that test the mind. Starkly beautiful seaside dunes. Fearsome pot bunkers and gorse. Fescue that can be wispy and understanding, or thick and unforgiving.
Nowhere do these sensations come together more intensely than Royal County Down, the wonderfully beautiful but relentlessly challenging links course that is routinely ranked among the best courses in the world. It placed sixth on the Golf Magazine list, behind Pine Valley, Cypress Point, Augusta National, the Old Course at St. Andrews and Shinnecock Hills. Golf Digest ranks RCD fourth behind Pine Valley, Cypress Point and Augusta National.
County Down is well deserving of its laurels. Set along the Dundrum Bay Coast about 30 miles south of Belfast in Northern Ireland, the current layout dates to 1889, when Old Tom Morris was brought over from Scotland to turn it into an 18-hole championship links.
Over the years, notables including Harry Vardon and Harry Colt have added their tweaks.
The course Liz and I found was gorgeous and diabolical.
If ever there was a course that demanded straight tee shots, Royal County Down is it. We were blessed to play on a warm, sunny day, with a relatively mild breeze. Even so, there were a couple of times when I thought I had split the fairway, only to find I had missed the narrow strip of short grass.
Even worse, there were other times when I hit one of my low-trajectory screamers that would have traveled forever at the Old Course or Royal Dornoch or Cruden Bay.
At Royal County Down, the low shots merely slammed into one of the high dunes that stand between the tee box and the fairway.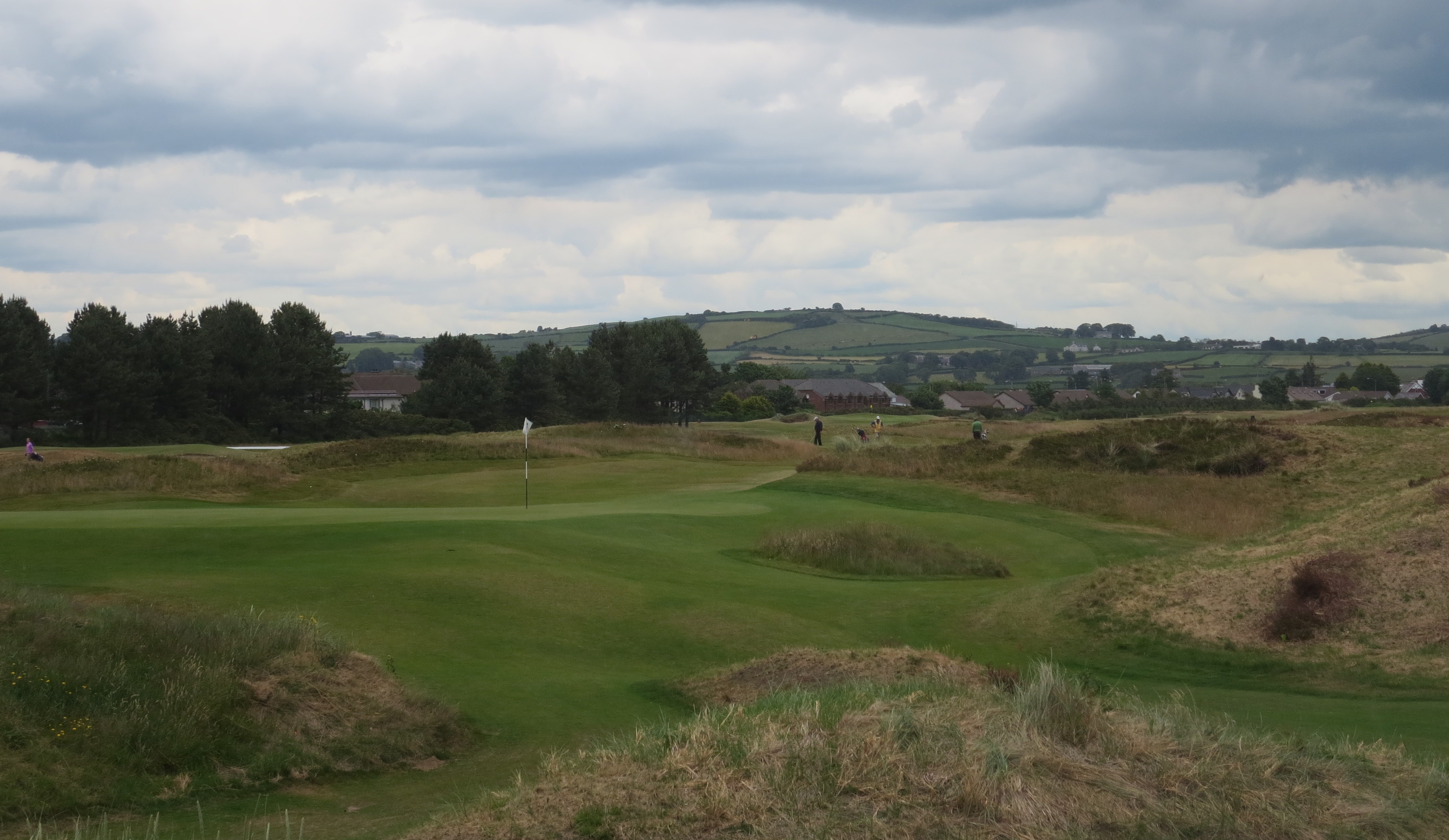 One of the problems is that the most forward men's tee is nearly 6,700 yards.
Legend has it that Old Tom was offered a fee of "no more than four pounds'' for his design services.
I would have happily chipped in a fifth pound for another set of tees to accommodate us short-hitting old guys. But that's the end of my rant.
Royal County Down is famous for not taking prisoners who are far more famous than me. Rory McIlroy didn't break 80 in his opening round at the 2015 Irish Open, and McIlroy's foundation is the official host of the tournament. Meanwhile, his pal Rickie Fowler, who famously dueled McIlroy in the 2007 Walker Cup matches at RCD, finished 8-8 on the last two holes of the third round. A pair of snowmen. Seriously.
Just as Fowler eagled the par-4 16th before going quad-triple on the final two holes, I enjoyed a couple of decent moments at Royal County Down.
One was at No. 4, a majestic 202-yard par-3: "From the elevated tee, the view is one of the most breathtaking in the world,'' the yardage book advises. Tuning out all of that scenery, I placed a 3-wood pin-high, and made tap-in par after narrowly missing a birdie 2.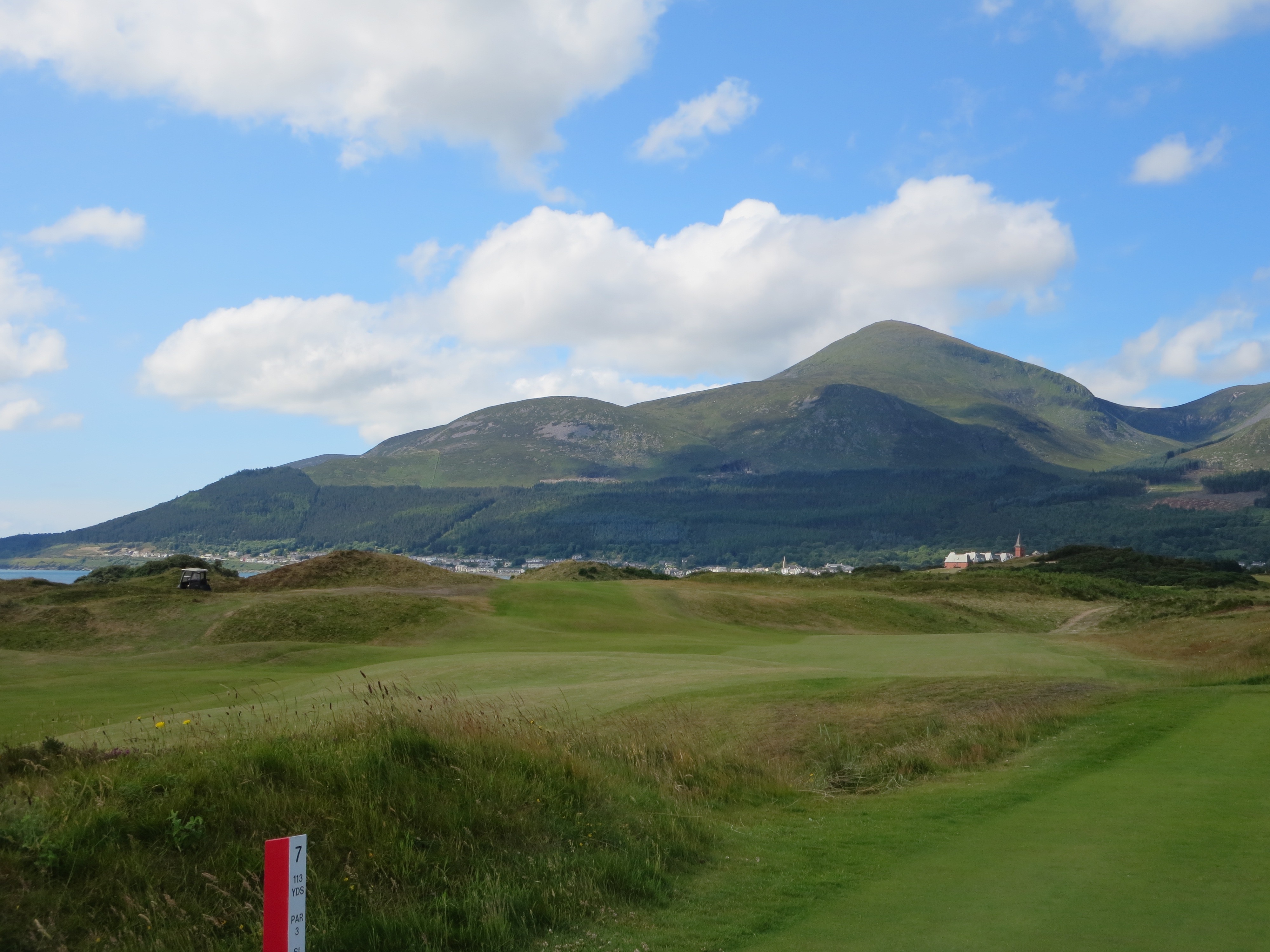 We quickly got back to reality on No. 6, one of RCD's many forced tee-shot carries over a fescue-laden dune. Neither Liz nor I fared well, but a sentinel, Alan Deane, helped us locate our balls, which we popped over the hill on this short par-4.
"You just kept the momentum going,'' Alan said. "Very good. Not everyone does that here.''
What he meant was, some visiting players, expecting to play better, become flustered when they struggle at this wonderful but difficult golf course.
Liz and I have learned to check our egos at the first tee of courses like Royal County Down. If you're going to let errant shots and lost balls spoil your day, your day is sure to be spoiled on demanding courses like these.
On the next shot, I hit one of my long bump-and-runs, then enjoyed watching the ball skitter about 120 yards to the back of the green, leaving me a 15-foot par putt despite the tee-shot disaster.
I'm sure the foursome watching from the seventh tee was wondering if I was good, or lucky. I strutted to the green as if I were the former.
And so it went. We plodded along, enjoying the good shots, and tuning out the others. This was a perfect weather day at Royal County Down, among the most scenic golf settings in the world.
Every hole provides its own little drama. The terrain twists and turns. The bunkers and dunes all fit together neatly to test and reward. And the views of the sea and Mourne Mountains complete an enchanting setting.
After the round, we enjoyed a pint in the clubhouse, then wandered around Newcastle. Our B&B was only about a mile from the course, and right on the seaside promenade of this blue-collar resort town.
The non-golfing tourists who predominate this area take advantage of the many outdoors activities in the Mourne Mountains, which overlook Newcastle.
The Irish, like people in the U.K., tend to be hearty beach-goers who are undeterred by temperatures that would send Americans clamoring for more layers.
But the promenade, which overlooks a tide that rolls in and out for hundreds of yards, was recently renovated, and very pleasant.
We also were amazed to find a remarkable restaurant, Brunel's, that would fare well in Chicago's dining wars. Its modern and tempting menu was remarkable.
That was a bonus. We also had a good meal at Hunter's, across from the Slieve Donald Hotel, which is next to the golf club.
But our reason to visit Newcastle was the golf at Royal County Down. And it did not disappoint.
For more information, visit the website, http://www.royalcountydown.org/
————-
Please click on photos for an enlarged view.