PITLOCHRY, Scotland—Fortified by Castle Stuart fish & chips, we made our late-afternoon drive back down the now-familiar A9 to Pitlochry, a 90-mile trip that took a little under two hours.
Having changed plans on the fly, we didn't have a room booked. Pitlochry is filled with so many B&Bs and hotels of all shapes and sizes, we didn't think that would be a problem. Imagine our surprise at seeing all the "No Vacancies'' signs when we returned. Even though it was about 8 p.m., it was a Thursday night.
We cruised slowly through the winding lanes just above main commercial district, which is basically one long road. Finally, we saw a place that didn't have a "No Vacancies'' sign, the cozy-looking Birchwood Hotel, so we pulled in.
A distinguished older gentleman behind the desk said, Yes, he did have one room left. We asked if we could see the room, and after a walk up the Agatha-Christie staircase, we found it very comfortable. The room not only included breakfast; the Birchwood even took credit cards, unlike the B&Bs we'd stayed at.
"Of course,'' said our host, Birchwood owner John Holmyard, bemused by the credit-card question, which brings head-shaking at many B&Bs. "But I'm afraid you've missed dinner, so you'll have to go out if you want to eat.''
"The room includes dinner, too?'' I said.
"Oh, no, it's not included,'' said Mr. Holmyard, again amused by his American guests. "But it is, or was, available until 8.''
This wasn't really an issue for us. We'd never expected this little inn to even have an evening meal, and we weren't really thinking about dinner after downing that shockingly massive order of fish and chips at Castle Stuart.
"Is there a pub nearby that you would recommend?'' I asked. The many Highlands distilleries we had driven past the previous two days, I was thinking it was time to sip a single malt or two.
"I'm afraid most of the pubs also have stopped serving food, or will very soon,'' he said. "But you might try the Moulin Inn. It's very nice. They may still be serving. And they brew their own beer. A very good place. Just go out, turn right and walk up East Moulin Road about half a mile. It's uphill. The good thing is, the walk back is downhill.''
And so, we started walking up the narrow lane, and I do mean up—past B&Bs and private homes. The walk was longer than my thirsty taste buds had anticipated—.8 of a mile. But the scenery was pleasant, especially when we heard the ba-a-ing of sheep up ahead.
On the right side of the road, the houses had given way to a pasture, and little lambs were grazing just beyond a fence.  Farther down the pasture, many big sheep seemed to be nestling in for the night. At this point, we were looking down into a valley. Beyond it were more green hills. All very nice, very Highlands.
But the Moulin Inn was still nowhere in sight, which was disappointing. We passed the Pitlochry high school and then encountered one of those old-fashioned British telephone booths. I considered entering it, Dr. Who style, and seeing if it might transport us to the pub, but decided the Moulin couldn't be far ahead.
It wound up being farther than I'd expected. But when we turned the corner, we knew we had been steered to the right place.
The Moulin Hotel and Brewery was bustling inside, but a nice covered courtyard had seating. Not knowing the drill, we walked past the busy tables in a narrow dining area to the cozy bar on the left, and selected a couple of the brewery's four selections to share, choosing half-pints to allow room for the others. As a homebrewer, I like to survey the landscape. And I did want to leave room for a wee single malt.
Liz and I took our first round of beers and found an umbrella table on the patio, where some people were finishing dinner. Having finished my half-pint quickly, I returned to the bar and ordered the two Moulin beers we had not sampled.
"Sorry, we don't have the lighter one,'' the bartender said, explaining that, due to the record heat wave, the beer had acquired an off-flavor. "We should have it corrected in a day or two.''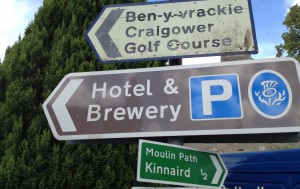 No problem, I said, explaining that I was a home brewer and understood. This led to a conversation with an older gentleman at the bar about how the UK's mega-breweries were swallowing up all the small breweries. I mentioned that that was not unique to the UK; in the U.S., the big breweries even tried to hide their ownership of former micro-breweries from their craft-beer customers.
Realizing I'd left Liz outside, I excused myself. But after we'd finished our half-pints, which didn't take long, I brought her into the bar for that wee single malt.
Since we were going to tour the Edradour distillery the next morning before driving to Turnberry, I ordered an Edradour 10 year old and found it quite pleasant.
The conversation continued, including one in which I tried unsuccessfully, to explain to the bartender, who shared my interest in peaty Laphroig, that I had bought a Laphroig 18 year old at home but felt it wasn't that different than the 10 year old, certainly not twice-the-price different.
Also in the tiny bar were a couple of motorcycle tourists from Toronto who had ridden up from England. Having arrived too late for dinner, they had ordered a raspberry crisp, a dessert that was still being served.
It sounded so good and so Scottish that Liz and I had to try one for ourselves. The dessert, basically a raspberry pastry topped by a scoop of ice cream, went surprisingly well with Scotch.
As Mr. Holmyard, the Birchwood innkeeper, had told us, the walk back down to the hotel was much quicker than the climb to the Moulin Inn.
%%%%%%%%%%%%%%%%%%%%%%%%%%%%%%%%%%%%%%%%%%
The next morning, we had an excellent breakfast of orange-yolked fresh eggs, which Liz marveled at, and porridge, which turned out to be a delicious high-end oatmeal. Then we headed off to Edradour, the Scotch-maker on the edge of Pitlochry that bills itself as "the smallest distillery in Scotland.''
It turned out to be just a mile or two beyond the Moulin Hotel.  As we passed by, we caught a glimpse of the Moulin Brewery, which seemed to be no larger than an over-sized garage.
The distillery wasn't a behemoth, either. It was merely a collection of smallish buildings perched on a slope adjacent to a stream. Our tour tickets, which were seven or eight pounds, included two samples, we were informed.
While we waited for the tour to begin, Liz had a mug of coffee that included the mug as a souvenir. The waiting area was basically a bar that featured all of Edradour's many single-malt offerings. Even though it's a tiny distillery, Edradour's management has found a niche producing a seemingly endless variety of small-batch single malts aged in a variety of wine barrels for varying lengths of time.
Aided by the young man behind the bar, we ordered a couple of wee sips that sounded interesting. It was maybe 10:30 a.m., but when in Scotland. . .
In addition, we planned to bring a couple of bottle home and wanted to choose wisely.
The tour was charming and well-planned. Rather than make you wait for your sips after the tour, our kilt-clad tour guide introduced an Edradour 10 and a Ruby Port Cask Mature, also a 10 year old, right after we had been shown a brief video that described the distilling process.
The Edradour Distillery has more in common with my basement brew room than with big distilleries. And as with my beer, the little distillery makes a very drinkable product.
His most interesting point, I thought, described a process known as chill filtering, which was developed during Prohibition. Unfiltered Scotch turns cloudy in ice, he said. To mask bootleg Scotch, distilleries turned to chill-filtering, which leaves it clear when served on ice, and thus more difficult for authorities to distinguish it from an approved beverage.
The problem is, cold filtering also diminishes the flavor of Scotch by 20 to 25 percent, our tour guide added. A taste of the chill-filtered Edradour 10 and the unfiltered Ruby Cask made his point. The 10 year old still was excellent, but the Ruby Cask seemed to be in color compared to the black-and-white 10 year old.
As you can imagine, the two bottles we brought home were unfiltered: the Ruby Cask and a cask-strength (59 percent) 10 year old, aged for the final two years Chateauneuf de pape wine cask.
Once home, we were pleased and surprised to learn when some Internet shopping turned up not only the 10 year old for sale in America, but also some of Edradour's unfiltered specialty spirits. The premium charged for purchases will make us think about it before pulling the trigger, but it's nice to know they're there.
Excited by our whisky stash, we got into our Kia station wagon, a perfect-sized vehicle for this trip that ran well on diesel, and headed back down the A9 for the four-hour drive to Turnberry.