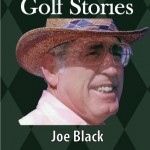 The pace of play remains a problem on the PGA Tour as the tour officials aren't given the same authority that Joe Black had back in the early 1960s. 
Black, a former caddie, tour player, rules official, club professional and golf course developer who now resides in Bee Cave, TX, recollects how he handed out a two-stroke penalty to Jack Nicklaus in the 1962 Portland Open in his new book, "A Few Good Golf Stories."
Nicklaus definitely had the reputation of being a slow player when he first started on the PGA Tour. Black remembers how Nicklaus would start to fall behind from the first hole and his group would be a hole behind after five or six holes. When a group was a hole and a half behind, a warning was issued.  Nicklaus' group would then pick up the pace and no penalty was given.
Nicklaus, playing with Billy Casper and Bruce Crampton in the Portland Open, received a slow play warning in the first round. Things got worst for the threesome in the second round. Black had to twice issue warnings. When they continued to fall farther behind on the back nine, Black felt Nicklaus was the culprit. Noticing that Nicklaus was not making an effort to speed up, Black met him as he walked off the 18th green and told him he was being given a two-stroke penalty. The result left him sharing the 36-hole lead.
In a conversation after the round, Black offered some advice, telling Nicklaus his problem was not how fast he walked or how long he stood over the ball, but that he was not ready to play when it was his turn to do so. Jack's answer was that he felt this would be rude. Evidently, Nicklaus took the advice as Black did not have any more problems with his slow play during the next two years.
Nicklaus actually won the Portland Open and later was quoted as saying the ruling was one of the best things that happened to him. "They wouldn't give you a slow-play penalty if you weren't slow," he said.
As an eyewitness to many other interesting golf events in the past 60 years, Black's recollections were definitely interesting and I would definitely recommend that others pick up the book. Go to www.joeblackbook.com