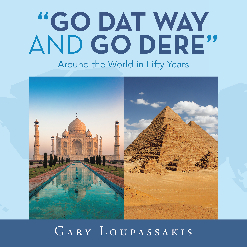 During the winter, it's time to catch up on your reading. That's what I've been doing and wanted to pass along a recommendation for you to pick up a new travel memoir where Gary Loupassakis takes readers on a journey around the world based on his experiences as a travel agent for five decades, It's called, "Go Dat Way and Go Dere: Around the World in Fifty Years."
The title of the book was the result of Gary's memories of a trip to Jamaica where a young man there gave him that advice. "If you think about it, as a travel agent, I spent my life telling people to go this way and that," he said.
Loupassakis is truly a globetrotter, having traveled to 65 countries on six continents along with 46 of the 50 states and 11 islands in the Carribean. "It's not exactly Lowell Thomas, but it's more than Marco Polo and remember I ain't done yet, I've still got places to see and things to do before they close the lid on me," Loupassakis wrote in his book.
The author, who is an avid golfer himself, does a great job of sharing his knowledge about places that many golfers never get the opportunities to experience themselves.
Having had the privilege myself of playing golf all over the world during the past 70 years, reading and hearing about some of his golf adventures at courses like the Old Course in St. Andrews caught my attention.
Koupassakis felt playing the Old Course back in 1982 was the most exciting of the more than 500 he had played. "Talk about hallowed grounds," he wrote in the book. "Anyone who is anybody has played the Old Course." However, he didn't pick up his clubs when he traveled to Scotland 20 years later, but did see how devoted players didn't mind playing in the rain."I guess when you make a tee time a year in advance and pay that kind of money it costs, you play no matter what the weather." Loupassakis said it would be difficult to play the Old Course now as his health just does not allow him to walk.
Gary's dad was also an avid golfer, who joined the Metuchen Country  Club in Edison, NJ in 1960. Gary became a junior member and also joined the club in 1968. "The course was always in great shape," he recalled in a recent interview." and I would compare it to the ones I played later in my travels."
Loupassakis added, "My most memorable round came when I played in a pro-am with Johnny Miller, a very nice man who was very helpful with his amateurs, even inviting my mother ro join us on the course." Gary's father played with Tom Weiskopf in the same event, but did not get the same personal treatment.
Loupassakis regularly took some buddy trips with other golfing partners and felt Florida and Myrtle Beach were his favorites because of the number of courses offered and how they were short plane rides from his base in New Jersey.
"I want to help people open their eyes to worldwide adventures." he said. He does just that in providing extensive information that he gathered after visiting the world's most famous destinations, including Spain, Greece, Egypt, Australia,New Zealand, Israel, South America and many others. When asked to narrow his most memorable trips, he pointed out to me special memories about the animals in Kenya and the natural beauty of New Zealand.
Loupassakis also offered insights on the top places to visit in the United States, adding that the only states he hasn't visited are North Dakota, Iowa, Nebraska and Michigan. "I'm definitely thinking about visiting Michigan after hearing stories about some of the courses," he added.
Equally rewarding to me were his adventures in places like Australia, New Zealand, Switzerland and India that were once on my "bucket list." However, those dreams are fading now that I'm going to be 82 in 2023.
The book will definitely pique your interest and open your eyes to worldwide adventures as Loupassakis shares insightful travel tips gained from personal experiences. "My goal is, after reading the book, you'll get on a plane and go to some of the places I've described," Loupassakis said.
He mentioned that one of his clients had suggested he write the book and then when COVID hit the country in 2020, his wife urged him to take some time from traveling to put everything into a 15-month experience of accomplishing the work.