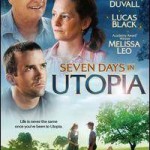 While it did not receive good reviews from all the major critics and may not have done that well with the movie fans, I found "Seven Days in Utopia" a very good feel good movie that uses golf to send a more important message about the really important things in life.
The movie is based on Texas-based sports psychologist David Cook's book, "Golf's Sacred Journey: Seven Days at the Links of Utopia." I had read some of the excerpts when they appeared in issues of Texas Golfer Magazine, but had not read it.
The story is about a young Texas golf professional, Luke Chisolm, played by Lucas Black, who looked the part of a professional golfer. Luke has just suffered a major meltdown—taking 14 on the final hole—in a mini-tour event he had a chance to win. It's obvious his over-bearing father, serving as the caddie, is part of his problem. He's broken and bitter and at the end of his rope.
An accident leaves him in Utopia, an actual charming small town over an hour west of San Antonio where there is a 9-hole golf course. He meets up with an eccentric rancher, Johnny Crawford, played by Robert Duval, who has had his own battles with alcohol and the loss of his wife, but seems very wise now.
Through some unique methods like pitching ringers, fly fishing, flying plane and painting, Luke learns to "see, feel and trust" to regain his golf "mojo" and gets an exemption to the PGA Tour's Texas Open thanks to a friend of Johnny who happens to be the tournament director.
By holing out for an eagle on the 72nd hole, Luke ends up in a sudden death playoff with an Asian super star played by K.J. Choi, who never says a word. As Luke prepares to putt for a birdie to win, he takes out a long putter used in one of Johnny's lessons, and strokes the putt. You do not see the ball go into the hole—that was a little disappointing to me.
You are directed to go to http:///www.didhemakethe putt.com. I did, but guess I must be missing something as I never found out for sure.
I have heard Dave Pelz even recommend the carrying of two putters, using a regulation length for most putts and the longer one for shorter putts, but did wonder as a rules official how Luke, or a professional at the top level, would ever do it and stay within the 14-club rule.
Of course, I never got a close look at his golf bag in regulation play and guess since the stipulated round of 18 holes was over, Luke could have taken one club out of his bag and added the long putter and not violate the USGA rules.