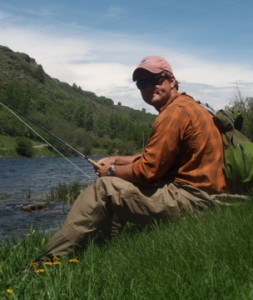 Jason Kerkmans has worked as both an editor and freelance writer for a number of outdoor, golf, travel, and lifestyle publications, and has written more than 200 articles on topics ranging from fly-fishing in New Zealand and golfing in Scotland to interviews with notable personalities, such as President George Bush, Senators John McCain and John Kerry, Supreme Court Justice Sandra Day O'Connor, Lance Armstrong, Cindy Crawford, Jack Nicklaus, Joe Montana, Wayne Gretzky, Charles Barkley, B.B. King, Phil Mickelson, Lorena Ochoa, and Annika Sorrenstam, among many others.
And yet, he prefers the solitude of sharing a trout stream with his brother, a good book in one back pocket (in case the fish stop rising) and a box full of bugs in the other (in case they don't), with his black Lab, Porter, guarding the craft beer in the bed of the truck, to the company of most anyone other than his wife. His freelance work has been published by Outside, Men's Journal, Wine Enthusiast, ForbesLife, American Cowboy, New Mexico Journey, Denver Life Magazine, Texas Golfer, Vegas Golfer, Texas Journey, Weather.com and CBSSports.com.
His other sort-of real jobs have included working as a wrangler in the Rockies and a sailor in the Atlantic, he's also hopped on the coattails of his wife's good deeds by traveling while she volunteered in Thailand, and as a recent graduate of fly-fishing guide school he's constantly pondering a career change if he can only convince his wife to take turns rowing the drift boat. In college, he took a 26-foot Coronado sailboat and made it his home, and though he's just as likely to be horseback riding in the backcountry, so long as he's near some water he thinks everything will be just fine…which is never a guarantee considering he makes his home in the high desert.