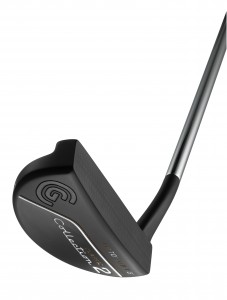 While it was likely Plato who first called necessity the mother of invention, the old Greek came along a couple thousand years too early.  Were he around today, he'd understand that the real mother is the putter.   And while golf clubs in general have inspired crazed tinkerers and delusional inventors for a couple centuries, the flat stick has brought forth a surfeit of truly strange designs.
I've seen putters that seem inspired by a Klingon Bird of Prey, some with white circles that supposedly help alignment, and still others that look like a part wrenched from a mass spectrometer and spot-welded onto a shaft.  I have a friend who plays with a custom-made putter than reputedly sells for $1,400, which he of course got for free thanks to being in media.  Although he insists it makes him a better putter and has some logic behind how the fitting made him rethink mechanics, his putts drop no more or less often than during the 15 years we've been playing together.  Call him delusional, too.
A couple of basic blade and mallet designs have withstood the test of time, and last October Cleveland Golf introduced two new variations of these to what it calls its Classic Collection putter line.  All of the models feature heel-toe weighting and are made of hand-polished stainless steel. With a milled face that imparts a responsive and yet soft feel, each version sends the ball rolling straight and true.  As Cleveland has done with its wedges, what most characterizes these additions is the finish: six models come in a sweet platinum finish, and four in gorgeous black platinum, which totally takes out any possibility of glare.  And in November, the company added a platinum finish putter to its women's line.  These all join Cleveland's Classic BRZ putters, which have a bronze color tone.
Although the differences between the various blades and mallet models are in the shafts, not a single club in the group appears gimmicky.   They'll retail at a suggested $79.99, which means the price is also downright classic. In an era when many products and people shriek differences to gain attention – – think Ms. Gaga – – well done tradition can hold some truly sublime appeal.