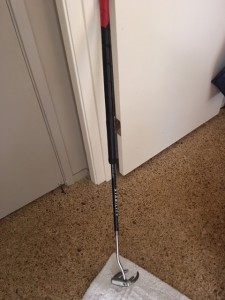 Barney Adams is back, and we can dig it. Founder of Adams Golf and inventor of the Tight Lies fairway woods, this former Corning Glass engineer has now turned his superpowers to an unlikely element in the game – – the putter shaft. With a new company called Breakthrough Golf Technology, the Dallas-based Adams has created a new Stability Shaft, in part made of "high-modulus carbon fiber," which resists torsion and flex at impact and, in the right hands, leads to more accurate putts.
Touted by MYGOLFSPY as "The $199 Putter Shaft You Didn't Know You Needed," the publication – – and Barney – – may be right.
While the steel shafts introduced nearly 90 years ago have not materially changed, greens are much faster, smooth pendulum putting styles are in fashion, and putter heads are heavier.  But while long, breaking putts that drop get plenty of air time during televised tournaments, even professionals are increasingly missing putts.  Indeed, despite all the advances in equipment, instruction and contour books, Adams was astonished to learn that today's pros make a lower percentage of putts at specific distances – – by 1.5 to nearly 2 percent – – than in 2003, numbers found in surprising Shotlink data.  Adams had it confirmed by an independent expert analyst, and added to the research through continued testing by engineers at his Breakthrough Golf laboratory, it proved that steel shafts with heavy putter heads were twisting slightly through the Moment of Inertia, which is when the club impacts of ball.   The Stability Shaft nullifies that imperfection.
The upper photo is my very old and trusted 38-inch Odyssey White Hot Sabertooth, fitted with a Stability Shaft.  The black section below the grip is comprised of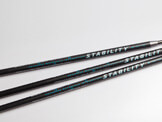 eight carbon fiber layers, wrapped and widened but with no taper, which reduces torque. The Advanced Materials Integration includes a 22-gram aluminum insert that makes the shaft even more ridged. Aluminum connectors and stainless steel tips add reinforcement and protection from corrosion and rust.
The shafts can be fitted on any putter model, and mine has the same weight and general feel as with its original shaft, but definitely feels more solid. One of the pros at my club, who has changed the grip a couple times, marveled at the difference in its feel. But does it help?
Says Adams: "I've never seen a product that can improve someone's putting so quickly. My team found the weakest point of a steel putter shaft. They used
computer analysis to place a flex-resistant insert at this weak point on the Stability design. It not only greatly increases stiffness but also adds the benefit of improved feel." I tend to agreed.  I've had two putters fitted with the Stability shaft, and both putters feel tighter and more controlled, even in the hands of a middling index golfer.
Continues  Adams: "So, we postulate; can weak steel shafts cause face oscillation? Yes! They are in direct conflict with the heart of today's smooth stroke; they don't allow putter face to consistently return square at impact. The error factor discussed is slight . . . but it is negated over the long haul."
Indeed, Adams looked at six, mid-level tour pros and figured that if each lost one shot per 72-hole event, it could cost them roughly $500,000 in a season. Not surprisingly, an increasing number of pros are having the Stability shafts fitted to their putters, and during a weekend in April it was used for three top ten finishes, one of the primary Tour and two in a Champions event.
Whether the marginal difference helps me to any great degree over time remains a question, and the answer will come only after a few hundred putts. A two-percent improvement won't win me a half million bucks, but may bag a couple. In any event, a more stable putter is a weapon I wouldn't want to go into any wager or tournament without.
Contact Information:  https://breakthroughgolftech.com/