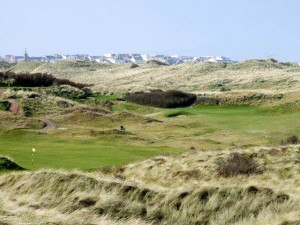 The Irish should pay me–not stick with the leprechaun–as their lucky charm.
I returned to Northern Ireland a few months ago, and no sooner did I visit Rory McIlroy's home course, Lough Erne, than the youngster produced his first PGA Tour victory, literally while I was in the clubhouse. I even met his parents!
So I come home and start writing about the myriad charms of Northern Ireland, get distracted by other stuff and turn around and guess what? Another local, Graeme McDowell, wins the US Open at Pebble Beach!
I take full responsibility for the success of both these lads, and feel that the good karma I am spreading about golf in Northern Ireland is the reason. So let's get back to it.
The highlight of my trip, and one of the golf highlights of the world, is the Royal Portrush Golf Club. Of course, like most clubs across the pond, to confuse things they have two courses, but when folks talk Portrush, they are talk gin Dunluce, the "championship" course. It is one of the most overused adjectives in golf, but this time it rings true: the course was the only locale outside of Britain ever, as in all time, to host the Open Championship, aka The British Open.
So I can't add much, except to say that Royal Portrush is indeed one of the world's great links courses, and the golf magazines consistently rank it in the world's top 20 and they are probably right. Unlike a lot of Scottish links, it plays right to the waters edge, a couple of times, and packs in awesome visual drama, along with lots and lots of wind. Links golf without wind, is well, just regular golf, and you are not likely to find any regular golf at Portrush. The opening two holes are a bit odd, playing along an out of bounds for no reason area that snares a lot of slicers (and even faders), and then across an inland road as if you are going to town for a pint, but from there on it just gets better and better and better.
The tow standouts here, the holes that make all the best of lists, are the almost drivable par-4 fifth, playing from an elevated tee straight at the ocean, and even the most rational golfer finds it too tempting and tends to hit much more club than necessary – or advisable. The most famous, or infamous, is Calamity Corner, but unlike Augusta's Amen Corner, this corner is just one hole, the 14th, a 210-yard par-3 with no place to miss the green – so don't.
But what really gives Royal Portrush its backbone and character, other than the omnipresent waves, is the rough. Sometimes they cut it and you wouldn't think much of it. Other times, like on my previous visit, they grow the hell out of it, and holes become the links equivalent of target golf in the desert, with fairways and greens identifiable only by virtue of their shortness in a sea of long grass. Every shot becomes daunting, like hitting an island, and golfers need an extra club, a sickle. This is when the course is at its frightening best, and most distinctive, so I hope you get tall grass when you visit, and visit you must, because this is truly one of the world's great courses.
Interestingly, it is one of only a handful of links courses designed by the legendary Harry Colt, who made his name as the all time master of the parkland and heathland styles, the proto Donald Ross. But when he traveled to the coast of Northern Ireland, he did just fine.