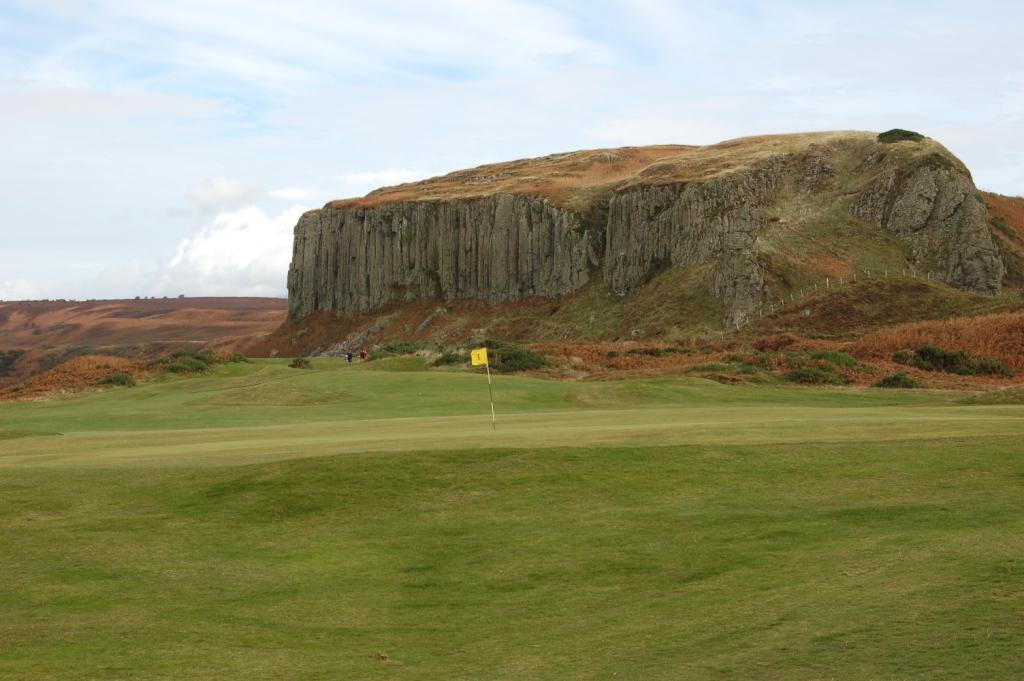 Dramatic settings abound at Shiskine, with new woders on every hole. 
Hidden Gem of the Month: November 2009
Shiskine, an old and off the beaten track Scottish seaside layout, may be the only 12 hole course in the world. Even if there are others, I am 100% sure
Shiskine
is the best. In fact, it is the only 12 hole course consistently ranked in the Top 100 Courses of the British Isles – and the only course with any total other than 18 to earn this honor.
The club is unapologetic about its "missing 6," and even incorporates its unique number into the really cool logo, a flagstick with a 2 superimposed over it to form the numeral 12. Though rife with blind shots, aiming markers and odd distances, the locals who know it can whiz around the layout in little more than an hour, and what a spectacular hour it is!
Shiskine sits on the Isle of Arran, in between the Ayrshire coast of southwest Scotland, near Troon, Prestwick and Turnberry, and the Kintyre Peninsula, home to Machrihanish and Machrihanish Dunes. It is easier to reach from the mainland, and next time you find yourself in the vicinity of Royal Troon, skip that overpriced and overrated tract and enjoy the scenic ferry ride across to Arran, often described as "Scotland in Miniature" because it packs all the features of the big country into a medium sized island. That includes stunning seaside golf.  There are about ten courses on Arran, but only one Shiskine.
Every hole on the course either sits on the water or overlooks the water, like a 12-hole Pebble Beach at a twentieth of the price. The setting is so spectacular, you'll wonder why more people don't make the trip, and you'll understand why the members are so proud. Everything is ultra-dramatic, from the blind sharply uphill par-3 to the cliff top tee boxes and the symmetrical rocky mesa straight out of Close Encounters. The course plays short, even for a 12-holer, under 3000-yards with five par-3s and just one par-5, but the golfer is challenged by burns, dramatic elevation changes, rough, and of course the wind and ocean.
They say a picture is worth a thousand words and in the case of Shiskine, one of the world's greatest hidden gems, you need more than one to do it justice, so check these out!