(originally published February 28, 2011)
Edwin "Duke" Snider, who passed away on Sunday, was a California boy who became one of the enduring symbols of New York's dominance in 1950s baseball.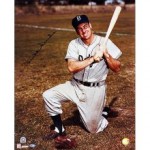 He was part of the great triumvirate of New York centerfielders in the years after World War II.  "Willie, Mickey, and the Duke" is shorthand for the era from 1947 to '57; during much of that time, Mays played at the Polo Grounds in Manhattan, Mantle roamed the vast acreage in the Bronx, and Snider earned his royal nickname in Brooklyn.
In those eleven years, the Yankees were in the World Series nine times, the Dodgers were their opponents in six of them, and the Giants made two of their own.  In every year but one, a New York team was featured in the Fall Classic.
The Duke of Flatbush was the first of the three centerfielders to make it to the majors, debuting with Brooklyn two days after Jackie Robinson broke the color line in the 1947 opener.  Mantle followed in April 1951, and Mays joined them a month later.  Snider was five years older than the other two, but had only established himself as an All-Star the year before they arrived.
If Snider was the least of the three – not a statement you'd want to make on the street in 1950s Brooklyn – it's only because of the rarefied company.  In the course of his eleven years in Brooklyn, he ranked third among all major-league hitters in home runs, second in extra-base hits, fifth in slugging average and seventh in OPS (minimum 750 games – a group that includes Mays and Mantle).
Snider grew up in Compton, where he played on the same basketball team as future NFL commissioner Pete Roselle.  His father insisted his right-handed son bat from the left side, knowing that right-field fences were generally closer to the plate than the fences in left.  The Dodgers signed Snider in 1944 for $750, he told Roger Kahn in The Boys of Summer, and he took a cross-country train to the Dodgers' wartime spring camp in Bear Mountain.  He had never owned a topcoat, he said, and so "I stayed indoors a lot."
In Ebbets Field, he found a lefty power-hitter's paradise.  The right-field foul pole was 297 feet away, and the dimensions ranged from 318 to 344 along the scoreboard in right, moving out to 352 in right center.  Snider topped 40 home runs every year from 1953 to '57, and in his last eight years in Brooklyn – seven of which saw him make the All-Star team – he hit 165 homers at home, 123 on the road.
Where Mantle was the embodiment of pure athleticism with a weightlifter's power and a sprinter's speed, and Mays exuded a young man's joy in playing baseball on the field and stickball in the streets, Snider was a more equivocal package, great at the game but not in love with it.  In 1953, he told Kahn that his greatest wish was to buy a farm in southern California and raise avocados.  "If it wasn't for the money," he said, "I'd be just as happy if I never played a game of ball again."
Those thoughts, expressed in a bylined feature in Collier's three years later, ran a few months after the Dodgers won their only World Championship in Brooklyn.  Snider hit four home runs in that World Series, one of them a three-run shot that broke open game four, then two in Brooklyn's 5-3 win in the fifth game that set up Johnny Podres's 2-0 gem in game seven.
The Dodgers moved to Los Angeles before Snider got the chance to retire there.  They played their home games in the L.A. Coliseum, which swallowed Snider's power.  His father never imagined ballgames on a diamond angled into a football stadium, 250 feet to the left-field screen but 440 to right-center and 390 to straightaway right.  Snider hit 23 homers in Ebbets Field in 1957, six in the Coliseum in 1958.
The Dodgers won the World Series in 1959, and Snider recovered enough of his stroke to post an OPS of .935 for the season, but he strained his knee during the Series and had trouble staying on the field over the next several years.  The New York Mets picked him up as a sentimental favorite for the 1963 season; he was batting .230 when he played in the All-Star Game as the team's token selection, saying less about him than about the company he was keeping.  After one more year pinch-hitting for the San Francisco Giants, he was done.
The avocado farm failed, sending Snider back into baseball as a broadcaster and minor-league manager.  He had to wait much longer than Mays or Mantle for induction into the Hall of Fame; they were each elected on their first attempt, while Snider had to wait as his vote totals slowly built from just 17 percent in 1970 to more than 86 percent in 1980.
His highs were never quite as high as those of his famous contemporaries, and he fell off more precipitously – partly due to circumstance, partly to age and injury – but during a time when New York was the measure of all things, Duke Snider held his own in the toughest league there was.  He was a great player; it's hardly his fault he shared a position and a stage with two who were greater.