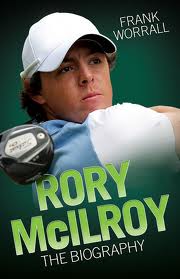 It is no exaggeration that this year's Master's is one of the most anticipated in recent memory. Interestingly, I just received the biography, "Rory McIlroy The Biography" due out in August. I haven't read the book yet, but for such a young player to merit such a biography strikes me as so premature.
I have heard about McIlroy since he was a fifteen-year old in Northern Island dusting off much older, more experienced competitors with relative ease. His progress has continued to the point of his debacle in the 2011 Masters followed by his remarkable dominating 8-shot victory in the subsequent US Open in which he set the record for most strokes under par. These and a couple of weeks ranked as the #1 player in the World validate his pedigree as a player, but to anoint him as the Tiger Woods heir apparent seems woefully premature. Maybe a few days from now he will be wearing a Green Jacket, and maybe not, but his has many, many tournaments to play and win before he features a record to compare with the game's greats.
"Woods is history – he may well win another Major, but he's history in more ways than one" writes the book's author Frank Worrall. Worrall concludes to say,  "Rory McIlroy had rescued golf at a time when the sport badly needed a savior and in doing so, he had relinquished his own privacy , and become one of the most famous sportsman in the world." Wow! is about  all I can say. Boy Wonder McIlroy has already rescued what game? Though McIlroy's record in the majors edges Tiger Woods' at this point, Tiger went on to truly dominate in the next few years. Let's us allow young McIlroy a few years before we anoint him such high praise.
McIlroy watched tapes of his Masters demise with an eye to his body language and anything he might find to do better. His sand and scrambling statistics were not especially good overall, but he improved them as well. He is also exercising more and has been in the hunt in most every event he has entered since his US Open victory. His swing is one of the best and he is much more powerful than his stature would suggest also playing with fluidity and balance. McIlroy's future appears the brightest in the game at the moment, but just like no one saw Tiger Woods' demise, who knows what this 22-year old will do?
As for this week, Woods, Mickelson, Westwood, Donald, Mahan, Rose, Bradley, Watson, Garcia, Scott, and a host of other talented young players may have something to say about who will win The Masters – and all are currently in fine form.  And how many of those folks already rate biographies about them?
I am a card-carrying member of the Rory McIlroy Fan Club, and just as much for the decent fellow he appears to be. A few days from now, the Rory fervor may escalate or pass in disappointment, but why all the fuss about a very young man with a record yet to write?  The gent is barely into his first chapter!