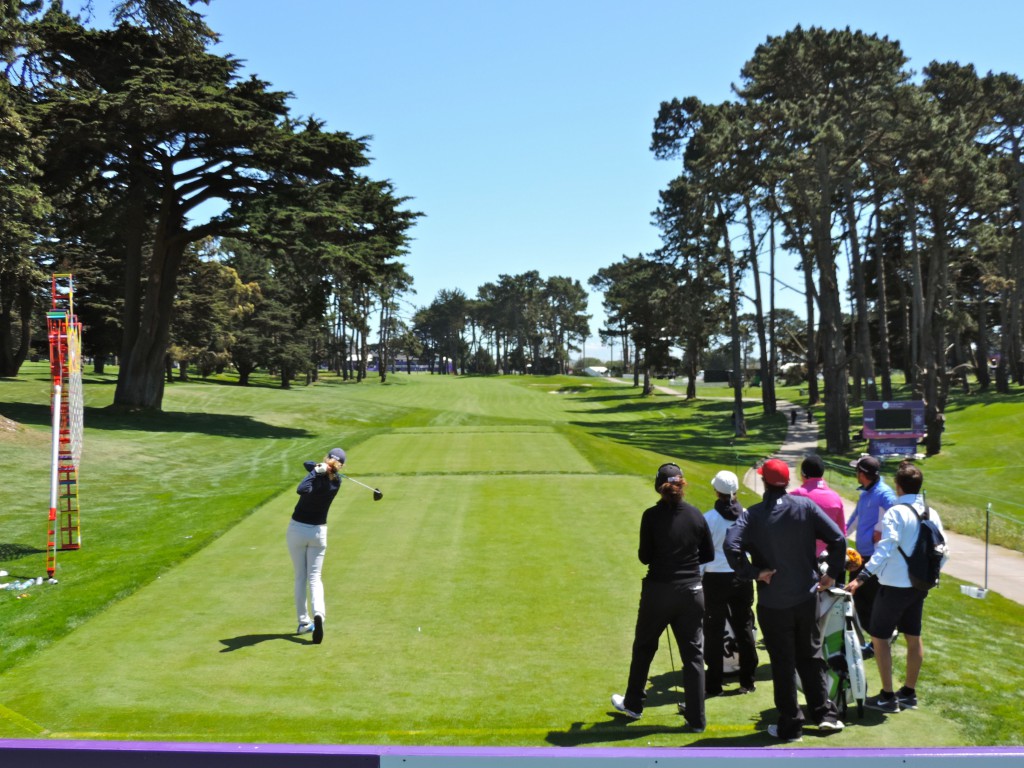 The LPGA visited the Monterey Cypress-lined corridors of the esteemed Lake Merced Golf Club with the Swinging Skirts LPGA Classic. Find out what happened. (Photo by Robert S. Fagan.)
I was fortunate to spend a good part of the week enjoying the LPGA's first trip to Northern California since 2010 with the Swinging Skirts LPGA Classic, and they put on quite a show. Then again, they usually do.
I arrived on site early on Tuesday and after watching some practice rounds and observing the practice rounds, I placed my bets (figuratively) on Lydia Ko, Stacy Lewis, and Shanshan Feng. Midway through the final round my picks were 1-2-3 and I was thinking I had better go out and buy some Lottery tickets. Lewis and Ko played all four rounds together and the dual took on almost a heavy-weight fight atmosphere albeit with a late challenge from Jenny Shin who finished third. Feng tied for 4th. Sponsored by Taiwan's non-profit Swinging Skirts Golf Team (as in Scottish Kilts), this group enthusiastically promotes golf around the globe and it was Northern California's good fortune that they moved the Asian event here into my backyard.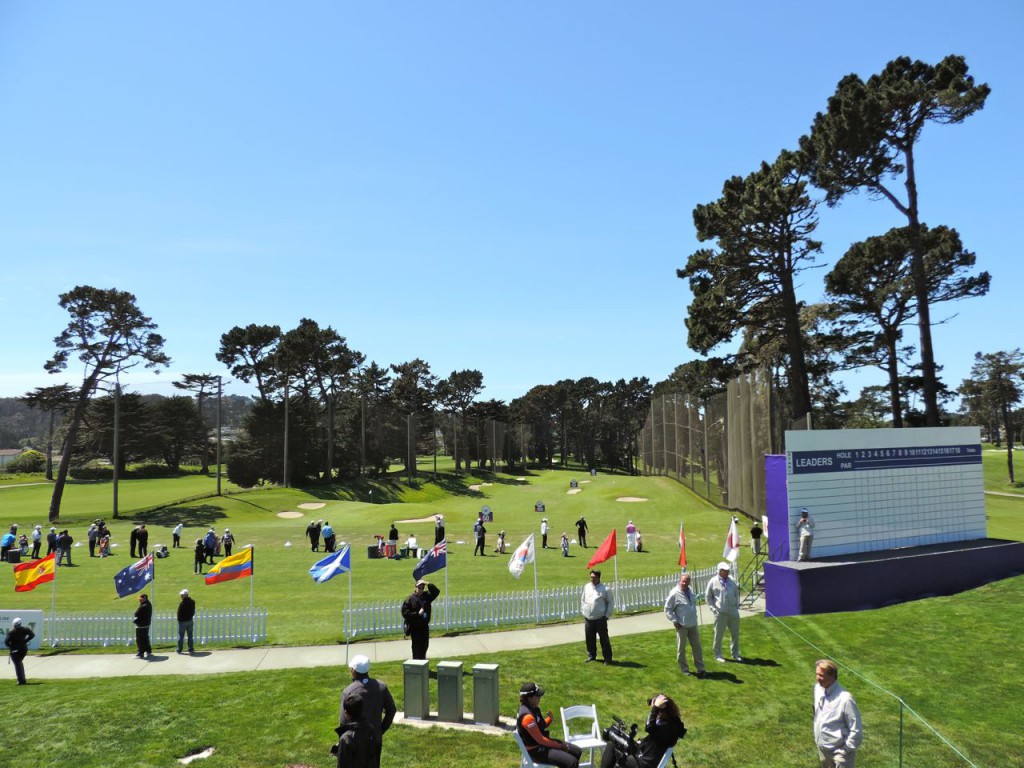 The beautiful Lake Merced Golf Club was a beautiful spot to host one of the LPGA's strongest fields. (Photo by Robert S. Fagan.)
Spotting Lydia Ko from New Zealand on the practice tee, I discovered her to be bigger, taller, stronger, and more physically impressive than I had imagined. She turned 17 on the first day of play, but she has an uncommon talent and perhaps even more rare a most mature emotional state. She plods herself around the golf course barely changing an expression, somewhat like Annika Sorenstam or today's premier distaff player Inbee Park. What's more, Ko has won multiple professional titles even as an amateur besides holding a worldwide collection of the most coveted amateur titles. With Inbee Park struggling with her best ally, her putter, I liked Stacy Lewis as my other favorite. I have met Stacy and know some golf professionals who know her and are genuinely impressed with her. The unflappable Feng also has that mature, plodding style to complement her strong ball-striking.
As for the Lake Merced Golf Club, it reminds me of the traditional classic parkland courses in the East where I grew up. Within a tight five mile radius are the Olympic Club, San Francisco Golf Club, and Harding Park making the area perhaps the most historically golf-rich little enclave west of Chicago. The word around this part of the country is that Lake Merced is always tournament ready on a moment's notice, and it hosted the 2012 USGA Girls Junior Amateur as well as many local USGA qualifiers. Willie Lock built the original golf course that opened in 1923, but famed Alistair Mackenzie redesigned it due to an encroaching road in 1929.
When again a new highway took two holes and the clubhouse area away in 1964, Robert Muir Graves was called upon to make major changes and the Mackenzie look and routing was gone. In 1996 Rees Jones was hired to improve drainage, tees, bunkers, and greens. Make no mistake about it, now the course looks like a vintage Rees Jones design with all his trademark shaping and bunkering. It's also distinguished by its avenues of huge Monterey Cypress trees and hilly turf – and of course heavy, damp San Francisco, or in this case more precisely Daly City air. As have many of the best courses, it has lost some of its oldest trees, but the Club has wisely chosen not to replace them, but rather to reveal the amazing scenic topography the location affords while also promoting better turf conditions.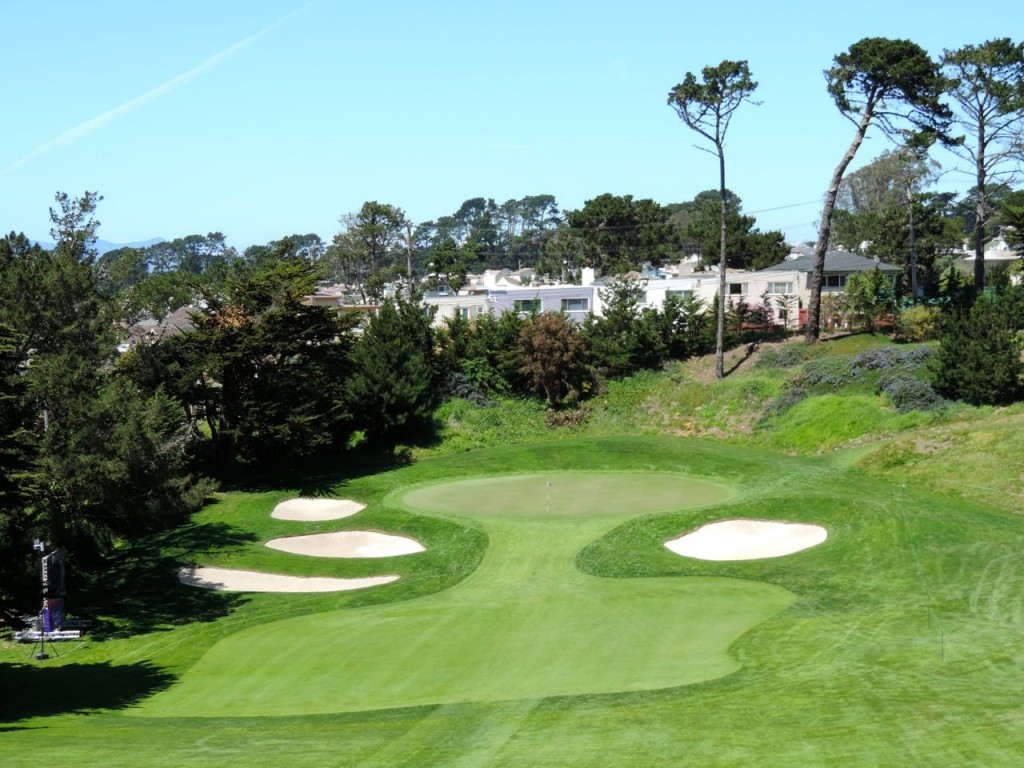 As illustrated by the downhill par-three third, Lake Merced retains no traces of famed architect Alistair Mackenzie, but rather the unmistakeable oval and symmetrical bunkers and shaping of Rees Jones. (Photo by Robert S. Fagan.)
After a comparatively rain-free winter (more like a drought), wintery weather decided to revisit during tournament week. With some coolish dampness the rough had its usual Lake Merced juicy thickness to it and then rain arrived and diminished the firmness of the greens that would otherwise have made the course play like a U.S. Women's Open. Nevertheless, nothing more than single digits under-par seemed like a like a winning score before play began.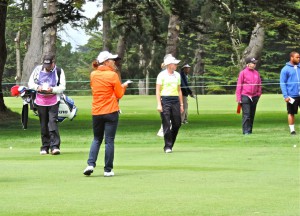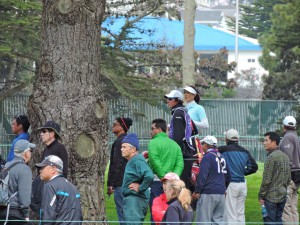 Ko and Lewis played all four days together. Here they are shown on the very first hole with their playing partner Michelle Wie. Ko and Lewis were to the par-four first green before Wie got a ruling and hit her second shot from well over 200 yards away. (Photo by Robert S. Fagan.)
Moving ahead to Sunday, Stacy Lewis parlayed a bunch of pars through the front nine to a narrow lead until Lydia Ko finally caught fire with birdies. Even with some errant shots on the incoming nine, Ko  nonchalantly scrambled with the coolness of a young assassin. Lewis and Jenny Shin mounted charges of their own, but neither would catch Ko. A few days past her 17th birthday, Ko matched them and fired a pretty amazing 12-under par in the process to edge Lewis by one – both birdieing the final hole. It was Lydia Ko's third LPGA title, but her first as a member and the $270,000 prize her biggest check yet. Not bad for someone – make that the only golfer in the world that Time Magazine recently listed as one of the 100 most influential people on earth!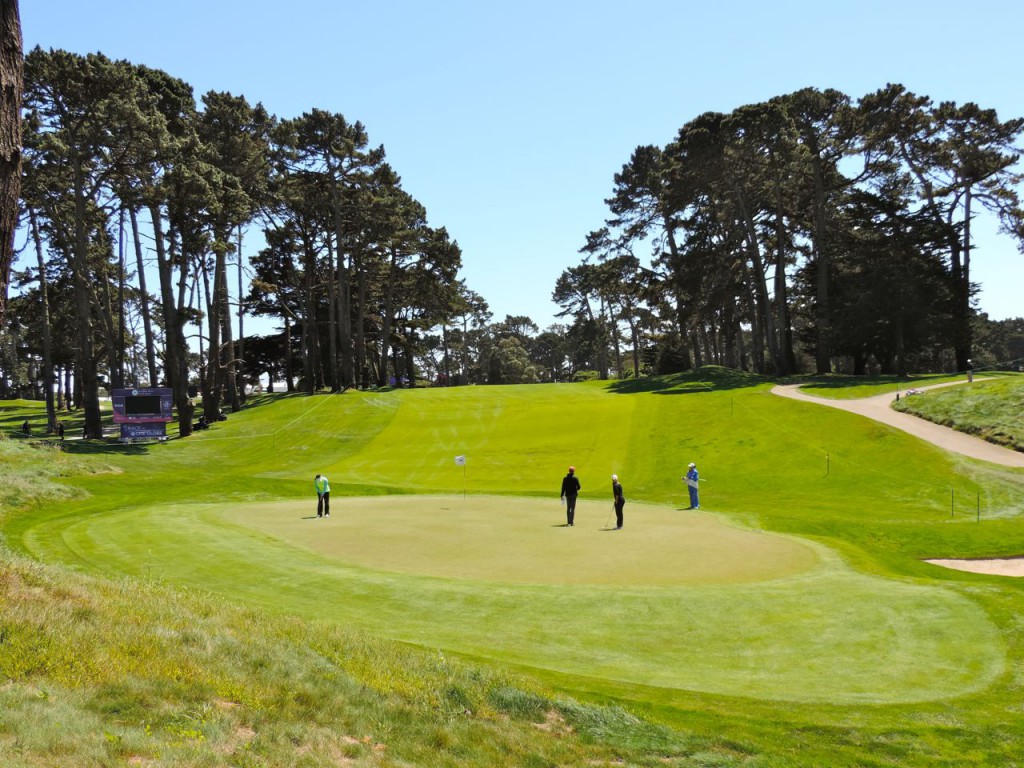 The short par-four 16th at Lake Merced illustrates the undulating terrain and beautiful tree-line corridors together with quick immaculate putting surfaces. (Photo by Robert S. Fagan.)
As I saw less than impressive finishes by winners and challengers for a six-week stretch or so on the PGA TOUR during the Florida Swing and beyond, no one had their emotional brakes on in this LPGA event. And like  22-year old Seung-Yul Noh winning in strong style in New Orleans the same day on the PGA TOUR, a gal more than half a decade his junior plays equally impressively on the LPGA. Yes, the two elite professional tours have lots of impressive talent in the pipelines. As for Lewis and about a half a dozen other challengers, they acquitted themselves impressively – as did the LPGA and Lake Merced. Thank you Swinging Skirts. And thank you LPGA, you put on the best best and friendliest show in golf!
P.S. Did you know that Lake Merced also hosted the 1990 USGA Boy's Junior and it was the first USGA championship that Tiger Woods played in and the only Junior he didn't win? Woods did make it to the semi-finals.
Below author Fagan rests behind the second tee on one of many colorful Taiwanese statues that were shipped to America courtesy of the Swinging Skirts Golf Team. (Photo by Barry Salberg.)