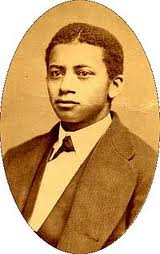 African-American dentist and Harvard Professor George F. Grant is credited with inventing the modern golf tee though his invention apparently died with him. Another American dentist William Lovell would later popularize the concept.
Have you ever considered the origins of the golf tee? No, golfers did not originally stick a peg in the ground to begin play on a hole. And oddly enough, American dentists have figured prominently in its evolution.
Golfers would originally use the sand to make a tee within one club length of the previous hole, later expanded to within two, and later to four club lengths. It was not apparently until after Old Tom Morris created separate teeing areas at St. Andrews in the late 19th Century that this defined "teeing area" became common place. As you can imagine, golfers continued to make tees from piles of sand.  This was messy and towels and water were provided to wash the golfers' hands as they are today to wash golf balls.
The Singular History of the Golf Tee by IR Valenta (1995) documents that the earliest known portable golf tee was invented by two Scots W Bloxsom and A Douglas in 1889, and was a small rubber slab resting flat on the ground, with three vertical rubber prongs or a hollow rubber tube to hold the ball in place.
The History says that the first known tee to penetrate the ground was the "Perfectum" tee, for which a British patent was granted in 1892 to P Ellis, also a Scot. It comprised a rubber circle with a metal spike that was pushed into the ground. A variation of this, the "Victor" tee, with a cup-shaped rubber top connected to a ground spike was patented by PM Matthews of Scotland in 1897.
The first United States patent for a golf tee was issued to the Glaswegian David Dalziel on  September 8, 1896. The patent was for a rubber tee with a flat base and slightly concave top, in combination with an artificial ground surface. Nothing significant became of the invention.
Dr. George F. Grant received U.S. patent number 638,920 on December 12, 1899? A devoted golfer of average skill, Grant was frustrated with the movement of the ball when he tried to hit it from the sand mound and he didn't want to get his hands dirty. This led Grant to carve a wooden peg that he could easily push into the ground. The top of the peg was slightly concave to accommodate the ball's curvature. Unfortunately for Grant, he did not choose to promote or market the tee and like those before him, it never quite caught on. He had the tees manufactured locally and would give them to his friends. Throughout the end of the 19th Century and the beginning of the 20th Century, golfers began trying to create re-usable tees, using cork, paper or rubber. In 1991, nearly a century after his patent, the United States Golf Association gave Grant recognition for his contribution to the game of golf.
Interestingly George Franklin Grant (September 15, 1846 – August 21, 1910) was a pioneer. Not only was he an avid golfer, he was the second African American to graduate from Harvard's Dental School, and the first African American professor at Harvard University as well as a Boston dentist. His talents went beyond golf. He is credited with inventing an insert for those people with cleft palates that was used internationally.
It was left to another American dentist to get the wooden tee into mainstream golf. The first commercial golf tee, which is the one we know today, was the Reddy Tee invented at Maplewood Golf Club in 1921 by another American dentist William Lovell. First manufactured in wood and painted with red tops so that they could be seen easily, they were soon produced in a variety of styles and materials. The "Reddy Tee" made of white celluloid by the Nieblo Manufacturing Company, was patented in 1924. Although many varieties of plastic and other tees are available, simple wooden tees similar to those made in the 1920s are still the most common type today.
More recently dentist, Arnold DiLaura, patented the Sof-Tee, a tee that sits on top of the ground instead of in it.