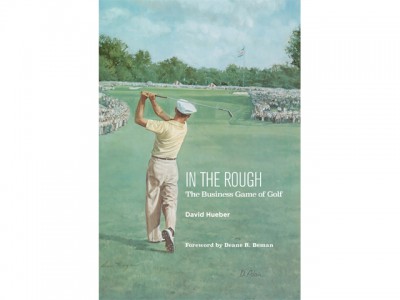 Have you ever wondered what it would be like to work for the PGA TOUR? How about working for Ben Hogan at his company, directing the National Golf Foundation, or managing The Pebble Beach Company and reporting to Japanese owners? I have.
The business of golf essentially has three main sectors – administration, facilities, and equipment. Golf has an incestuous way of recycling both its failed and accomplished leaders within those segments, but seldom in all three. "In The Rough's" author David Hueber more than anyone in my memory has served at the highest levels in all three and has lived to tell about. As such, he was a witness and often a vital contributor, and quietly one of the most influential people in the game. (Hueber includes a "Golfweek Magazine" cover announcing him as "Golf's Power Broker" in 1988.) Indeed, David Hueber may be one of the most important people in golf that you may have never heard of – but should. He was right there enabling and then enjoying Golf's height of popularity – the 1990's.
By way of background, David Hueber grew up in the golf business as his father was a PGA club pro. As you might imagine, young David started out as a caddie, mowed greens, and played well enough to earn a golf scholarship at Florida State University. He started his career with the National Golf Foundation doing golf course development work in "Golf Gulch" of Carlsbad, California and rubbing elbows with many fledgling golf manufacturing companies that eventually succeeded. This led to a business career in marketing at the PGA Tour under Commissioner Deane Beman. He was vice president of marketing until he moved back to the National Golf Foundation as its president and CEO. He then became president and CEO of the Ben Hogan Company when it was owned by Cosmo World, a Japanese company. He also served as president of Ben Hogan Property Companies, which owned Pebble Beach.
As a small-time golf insider myself for a much shorter period of time beginning in 1991, the best vantage point I had was usually a 2nd or 3rd hand perspective. In contrast, Hueber was right there in the thick of things. Thus when I was hired by the PGA, I was already aware of Hueber who shared my background as a wannabe professional golfer and instead armed with an MBA achieved far more off the golf course. "In The Rough" is autobiographical in nature, but thankfully not overly egotistical. From Deane Beman and the PGA TOUR, Jack Nicklaus, the Solheim family (Ping), Gary Adams (TaylorMade), Tom Crow (Cobra Golf), Ted Wooley (Golfcraft that became Titleist clubs), and Ely Callaway to Ben Hogan, the National Golf Foundation, and Cosmo World (Pebble Beach), Hueber has known and worked with them all. As such, Hueber may be "Golf's Forrest Gump" albeit far more intelligent, ambitious, and influential.
As interesting as Hueber's own story is – and it is, it is his insights that I found even more valuable and entertaining. The book does not fit any straight timeline, but rather hops around, beginning and ending with engaging stories about his personal relationship with Ben Hogan. Not only does the author provide a deeply personal view of Hogan from several angles, but he also provides interesting insights into Ben Hogan's famous "Secret."
Finally leaving the bastions of golfing power, Hueber attained a Doctorate in "Sustainable Golf Course Development" and he paints a soberingly thoughtful requiem for the game – one I happen to share. You will also learn from Hueber how the USGA's stature was reduced to "being a rules-making eunuch," the immense contributions that Deane Beman made to golf and especially the touring professionals, and Hueber's own contribution to the hybrid club. There is no nasty "dirt" dished out, but Hueber also fairly points out other's mistakes and personality quirks as well as his own. You will glean rare behind-the-scenes insights into the very personalities that helped shape the game that few know. Even for me, he confirmed most of what I heard and delivered a good bit more. "In The Rough – The Business Game of Golf" is delightfully refreshing and a good read for anyone interested in finding out how golf evolved in the last quarter of the 20th Century to where it is today. I recommend it!