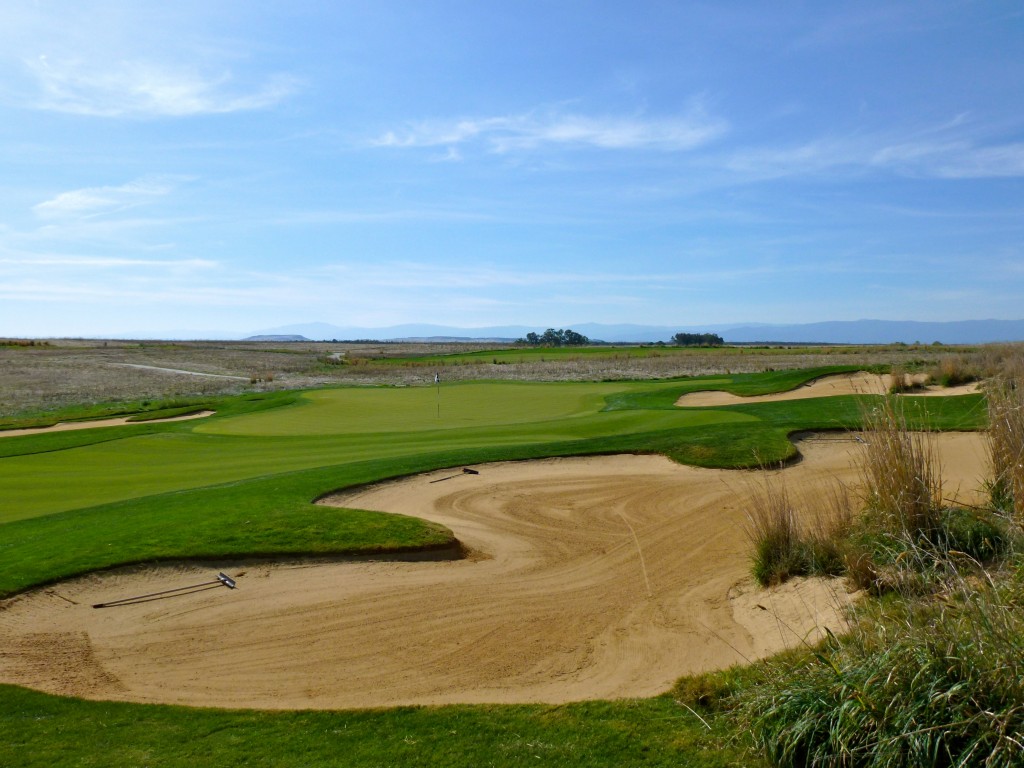 The expansive views as shown near the par-five 7th green are typical of the Sevillano Golf Links.
Interstate 5 runs north and south from the Mexican border through LA, Sacramento, Portland, and Seattle all the way to Canada – a popular drive for golfers.  The California portions of the trip  includes wide open stretches and any golf-smart driver would do themselves well to break up their journey and stop and play the Sevillano Links.  It is an architectural gem of a course.  In fact, stay and play several times and you will soon learn why.
Located north of Sacramento and about fifty miles south of Redding, Sevillano opened in October, 2007 as part of the Rolling Hills Casino/Hotel complex, which is owned by the Paskenta Band of Nomlaki Indians.  This facility is too convenient to miss, only located a mere 9-iron west of the highway.   While the Casino is busy, the adjoining golf course is a wonderful golfing escape situated on more than 400 acres with no homes and only a few trees on one hole.  Mostly it's sprawling vistas laid out on rolling pasture land.  This layout evokes a links-like look and is nothing short of expansive and full of intricate mysteries.  Twelve of the fourteen driving holes involve some sort of angle strategy regardless of your skill and what tee box you play from.  Risk-and-reward becomes a recurring theme.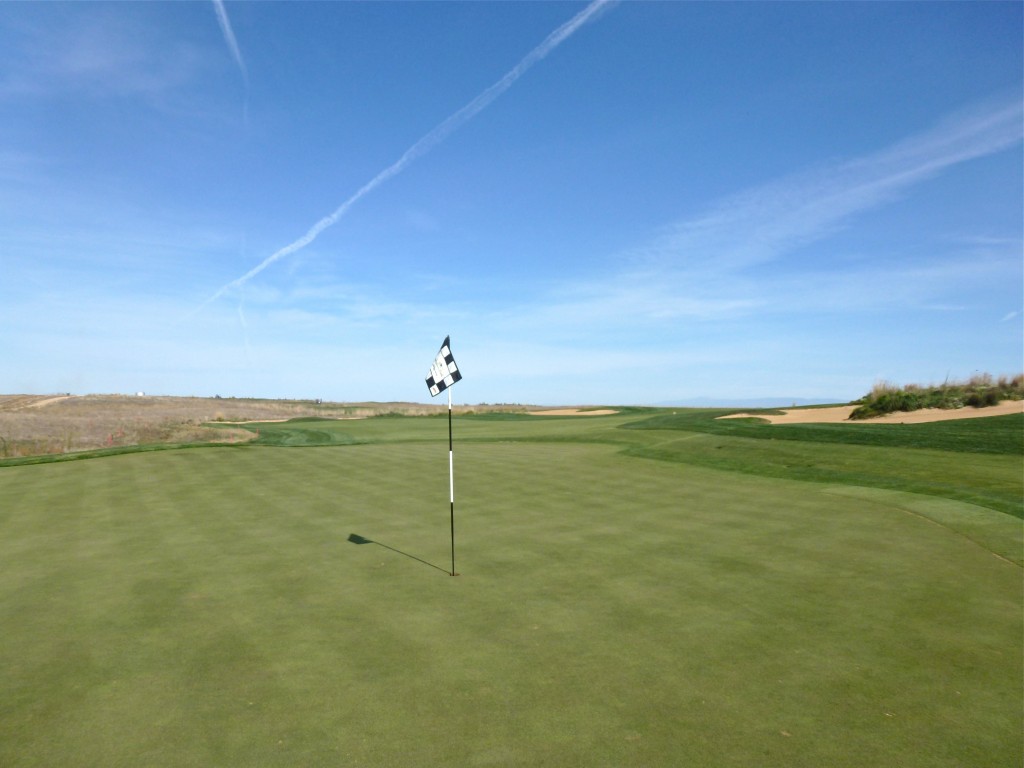 The par-four 3rd hole (looking backwards) is a magically flexible hole and immensely entertaining whether you play it from 386 yards or only 252 yards.
Usually I am pretty proficient in navigating myself around new courses, but thankfully my friend PGA Head Golf Professional Ron Kuwata thoughtfully coached me around pointing out appropriate target lines, especially since there are a number of semi-blind tee shots.  Had I been left to my own devices, I would have made several costly mistakes directing shots, which makes local knowledge here a premium.  There is a convenient alternative and that is to pay close attention to the GPS on your golf cart or read the yardage book.  Granted, if you want a golf challenge that is simple and straightforward, Sevillano may frustrate you.  For those of you that enjoy a puzzle with a host of options, you'll more than savor the challenge Sevillano offers.
Much was originally made that Sevillano is a John Daly "Signature Course" as he visited the property and reviewed the design, but major credit goes to golf course architect Michael Stark and superintendent Matt Hoyt.  Stark had the major input and responsibility for the design and Hoyt was not only the grow-in architect, but ended up also doing much of the construction work.  Hoyt's outstanding attention to detail at Sevillano was a contributing factor to earning Sevillano the honor of being "the best maintained golf course in Northern California for 2010-2011" according to greenskeeper.org.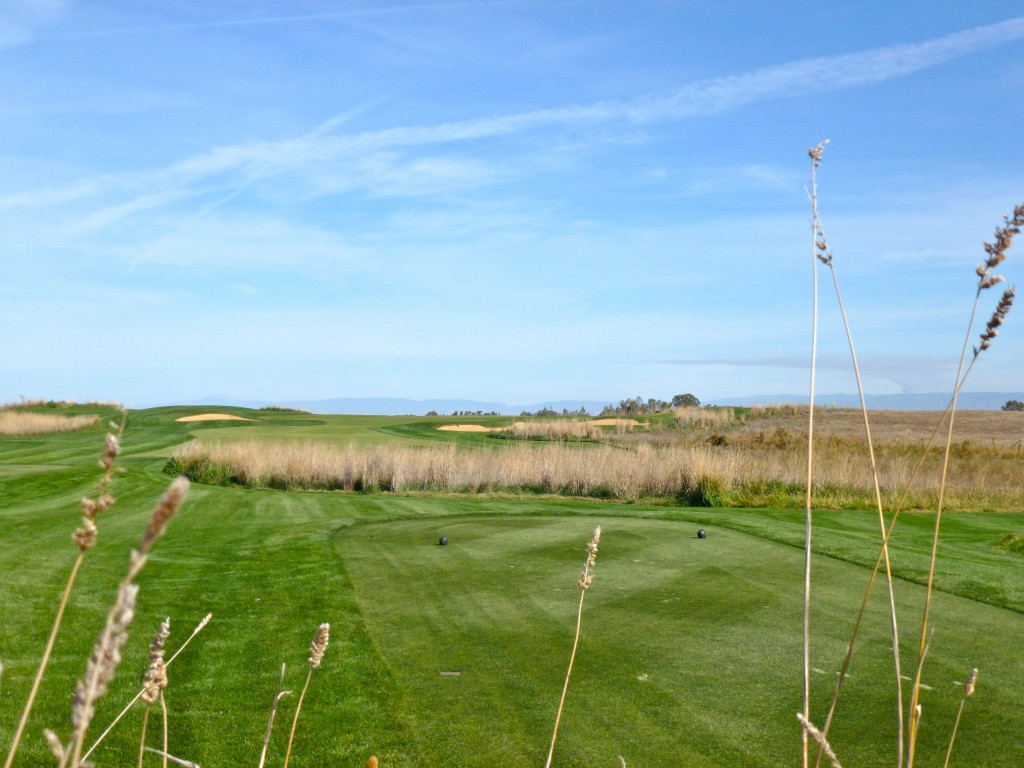 The uphill 191-yard 6th plays toward an "infinity" green making club selection a challenge.
Designer Michael Stark began with the gently rolling pasture and the finished product looks so natural.  It unfolds out away from the clubhouse in what might best be described as a minimalist design.  It's as if Stark designed a course that appears as if he poured ribbons closely cropped green grass that play firm and fast between the tall fescue grasses that populate the terrain.  There is just enough natural movement in the property to provide all kinds of nips and tucks, hillocks and few flat lies.  Sevillano may appear flat at a distance, but it is anything but that.
And if you successfully maneuver your way around the native grasses, your fun has just begun.  Stark has fashioned many interesting green complexes, sometimes built upon knobs complete with surrounds that bleed off into well-manicured chipping areas and pristinely maintained bunkers adorned with wispy native grasses.  The putting surfaces are hardly routine with several sloping away from the approach and all putting supremely smooth and quick – as pristine as any private course you will ever experience.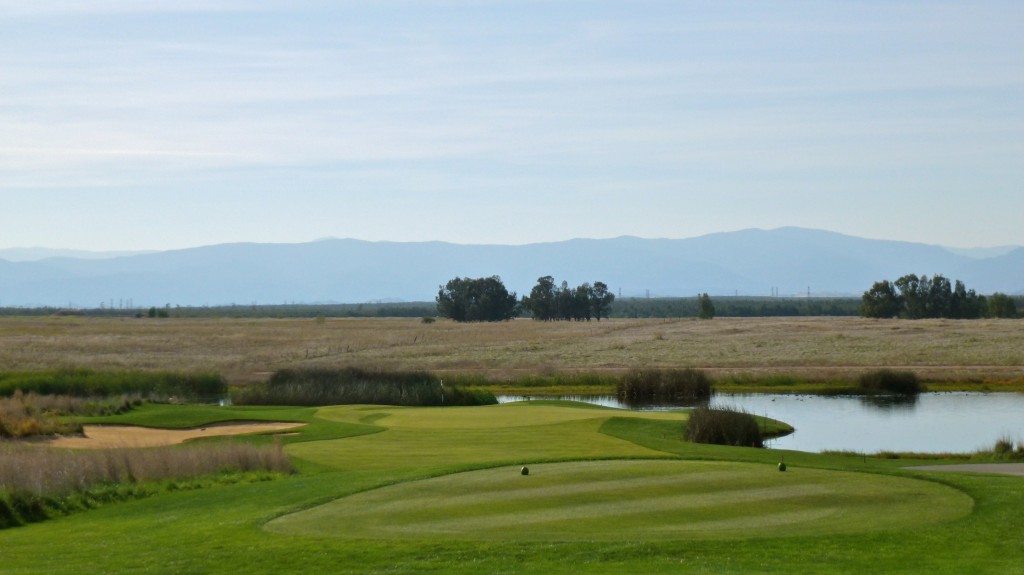 The 16th is one of the exciting quartet of excellent par-threes at Sevillano Links.
Wind is the invisible defense that guards par at Sevillano.  I encountered the course on a perfect nearly breathless sunny day and could only imagine what might develop when the wind picks up.  That said, the design features no unreasonable forced carries provided you are not foolish enough to pick a back tee that extends the layout to over 7,800 yards.  While most golfers will use all their clubs, a full-blown drive or heroic undertaking is not always the prudent strategy here.  Instead you would be well-advised to make aggressive swings at more conservative wider targets, though there are double fairways and lots of enticing angles to tempt you otherwise.
The one aspect that may frustrate many a first-time visitor is that Sevillano definitely qualifies as a "local knowledge" course similar to what you might encounter with a true links layout.  It takes everyone 3-4 rounds to begin to decipher the mysteries of Sevillano.  What's more, your strategies and lines of play completely change depending upon which tees you play – perhaps more so than any of the more than 2,550 courses I've played.  The green usually play into three separate "greens within a green" and hit the wrong one and you really have your work cut out just to two-putt.  It all makes for a course you never tire of, but may take time to learn.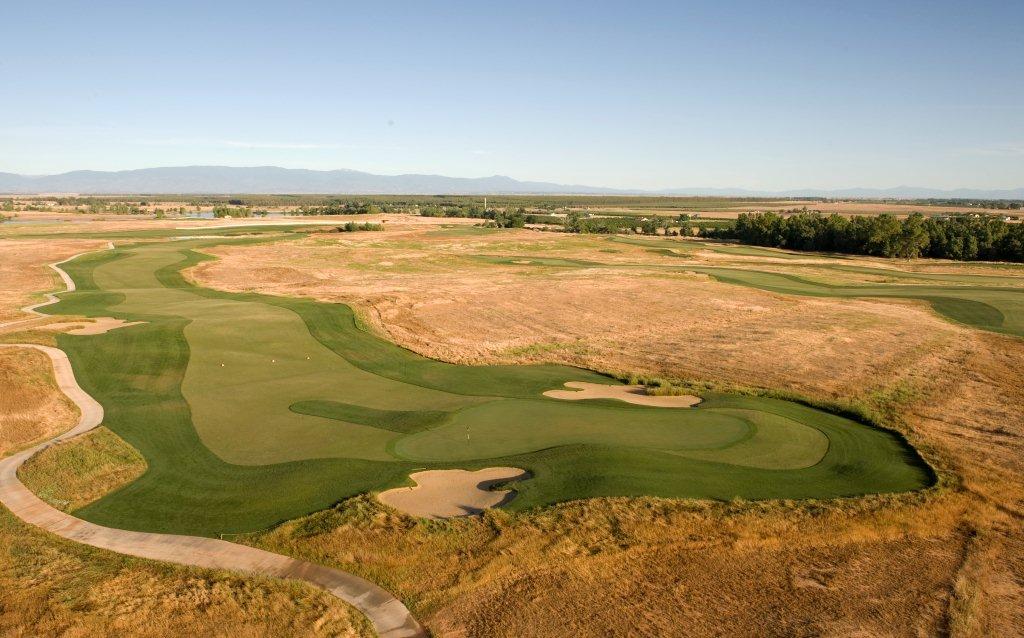 The 686-yard 18th plays uphill most of the way and requires three good shots for most of us to get home – and maybe more!
This is vast landscape with a 70-acre fishing lake and a hunting preserve that adjoin this expansive property.  There are no trees to block the vistas of the mountains in the distance – a feature that some may miss, but that I enjoyed as Sevillano seamlessly unfolds without any artificial mounding or other contrivances.  When you consider that you face 18 different puzzles on immaculately groomed playing surfaces (avoid the native fescue grasses), it makes for a most memorable day of golf.
Incidentally, Sevillano was once built as a 10,000-yard par-90 layout.  Anxious as I was originally to play it, when I witnessed the time and shots required to play it, I concluded it was an idea that just quite didn't work and I hadn't missed anything – Sevillano is best served on its par-72 plate.  The longer course required having additional landing areas and hitting over other golfers together with some long treks on foot, something that logistically didn't quite work.  An interesting idea, but not really feasible.
And while I don't recommend you gambling on the Sevillano golf course, the adjoining Casino is great for gambling, and with two hotels and the tasty Timbers restaurant together with a killer buffet breakfast make Rolling Hills and the Sevillano Links a great call for either a getaway or a stop-over along I-5.
It is always fun for me to make an exciting golf course discovery, and one in which others will certainly enjoy too!  Sevillano certainly qualifies as such for me and just might be the very best and most convenient golf stop along the whole Interstate 5 stretch.  Sevillano is a friendly, interesting layout with all the challenge even Long John Daly might be able to handle.  Sevillano is an architectural gem and a must-stop, but do stay to play several rounds.
Below is one of only two straight driving holes at Sevillano and the only one with trees.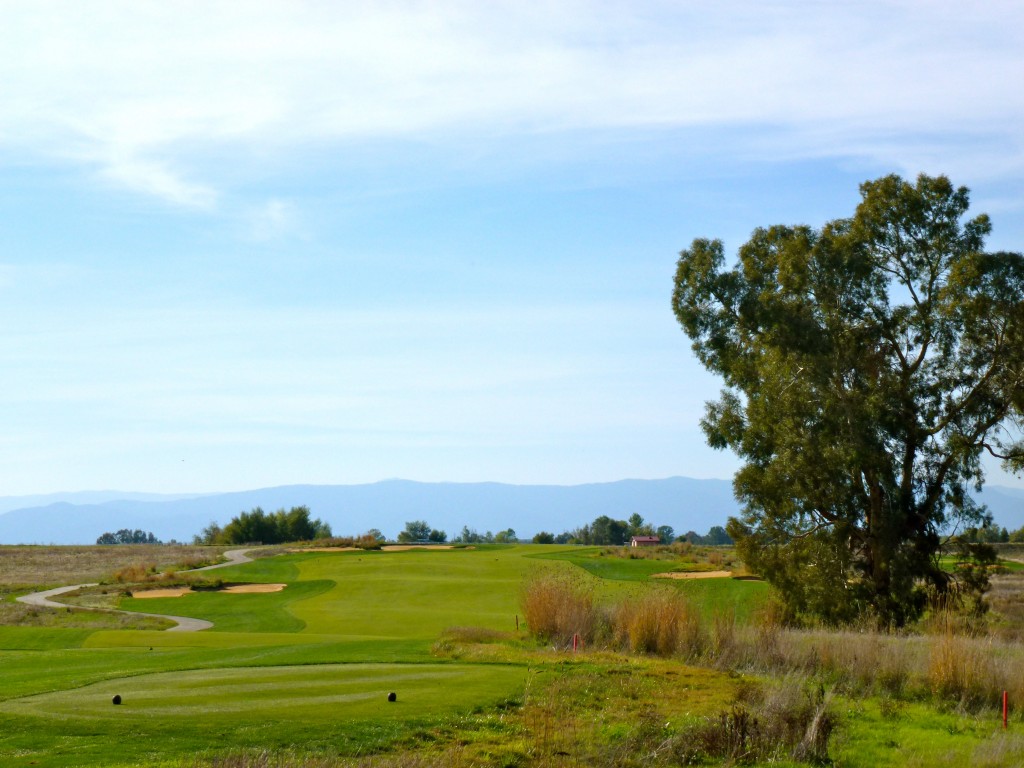 Fagan Grade:  B+. This exalted grade is indicative of one of the region's best layouts.  It reflects a truly entertaining architectural design from the tee, fairway, and bunkering locations all the way through the greens and their surrounds.  Most uniquely, it provides even the best players with an entertaining round should they choose to play a forward tee.  This course also features exquisite conditioning and friendly service.  The only drawback may be that there is so much to learn taking even the quickest learner 3-4 rounds to fully appreciate and plan their strategy for Sevillano – and it is a public resort where many will be first-time players.  I recommend you play Sevillano and hopefully more than once if you expect to fully appreciate it.
Below is the first hole and green in the foreground.  Above is the 8th green and 9th tees. (The casino/hotel complex is in the upper left corner and you can see Interstate 5 just beyond.)