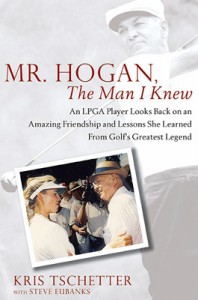 If you ever meet Kris Tschetter as I have, you will instantly realize how she could have melted the heart of the legendary Ben Hogan.  Fun, interested, personable, and attractive only begin to describe this LPGA Touring Professional.  "Mr. Hogan, The Man I Knew" describes not only the golfer-to-golfer relationship that Kris had with Hogan, but also reveals what amounts to a Grandfather-Granddaughter relationship that the two enjoyed.
Growing up, Ben Hogan was my golfing idol and I was fortunate enough to see him play and watch him practice on several occasions.  Suffice it to say, the man was a true gentleman and a uniquely skilled golfer.  Since that time I have scoured every book and have chatted with many who knew or claimed to know Ben Hogan in order to discover more about the man.   And yes, I was quite aware that Kris Tschetter enjoyed a special relationship with Hogan.  Mixed with all this information and lore have been a lot of myth and outright false information.  When I heard that Kris Tschetter would be coming out with a book, I was interested.
If Ben Hogan fascinates you, you should be interested in Tschetter's work too!  It is an easy read with some photos that clearly illustrate that the Hogan-Tschetter relationship was more than a casual one.  Not only is the story a genuine one of two very separate generations bonded together by golf, love, and respect, it clearly demolishes many myths, some perpetuated by other famous golf personalities.
Tschetter reveals in Hogan a true gentleman and a warm soul who loved teasing and sarcasm, appreciated and honored hard work, and had a quietly generous, considerate streak matched by few.  You will also discover how Hogan played the game, how he helped Tschetter, and what people don't know about the man.  Hogan, himself, allowed several myths to start and grow, but Kris sets the record straight. "Mr. Hogan, The Man I Knew" is not only an important biographical work, it offers a uniquely fresh perspective and also a heart-warming story; one that I heartily recommend.