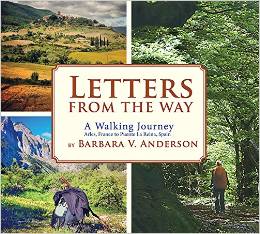 As a literary critic, it is always a treat to discover a writer with talent and an engaging message. Such was the occasion with Barbara V. Anderson's "Letters From The Way – A Walking Journey," a collection of actual letters sent from the author to friends while hiking or walking if you will on one of the lesser traveled pilgrim paths in France and Spain measuring some 600 miles? What would a "retired California woman" with no particular French or Spanish language skills traveling solo find? One hint? Expect the unexpected!
You'd be totally mistaken if you presume this to be a hiking piece or even a travel log, though there are many pictures written and photographs provided to give you a taste of the landscape and happenings. Rather I found this walking journey to be an intimate view of one's search for meaning, of God, and of self. As I followed the author's trek through her letters, in a real sense it became mine as well. Barbara Anderson's questions mirror many that we all have, and her discoveries and remaining mysteries may illuminate your own search for meaning as well.
I have often heard it said that walking is akin to meditation in motion. Ms. Anderson's letters from her "walking journey" take you with her in a way that is not only insightful and interesting, but also funny and intimate as well – definitely a "good read." In each letter (not chapter), Anderson had me laughing or chuckling to myself while also managing to vicariously enjoy her travels and travails in search of more than just another bucket list experience – this search for meaning. Interestingly, her conclusions insightfully pull together her journey that makes this entire work entertaining and thought-provoking for us all.
With no pomp or sense of self-importance, Barbara Anderson lovingly drew me along with her, the issues she pondered, the things she saw and experienced, along with the people she met. Yes, in a kind of magical, mystical way, she allowed me to join her and address the same questions of life while exploring new territory. "Letters From The Way – A Walking Journey" is an exquisitely written, thoroughly engaging tale that I heartily recommend, and I look forward to enjoying Ms. Anderson's future work!
 Author Barbara V. Anderson