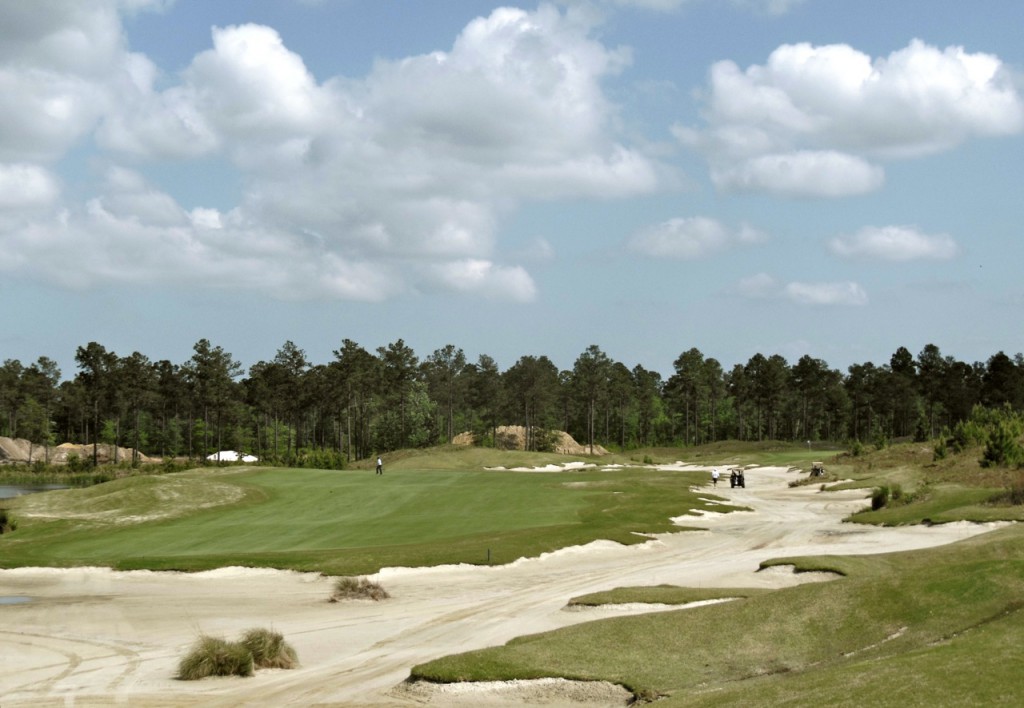 Plenty of sand along with lots of water and trees await you at Cape Fear. Shown here is the par-four 13th.
Have you ever played a golf course that finishes both nines with par-three holes? Well, I'm sure there are ones out there, but they'd be hard pressed to be as good a layout as Cape Fear.
Located less than six miles from Wilmington, Cape Fear opened in 2009 to rave reviews from several publications and counts as one of the North Grand Strands best layouts. It is the golf centerpiece of a large planned community so eventually you can expect more housing around the property.
Golf course architect Tim Cate has been a busy designer in the Myrtle Beach area and his work at Cape Fear National really showcases his talent. The course is situated upon flat forested property, but this layout is anything, but attractive. Cate moved more than 1.5 million cubic yards of earth to create elevated tees and some undulations in an area that includes marshes and more than 1,500 linear feet of bridges, several ponds, and three waterfalls. Long expansive waste bunkers help frame the holes as does the Cypress marsh. While the layout is cut out of the trees, it is the water and bunkering that define the strategy, as opposed to the trees for hitting into them is a lost ball.
Challenging and visually stunning, the course be starts out fairly benignly, but ratchets up the challenge quickly at dogleg left 545-yard second. The hole demands accuracy from beginning to end, and particularly with the second shot with water to the right and woods to the left. That theme repeats itself at the par-five 8th.
Shown above is the putting surface of the challenging par-five 8th. (Photo courtesy of Mike Clemmer.)
Cate closed out the outgoing nine with a one-shotter; the 205-yard ninth with its green angled diagonally is a wonderful hole. Perhaps my favorite hole is the 427-yard 13th with its expansive waste bunker that extends nearly the length of the hole, but I would not object to several other's choices for Cape Fear's best.
There is enough length at 7,217 yards from the tips, and its slope of 143 and rating of 74.5 qualifies it as one of the toughest challenges around. Six tee positions do add to the layout's versatility. The aspect of Cape Fear that really impressed me beyond its attractive aesthetics is that there is simply nothing not to like about this excellent layout. Cape Fear National is well worth the visit!
Below: both nines at Cape Fear conclude with strong par-threes. This is the ninth green.