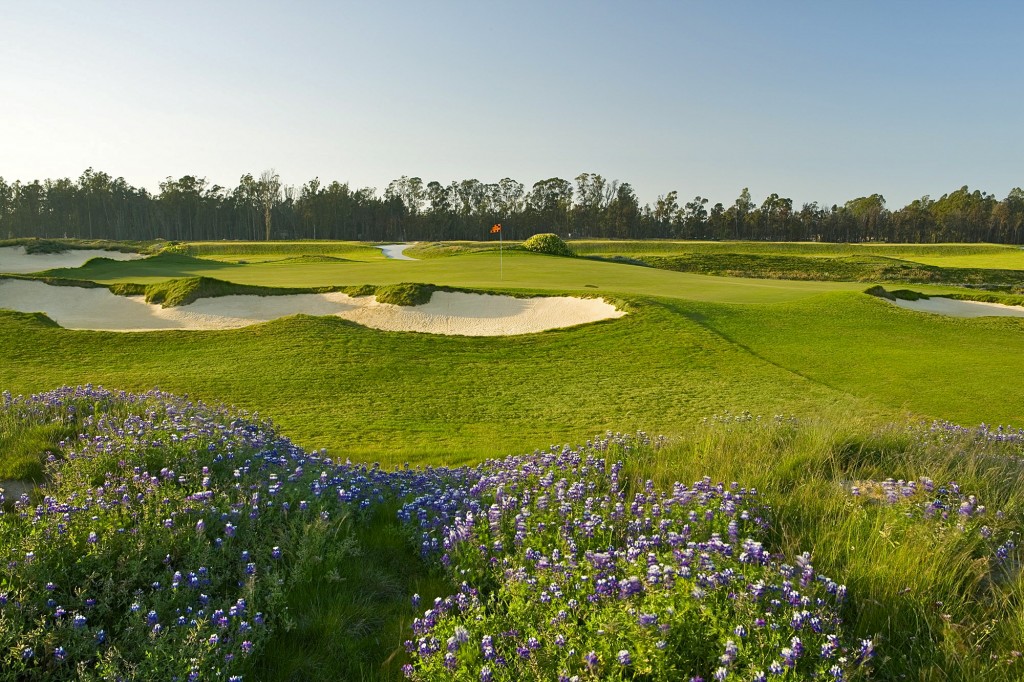 Great scenery along with interesting architecture and shot values greet you on each of the twelve holes at The Challenge at Monarch Dunes.
If you haven't previously been exactly enthralled to play a par-three course, The Challenge at Monarch Dunes could quickly change your mind.  It certainly did mine.  Typically, par-three courses have been architectural afterthoughts featuring mundane challenges and substandard conditioning. The Challenge Course at the Monarch Dunes Golf Club in Nipomo, close to the Pacific on the Central California coast is anything but.  You will discover an entertainingly challenging, rugged, but beautifully conditioned par-three delight that compares to any in America.
Oddly enough, the best American par-three courses have been situated at such staunchly private clubs such as: Pine Valley, Augusta National, the Olympic Club, Sherwood Country Club, Colleton River, Sutton Bay, Colorado Golf Club, and a few others that precious few people even know about, yet alone get to play.  In the nineties, the Treetops Resort in Northern Michigan built Threetops, an amazing public-access par-three layout with vast elevation changes in a pristine forest setting.  Well, Monarch Dunes is California's answer and, if there is a better one-shotter layout in California that anyone can play, it has escaped my attention.  What's more there are twelve delightful holes!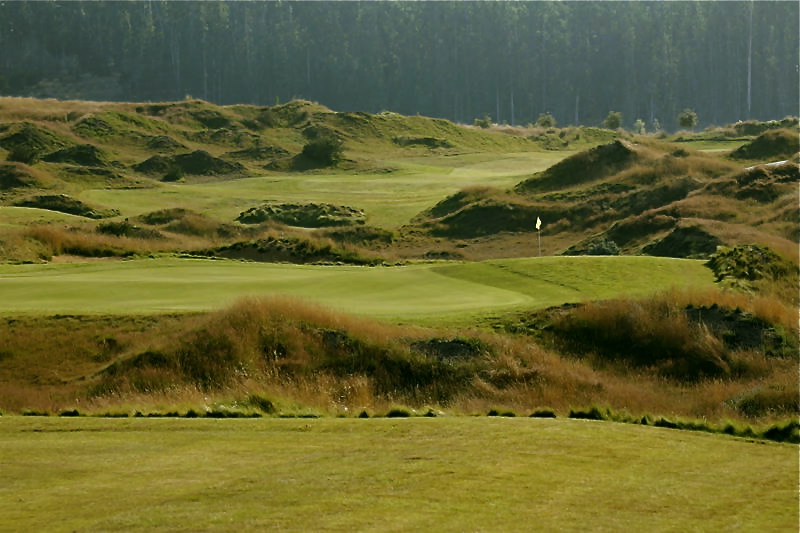 Rugged mounding surrounds the nicely manicured playing surfaces.
This twelve-hole layout is not only priced at a bargain ($12-16 with a $10 replay rate), but it takes a lot shorter time to play.  Typically, one can expect to finish in about two hours or less, and the management thoughtfully schedules 15-minute intervals between tee times.  What's more, the course is an easy, pleasant walk.
Like its regulation sister course at Monarch Dunes, "The Old Course," golf course architect, Damian Pascuzzo and his partner touring professional Steve Pate, were again called in by the developer/owner, John Scardino, to also design this layout.  The result was a masterful, versatile layout. With any par-three design, the putting surfaces are the key, and Pascuzzo/Pate team built many shapes and contours into the very large velvet bent grass greens.  There is rugged, scruffy mounding crafted in an Irish links motif that adorns and protects the targets, in addition to several lakes and ample bunkering providing the hazards.  More importantly, the conditioning of the greens and tees are anything but scruffy.  The greens are immaculately smooth and fast, a pleasure and also a challenge to be sure.
What is particularly interesting about The Challenge Course is that it is, as the name suggests, a challenge.  That said, when set up with accessible hole locations, it is very playable.  The holes vary from 80 yards from the tips to a very shallow green, to the longest at 242 yards, and include a semi-blind 202-yard uphill finisher that plays even longer uphill and into the prevailing wind.  That downhill 242-yard fifth ranks as one of the best par-threes anywhere where the large green is flanked by water to the front, right, and rear; and a big bunker to the left. It is a dazzler that may have even the scratch players pulling out a driver when the breeze picks up!
No matter what the distance, The Challenge's green shapes dictate that even the skilled player had better keep their attention to the shot at hand, and make The Challenge just that.  Miss a green in the wrong spot and it is very difficult to recover in par.  The putting surfaces as mentioned are quite large (average 8,000 s.f.), yet play much smaller due to the bold contouring.  Those slopes will funnel the ball either to or away from the hole, and long putts often have pronounced humps and ridges to traverse.   In other words, scoring is no routine task at The Challenge, a very testing and interesting layout.   For the advanced player, The Challenge makes for a terrific venue for a money match or a place to sharpen your iron play – the perfect complement to neighboring Old Course.
A note about Pascuzzo and Pate:  Damian Pascuzzo certainly qualifies as one of America's gifted architects.  Mentored by the venerable Robert Muir Graves, Pascuzzo has established his own creditable original designs and renovations without any "signature look or style" that traps others into a repetitive box.  As for partner Steve Pate, here is a touring professional is has jumped in with both feet into the design business.  While he brings an elite player's perspective, he is much more than window dressing and takes a hands-on approach with his partner.  The work I've seen them produce on the two courses at Monarch Dunes as well as the La Costa Resort & Spa in Southern California is strikingly different from each other, yet very impressive!
When you add the accommodating staff, the tasty food and good service, the spacious practice area, with the premier Old Course and California's "Best Par-Three Course" that anyone can play, it makes good sense to visit Monarch Dunes – and tell them that Bob Fagan sent you!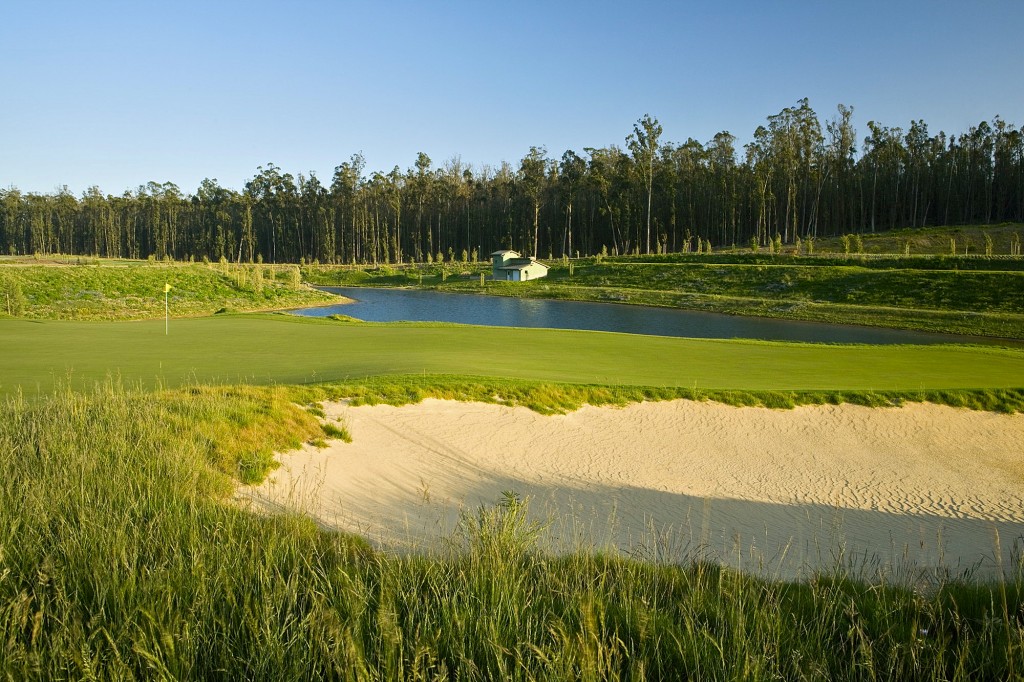 Conclusion. The Challenge at Monarch Dunes rates among the best par-three courses in the United States, and an especially a good value when when you also consider it is a 12-hole layout and not 9-holes.  Together with the 18-hole sister course, these are both "must-plays" when in the area.  There are plenty of challenges to keep you full engaged at this, perhaps the best golf facility on California's Central Coast.
You will enjoy a classic links look at The Challenge at Monarch Dunes.