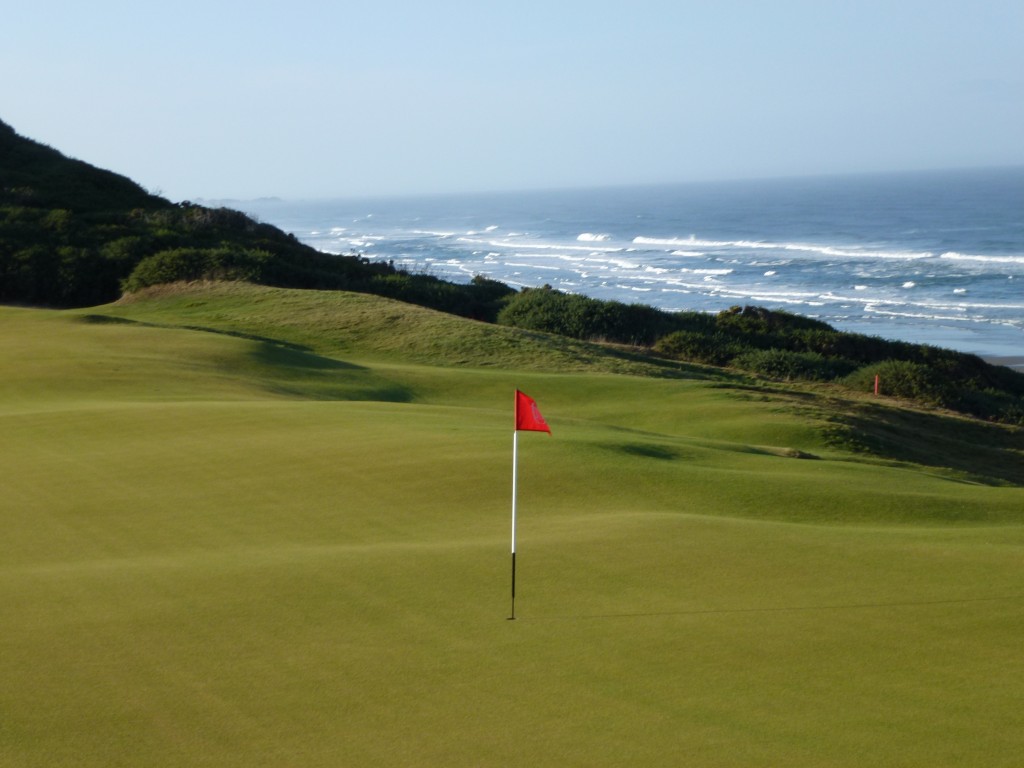 The roar of the surf far below is ever present all around Old Macdonald, but here at the elevated 7th green is the closest you get to it.  (Photo by Robert S. Fagan)
In considering this title, I almost put a question mark at the end of "Course," but what the heck, let's call a spade a spade. The Old Macdonald Course at Bandon Dunes IS "America's Most Fun Golf Course." How could I make such a claim? It's easy, I've been fortunate enough to have actually played more of the best American golf courses than anyone else, but enough of that.
Yes, I have my favorite courses and count the Pine Valley Golf Club as the best and one of my favorites, but actually The National Golf Links and the Cypress Point Club have been my two American favorites until fairly recently. A few years ago I added Pacific Dunes as the modern Cypress Point- version and now I've added the adjoining Old Macdonald Course as the modern National Golf Links-version. Both are Bandon Dunes Resort courses on the southwest Oregon Coast.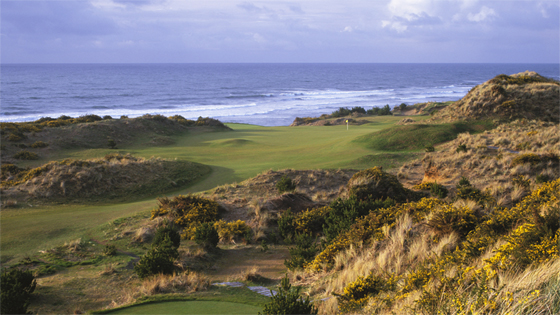 This is the par-three 10th at adjoining Pacific Dunes, which was also designed by Tom Doak along with right-hand man Jim Urbina.  It was Mike Keiser's selection of Doak here that continued to elevate both Bandon Dunes and Doak to world-class preeminence.  (Photo by Robert S. Fagan)
Both Pacific Dunes and Old Macdonald have been created by the vision of land steward Mike Keiser who owns Bandon Dunes, and Tom Doak and Jim Urbina magnificently crafted these two masterpieces with Old Macdonald opening in June 2010. Fellow golf writer Joe Passov has stated, "Forget minimalism—no modern designer has advanced the cause of classic virtues, with its emphasis on strategy, width and contouring more successfully than Doak." I agree with Joe.  Says Doak, "Undulating topography is the soul of great golf courses." Regardless he has certainly shown the skill to either locate or create such in many of his projects with spectacular results, and Old Macdonald is the latest course that will surely provoke debate as to which among his 29 courses is his best!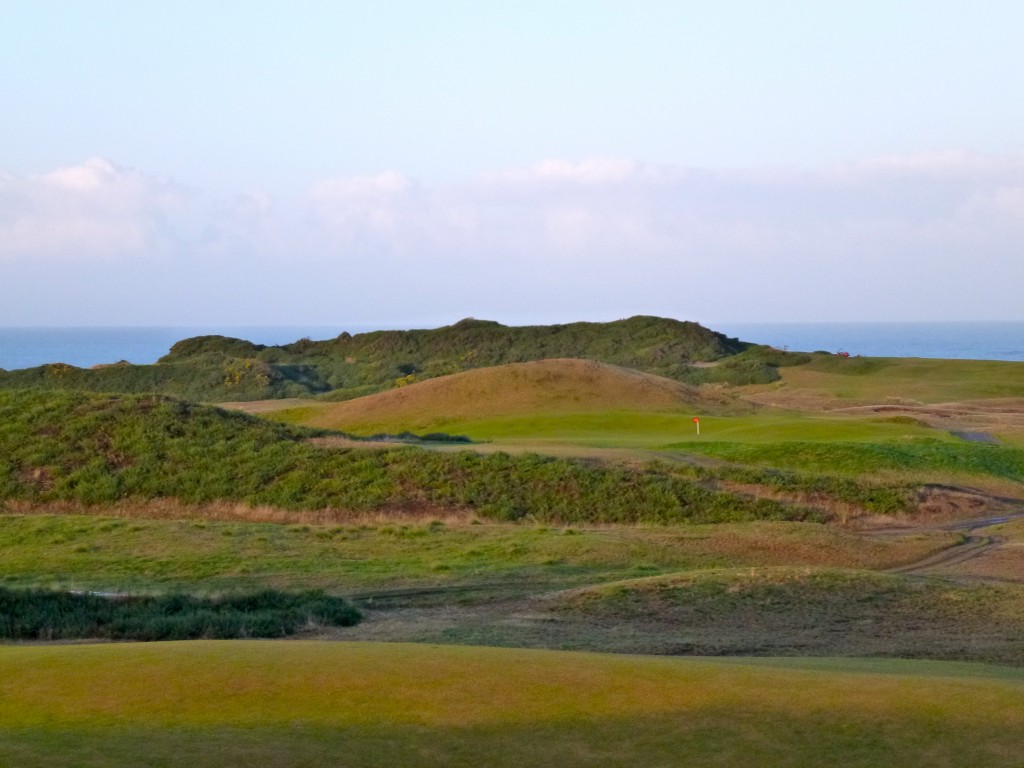 The Old Macdonald property just seems to seamlessly unfold around you in spills and waves, and while the Pacific is ever present with its thundering surf, it is most often mysteriously out of view.  (Photo by Robert S. Fagan)
So what is a fun course and why is Old Macdonald the most fun? For me, golf is fun when I've been stimulated and challenged, been teased and taunted, been thrilled and mesmerized. It's when I've laughed and cried, lived and learned, and faced my fears and gotten past them. It's about thinking, strategizing, and executing, and exercising my imagination. It's about the sights, sounds, smells, and textures not to mention the wildlife and natural beauty. Fun is a memory that swells within you and brings a warm smile to your heart.  Macdonald courses also exude "Character" with a capital "C." Old Macdonald does as well thanks to the creative forces at work there.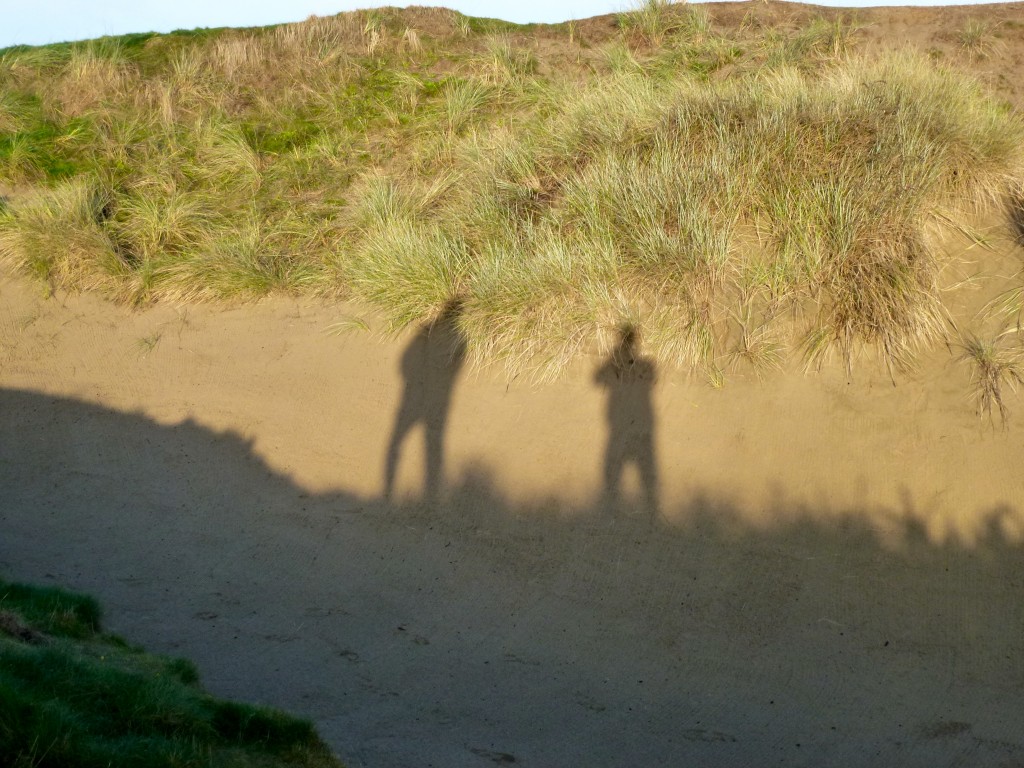 Sports Illustrated's Senior Golf Writer John Garrity and I are having fun capturing our shadows against the lip of the nasty "Hell Bunker" on the par-five 6th.  Below is a side view of the same bunker inspired by the one on the 14th at the Old Course at St. Andrews.  (Photos by Robert S. Fagan)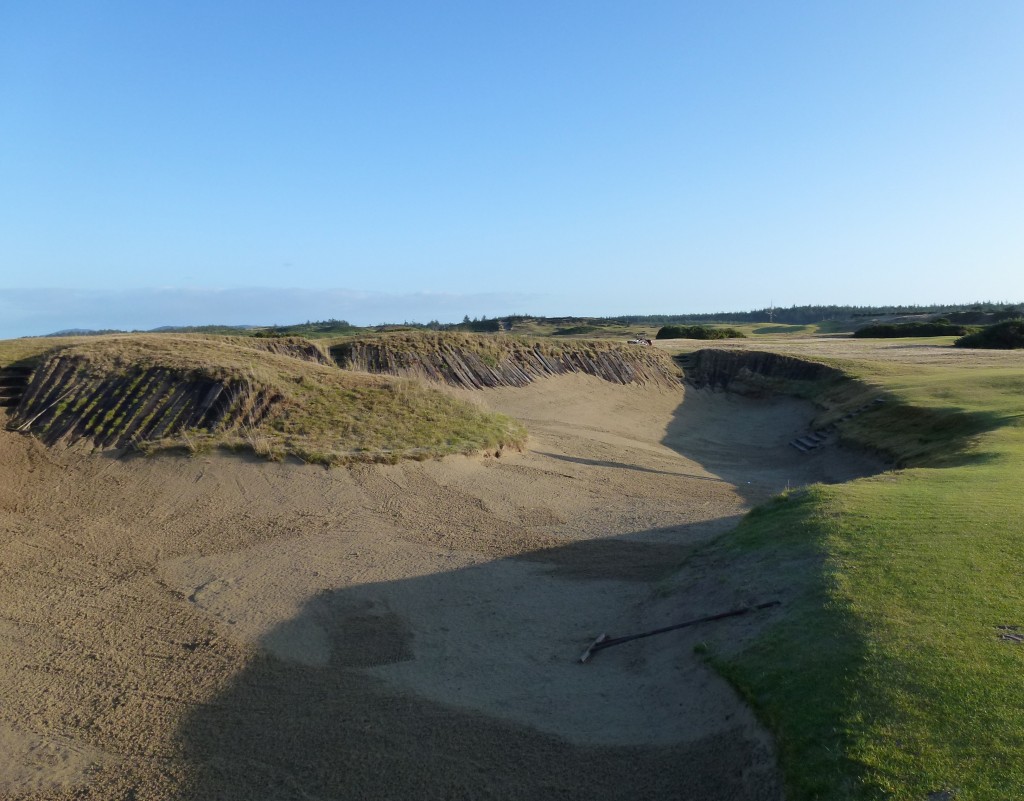 I recently played two rounds of golf at Old Macdonald in the company of four-dozen or so well travelled passionate, other knowledgeable golfers – all of us friends and admirers of Tom Doak and his Renaissance Golf team. That's occasion enough for fun, but Old Macdonald is so much more. One day was miserable rain, mist, and fog with a hint of breeze. The second day was brilliant bright sun and piercing blue sky with the threat of wind. Both experiences typify the southwestern Oregon Coast wherein lies Bandon – real fun in either instance. The first day you could not even make out some shots whereas the second day, the landscape peeled out in all its naked clarity before you.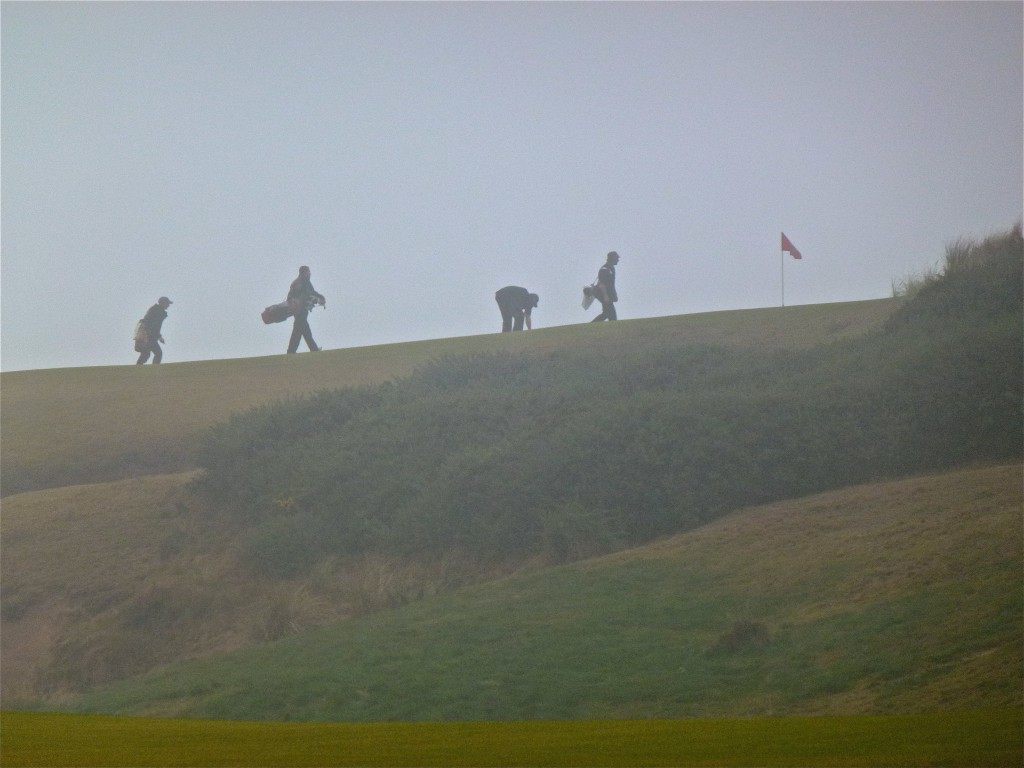 An eerie fog right out of an Alfred Hitchcock movie envelops golfers as they play along the summit that composes the 7th green.  (Photo by Robert S. Fagan)
I usually listen to music or books when I experience a long drive, but my nine plus hour drive home was done with quiet joyful contemplation of the golf magic that Mike Keiser, Tom Doak, Jim Urbina,  together with the Renaissance team and Bandon Dunes Staff has created and bestowed upon golfers lucky enough to experience Old Macdonald. Now that is proof of fun!
Often called "The Father of American Golf," Charles Blair (CB) Macdonald was the inspiration for this course and he learned his game in St. Andrews playing matches against Young Tom Morris more than twenty years before there were any courses of note in America. Returning to the States, he won America's first real national championship and started designing some of the best courses ever such as the long gone Lido Links, the venerable Chicago Golf Club, charismatic Yale University Golf Course, and my favorite, The National Golf Links of America on Long Island. As was his custom, he would fashion holes in the spirit, strategy, and look of the great British Isles holes that had so impressed him. In many instances, the Macdonald holes were equal to or better than the originals as evidence by The National Golf Links.
Yes, CB Macdonald courses exude "character" with a capital "C."  Old Macdonald does too! The only sad thing for most golfers is these original C.B. Macdonald courses are fiercely private so outsiders seldom get to experience his genius. Thankfully that is not the case with the resort offering of Old Macdonald at Bandon Dunes Resort.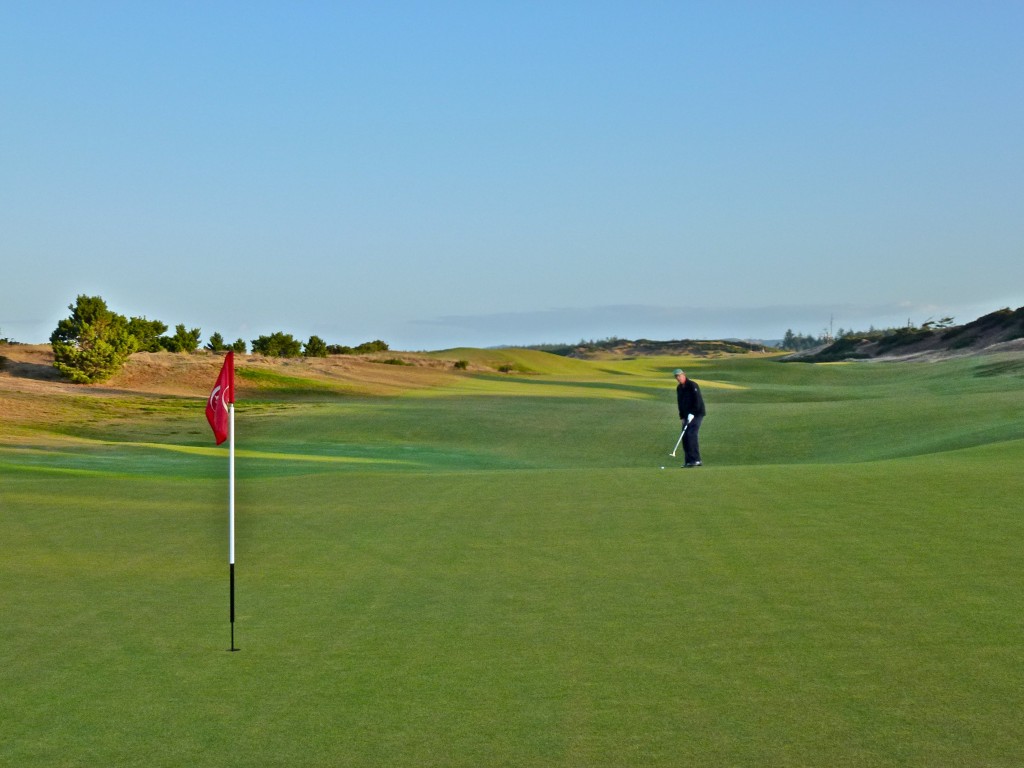 Though the golfer putting here on the 4th green (my buddy John Garrity) happens to be 6'7″ tall, he appears small on these massive undulating greens that are firm and quick though they are indistinguishable from the fairway surrounds.  (Photo by Robert S. Fagan)
Mr. Keiser who counts the C.B. Macdonald's Chicago Golf Club as one of his golfing playgrounds certainly qualifies as a well-travelled golf aficionado, had a yet-to-be developed parcel of land on his Bandon Dunes property. Picturing it, Keiser pondered what would the great CB Macdonald create if he were around today to build a course there? Well, Macdonald died in 1939, but perhaps Tom Doak who has long studied and admired Macdonald could bring that spirit to life. Jim Urbina who long served as Tom's right-hand man would be another resource. They then brought in George Bahto, a Macdonald historian, Karl Olson who maintained the National Golf Links, and another knowledgeable golf architecure historian/writer Brad Klein to offer advice. Together they fashioned a design that is so ingenious and Macdonald-like that old CB might even tweak some of his masterpieces with what he might experience at Old Macdonald.
Back to the fun aspect. Old Macdonald is about as playable as you will find. It is pretty difficult to lose a golf ball there and you can hit grounders along the firm turf and still usually acquire the necessary distance to score. In the Macdonald tradition, Doak and Urbina captured the playability and challenge factor to a tee – to challenge the best players, but to also provide the less skilled a way to easily maneuver their ball around. As would all the great architects including Macdonald, Old Macdonald often conjures up the use of angles to make things interesting. How close do you play to a bunker and how much of a dogleg do you attempt to carry? The fairways are massively wide, but don't allow for next shot accessibility if you are careless with your placement. Birdie-seekers had better be accurate where bogey shooters can thankfully relax here. Challenge the trouble at Old Macdonald and fail and you are in for a spanking, but play around it and you can achieve a reasonable score. Challenge and win, and you are rewarded with low scoring.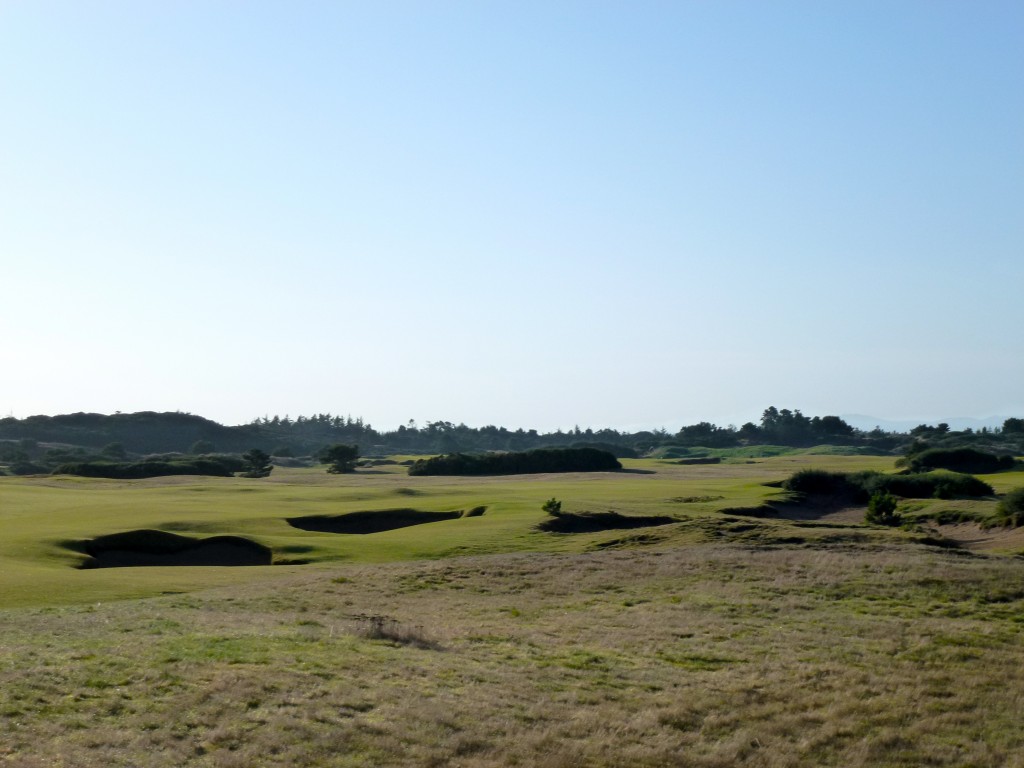 Above is the 416-yard 9th "Cape" hole that employs the fairway bunkers set at an angle tempting you to cut off as much as you dare. Below is one of my several favorite holes, the little uphill par-four 7th.  (Photos by Robert S. Fagan)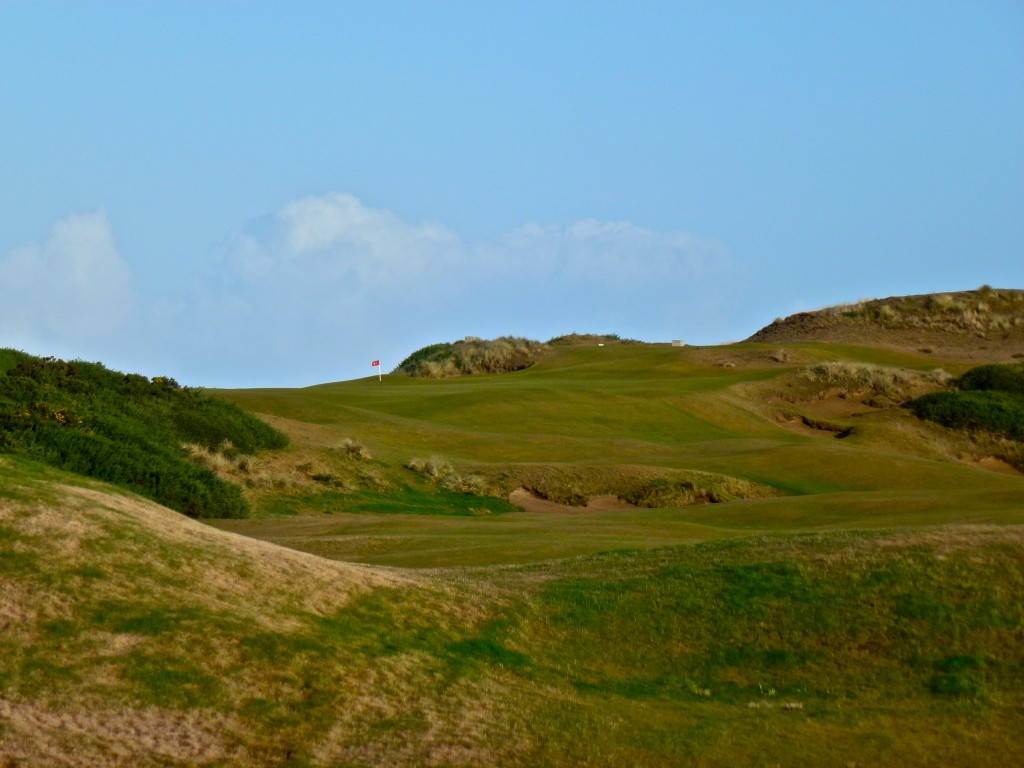 The ground game is alive and well at Old Macdonald as anywhere. There is no "automatic, mail it in" golf here and between the firm turf and coastal conditions – yardages barely matter. Except for extracting yourself from one of the deep pot bunkers, your lob wedge is better left in the trunk of your car. Here you can putt from 50 yards off the putting surfaces or chip and run with a medium iron or hybrid club. Speaking of putting surfaces, they roll true and are very fast in spots, but the interesting thing is that it is often impossible to discern the fairway from the greens, as they are maintained alike. The putting surfaces have as much character and movement as any in America and you will have to have all your awareness and imagination to putt them well. In fact, it is safe to assume that if most better players don't score well here it will be because they lose their shots around these greens for they are challenging – sometimes wild and sometimes subtle, but always interesting. About the only criticism will come from golfers who either are not accustomed to or don't like really undulating greens, but no one will ever say Old Macdonald doesn't have character.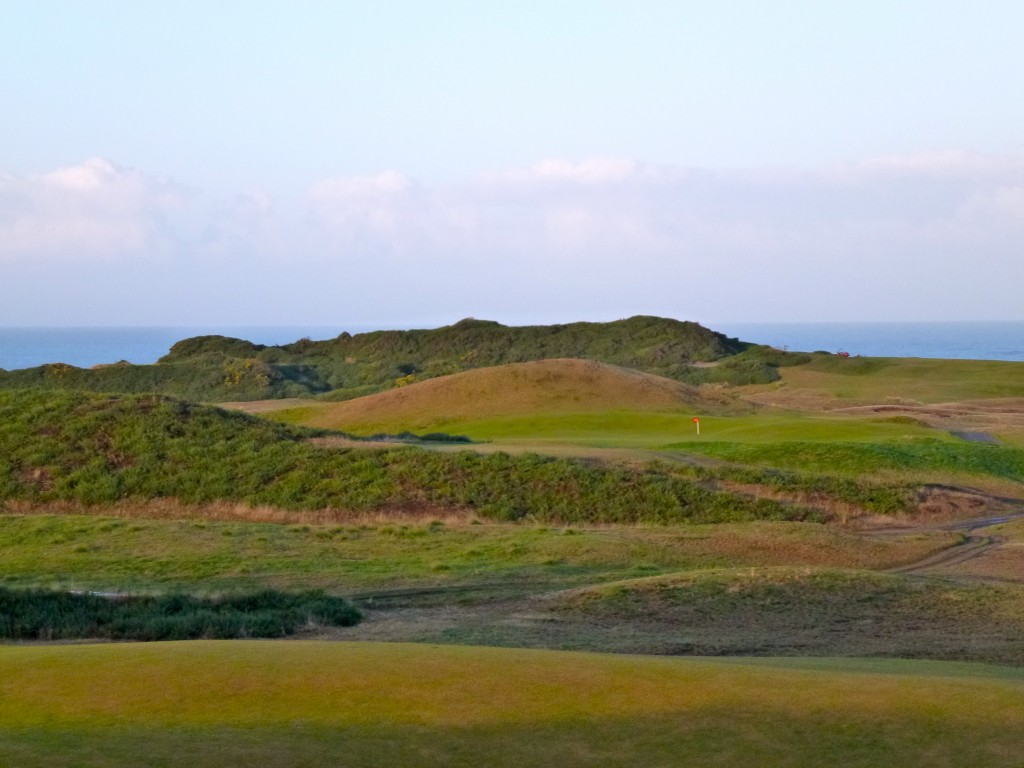 Photo by Robert S. Fagan
Any student of golf course architecture will instantly recognize the renditions of the Biarritz, Road, Eden, Long, Sahara, Alps, Short, Maiden, and Cape holes to name just a few. You will also recognize the Strath, Road, and Hell bunkers, but don't assume that this is just some sort of copycat course. Just as Macdonald did, the Doak-Urbina team fashioned a magnificent routing with great pace, ebb and flow that makes the Old Macdonald Course truly special and unique.
All about the Bandon Dunes property you hear the ever-present roar of the Pacific surf. Like The National, Old Macdonald is linksy, but the water never really comes into play and you only see it on the 7th green and back of the 8th tee. You begin with a wonderfully inviting opening hole with its wonderfully shaped L-shaped putting surface followed by the testy Eden par-3 second. After the blind tee shot at the Sahara third, once you climb to the crest of the hill, most of the rest of the course magnificently unfolds to you in a vast panorama. It is a thoughtfully engineered prelude and it only gets better.  There are no less than 18 different "favorite holes" if you interview golfers upon completion of their Old Macdonald experience. That factor spells "memorable!"
And watch out for those bunkers. There are pot bunkers, transition bunkers, smooth bunkers, waste bunkers, directional bunkers, sod-stacked bunkers, windblown bunkers, cross-bunkers, deception bunkers, and scabby ones that form as eclectic a mix as you will ever find, but they all fit in look and strategy. Now that's exciting.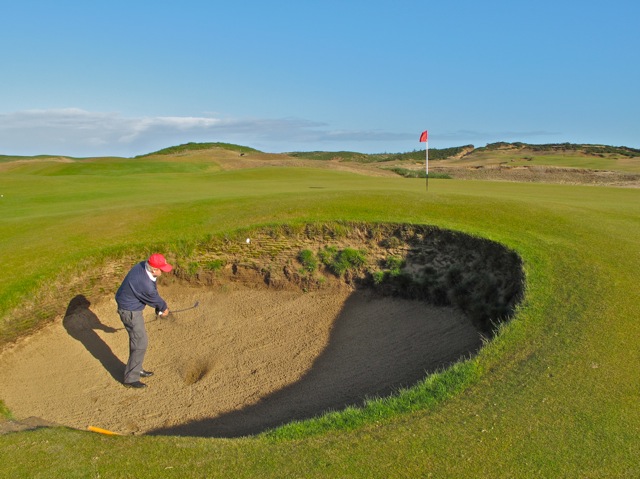 The author Bob Fagan playing out of the Road Bunker on the par-four 11th. (Photo by John Garrity)
The conditioning is excellent and thankfully complements the strategy that the architects intended. As for the scenery, I will let the photographs speak for themselves. And if golf is a game to be walked, Old Macdonald is one of the best examples for it!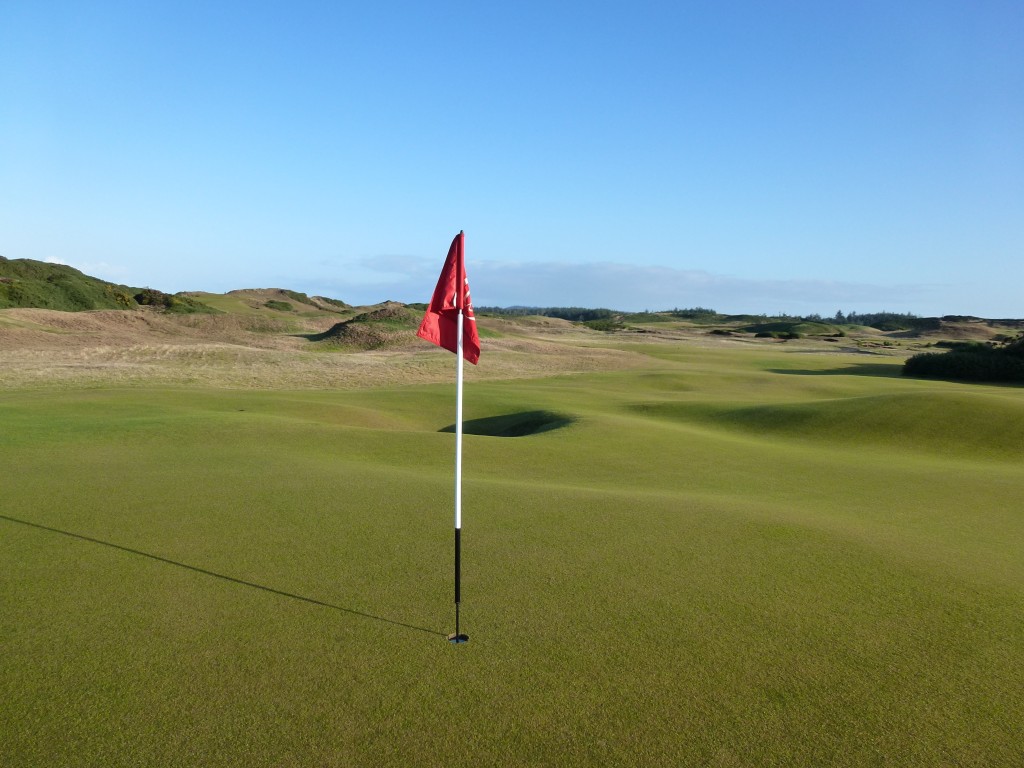 Looking toward the back of the par-five 6th green is a shadow. Actually it is a dastardly little pot bunker that draws shots to it like a magnet as shown below.  (Photos by Robert S. Fagan)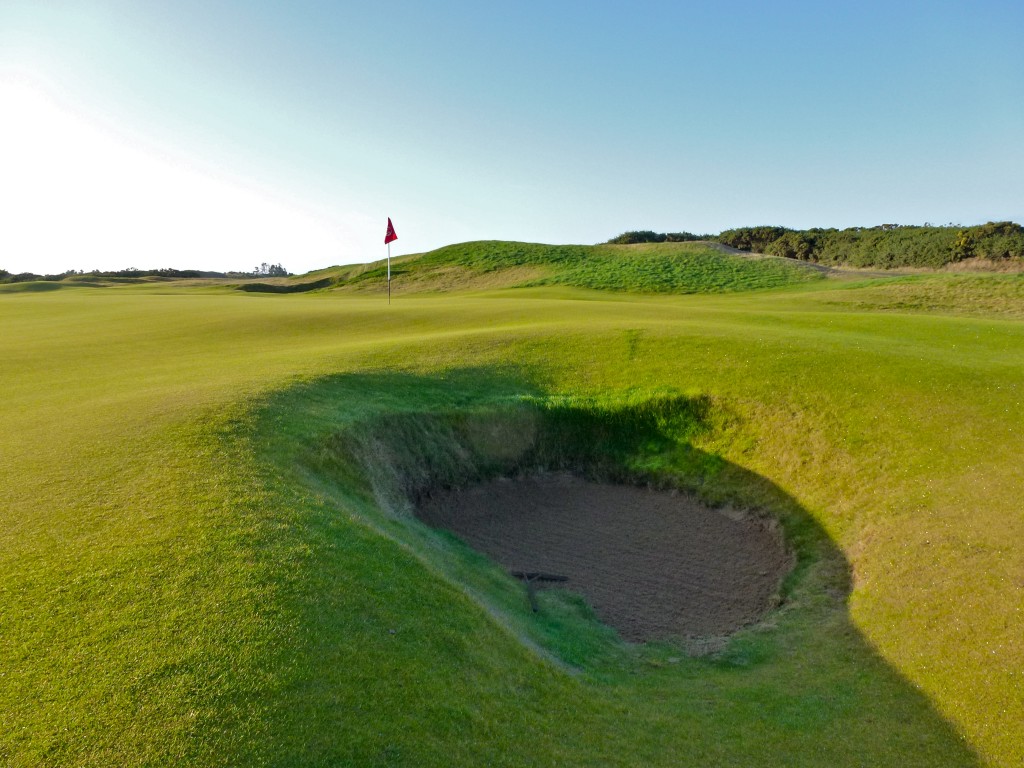 Tom Doak and Jim Urbina have worked well together for quite some time – since 1985 in fact. Doak has created some of the world's finest courses since starting out studying the courses in the British Isles as a Cornell student and working as a shaper in 1981 at the Long Cove Club (another very favorite of mine) for Pete Dye. Just as importantly, Tom has attracted other very talented people to work with him and Jim Urbina is one of many. Described as "a genius" for translating ideas into tangible golf courses, Jim has been Tom's chief assistant on many projects including adjoining Pacific Dunes, and here at Old Macdonald Urbina attains co-designer acclaim. Doak is known for giving his talented team artistic license and freedom and all speak well of him for it. The result is usually an awesome product complete with extensive handwork and architecture details and nuances that many other well-known designers seldom if ever produce.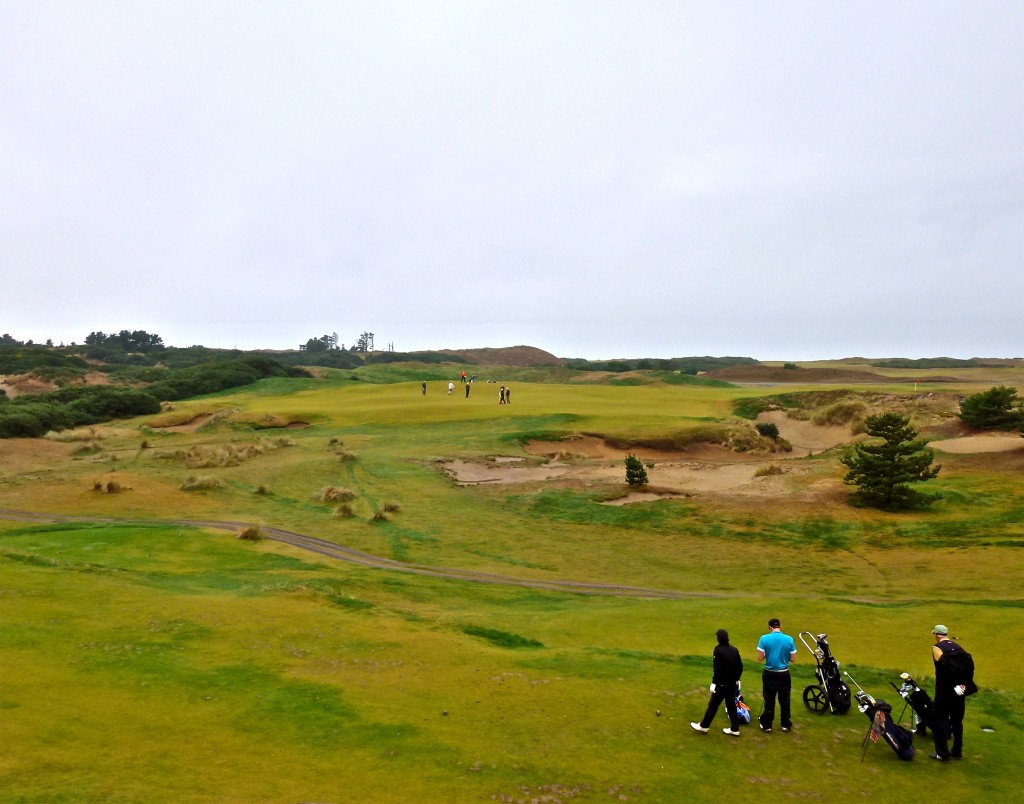 The 160-yard 5th hole called "Short" as shown from the elevated back tee shares a 34,000 square foot green with the 1oth hole (on the right) and has some of the most imaginative and testing putting surfaces you will encounter thanks to Jim Urbina. Below is a closer view of the green.  (Photos by Robert S. Fagan)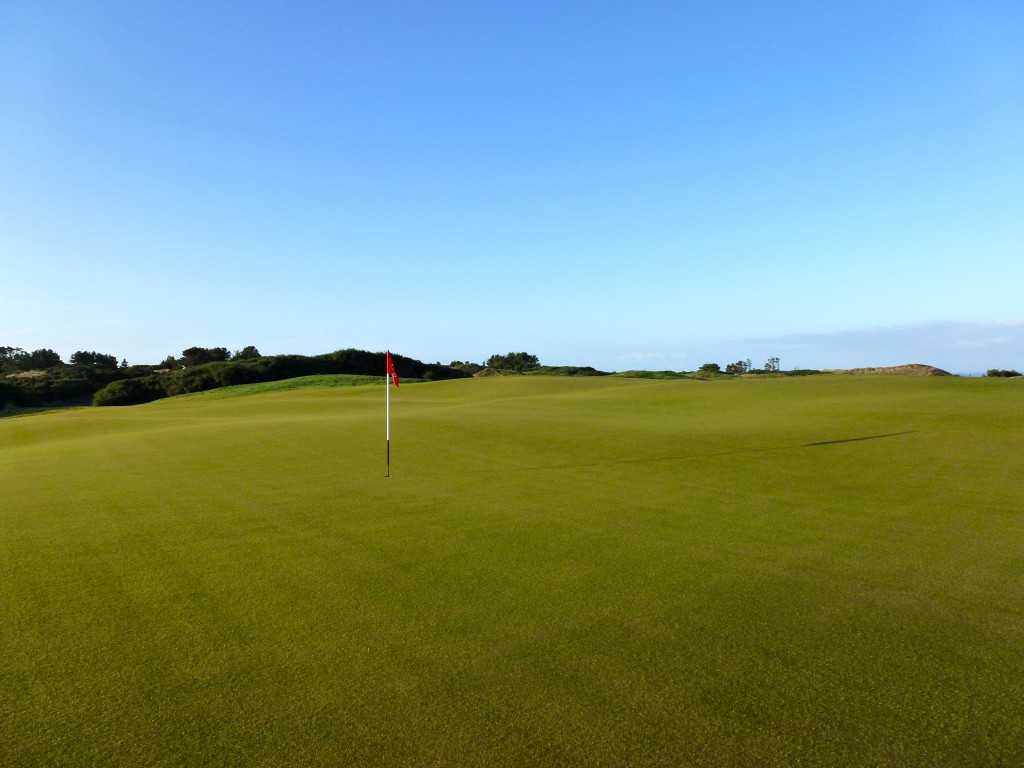 Having "the most fun course in America" obviously has many heroes, but the biggest one has to be Mr. Mike Keiser. Becoming a wealthy man in the greeting card business, he could have easily retired into a life of golfing fun or whatever he wanted, but his vision of creating quality traditional golf venues and betting sometimes on lesser known architects has immensely added to the golfing landscape and inspired others.  He has been successful too! As I ventured into what was once the dreary little dying town of Bandon, there is now growth and energy. That vibrancy wouldn't have been there except for Mr. Keiser's vision and follow-through. Mike Keiser has also been instrumental in some other world-class golf courses and now is planning on a much less expensive public-course offering several miles south of Bandon, Oregon with former Doak associate Gil Hanse slated to design the course.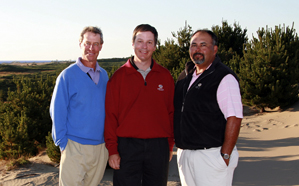 The primary inspirations behind Old Macdonald are innovative Bandon Dunes Owner Mike Keiser (left), and architects Tom Doak (center) and Jim Urbina.
Yes, while we all ultimately bring our own fun to the golf course, what course does more to facilitate fun than any other? Versatility, challenge, scenery, flow and pacing, gorgeous scenery, memorability, appropriate conditioning, shot values, heroic holes, excitement, a great walk, eclectic aspects, character, and all those fascinating golf architectural features do spell FUN – and you will experience all them when you play Old Macdonald in Bandon, Oregon, "America's Most Fun Golf Course." You can bet your bottom dollar that if CB Macdonald were still alive, he'd offer a hearty handshake of "Well Done" to Keiser, Doak, Urbina and all. And who knows, he might even tweak his old layouts with what he'd learned and the fun he had at Old Macdonald! I rest my case.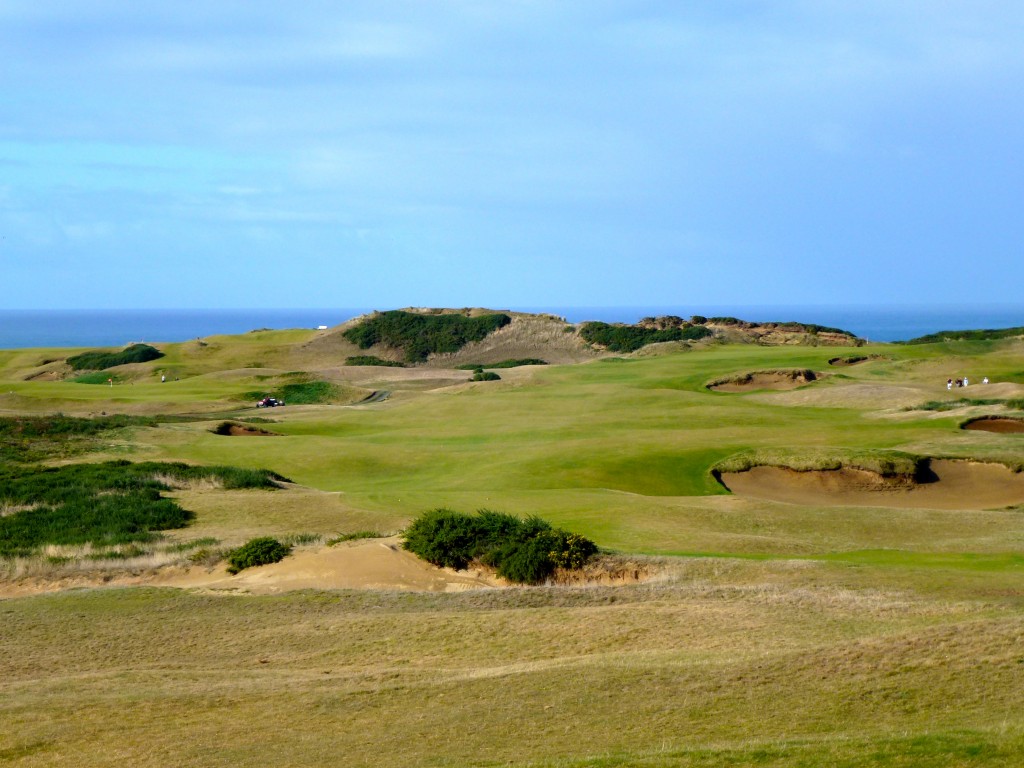 The par-five 15th.  (Photo by Robert S. Fagan)
P.S.  Except as I consider this postscript, I never once consulted the scorecard for a yardage. Interestingly I note that the layout ranges from 6,944 down to 4,258 yards and has a 74.1/133 rating/slope from the tips, but who cares? I had so much fun playing, discussing, thinking about, and writing up Old Macdonald, I almost forgot to mention it.
P.P.S.  Whatever hype you hear about Old Macdonald, it deserves it and will live up to it.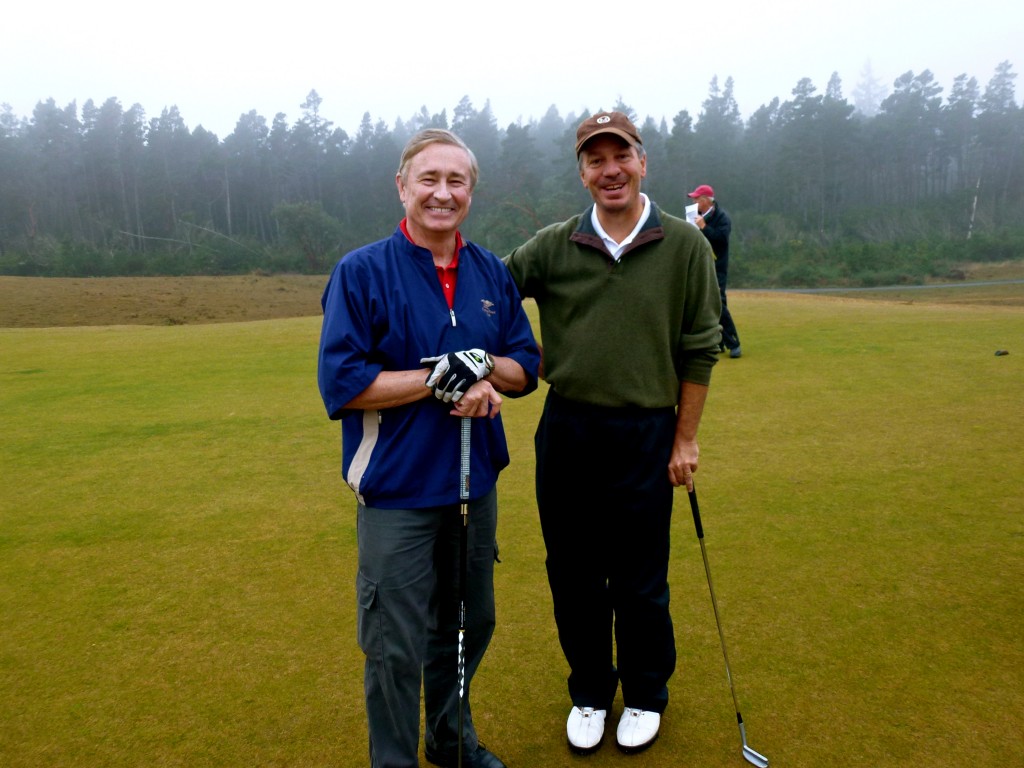 The author Bob Fagan and Old Macdonald Co-Designer Tom Doak as they prepare to tee off there.
Fagan Rating:  A+. Old Macdonald ranks with the best in the world and is a must-play for all golfers.  The routing in what I viewed as a fairly restricted coastal area was absolute genius in being able to accommodate all the Macdonald holes in a fashion that also provides for a wonderful ebb and flow.  When I heard of the project I hoped I might be included in the advisory team, but having experienced the course, I very much doubt that I would have been able to add anything of value.  My hat is off to all that were and continue to be involved in this magnificent offering!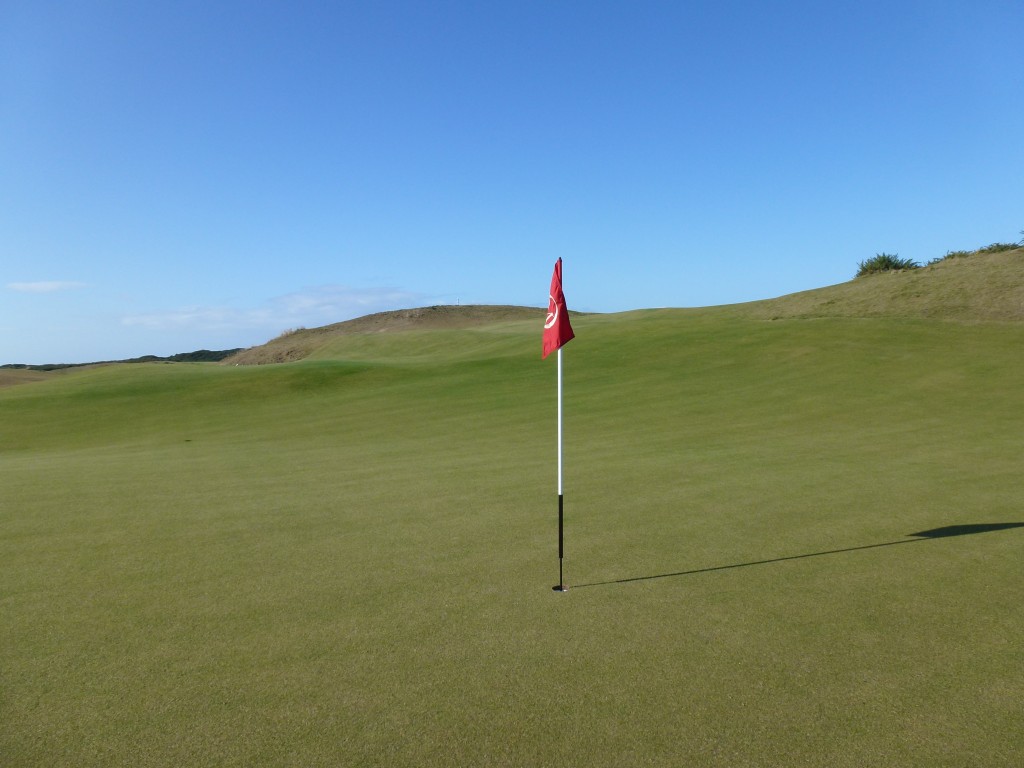 Here are two pictures of the exciting par-four 16th "Alps" hole.  The above picture looks back up the fairway from the putting surface and gives no indication of the massive bunker that lurks between the green and the crest of the hill (see below).  (Photos by Robert S. Fagan)