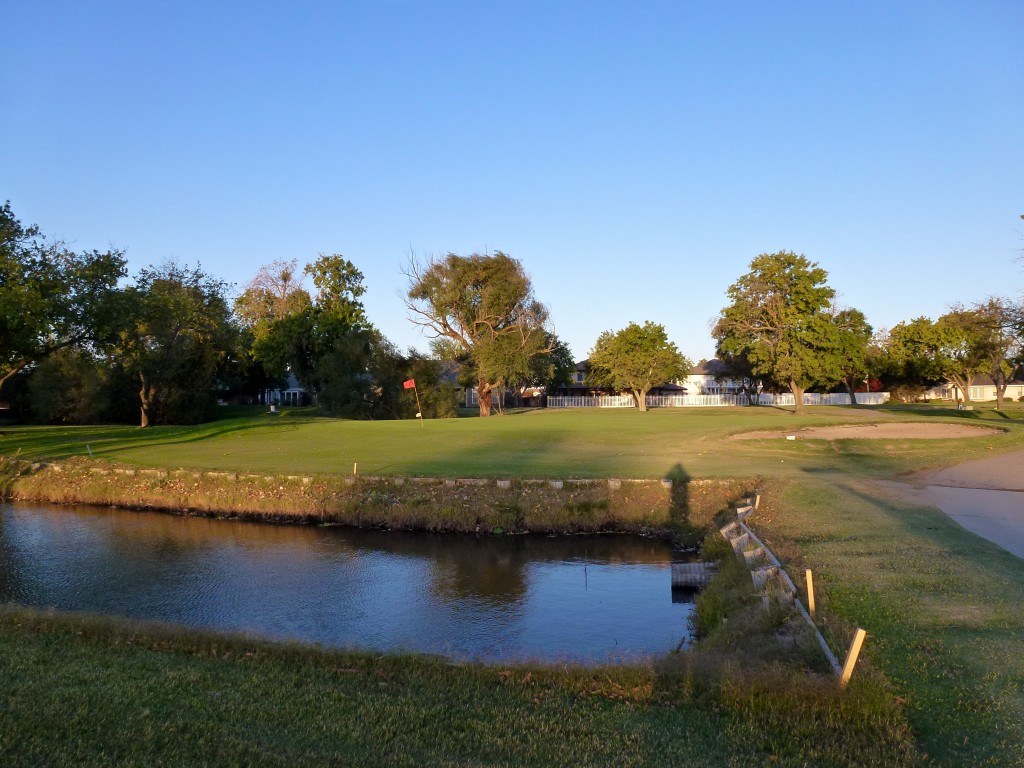 Beware of the water in front of the 161-yard par-3 5th hole at Colusa Golf & Country Club.
Colusa is one of those quiet little farming communities in the valley north of Sacramento and about 15 miles east of Interstate 5.  It's a town where comparatively few travelers stop as they speed up and down this north-south corridor.  It is the home to the Colusa Golf & Country Club, an unassuming little 9-hole golf course built in 1958.
No, Colusa Golf & Country Club is not a great course or on anyone's best lists, but it does typify the kind of local golf course and operation that works, and what America needs to continue to support if golf is maintain its viability.  It rests upon a simple small parcel of flat ground that has but a couple of water hazards and several rows of trees while houses border two perimeters.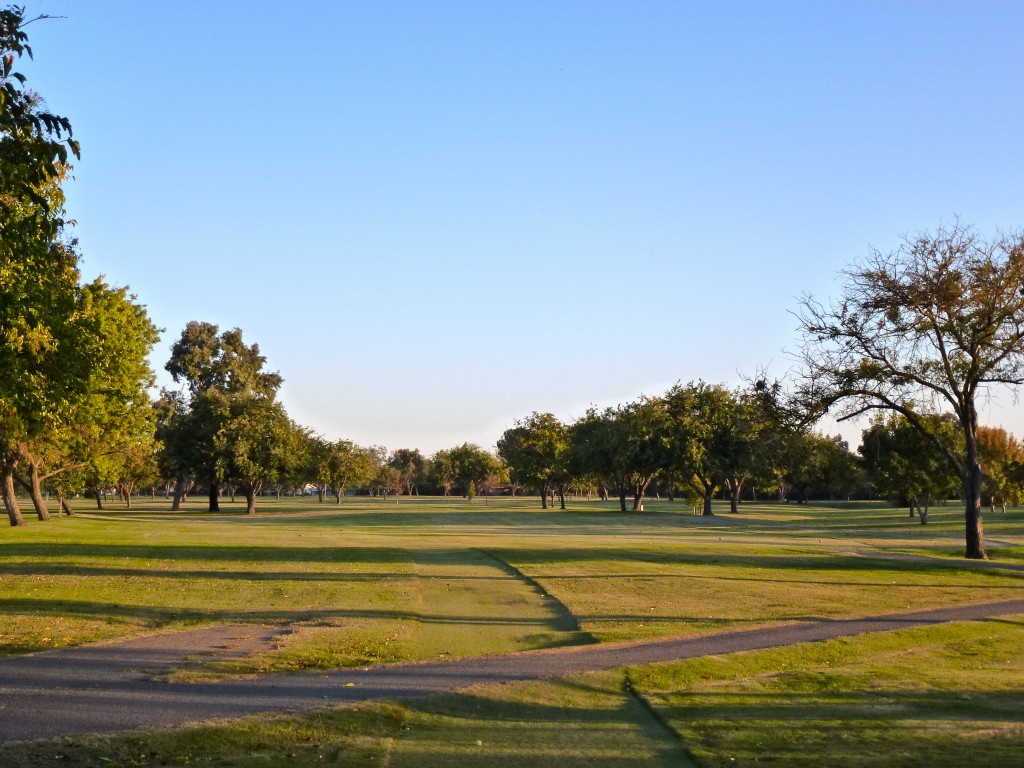 Trees define the primary challenge of the dogleg left par-five 6th hole.
What makes Colusa work?  First, it's easily walkable with greens and tees within convenient reach of each other.  More importantly, the layout is immaculately groomed.  I just finished playing one of the world's top resorts the day before playing here and I can assure you that Colusa's fairways and greens were just as good.  In fact, few private course's fairways compare to this little layout as these were superb!  Next the clubhouse and grounds are unpretentious and so are the fees.  In today's market, too many clubs over-improve themselves thinking that they will attract more play from further.  They are sadly wrong as golf has and will continue to be a local business.  Here the facilities are spartan and simple, but so are the rates and the challenge remains fair and fun.
The holes make no attempt at fancy mounding or ornate bunkering.  I encountered a 3 to 4-club wind so every hole was a challenge, but otherwise it's more of a bunny slope difficulty with mostly wide fairway and greens that would accept run-up approaches.  Neither are the holes anemic either at the shortest par-3 was a cunning 148 yards long and the shortest two-shotter was 338 yards from the shorter rear tees that make up the 18-hole card.
Think we need fancy parking lots, big ballrooms, and elaborate locker rooms?  Hardly.  This is affordable, fun recreational golf in a country town where the folks are friendly and the challenge is straightforward.
Talking about people, Colusa has employed its PGA Head Professional Ric Burgess for more than 21 years.  An affable considerate man with a strong golf game, the talent and presence Ric brings keeps the picture at Colusa working.
So if you want to play a really fun, simple and straightforward 9-holer in superb condition, exit the Colusa exit for an easy 20-minute drive east off of I-5.  You will be glad you did.  Let's hope that the Colusa's of the world continue for they are great little places for folks to meet and play this wonderful game at any age.
Below is the 403-yard 4th hole just after dawn.