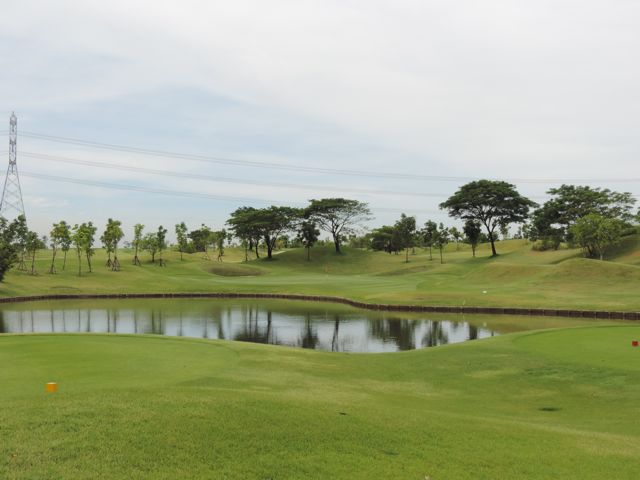 There is lots of movement to the terrain thanks to massive earthmoving in the construction of the attractive Riverdale Country Club. Shown here at the bottom of the course is the par-three 11th. (Photo by Robert S. Fagan)
As you look off into the flat fields adjacent to the Riverdale Country Club, it dawns on you what a massive amount of earth must have been moved to create this engaging and flowing test of golf. Yes, there is plenty of movement to this abundantly bunkered layout. As with any course with significant "cuts and fills," you will encounter quite a bit of water together with artistic waste areas and stylized bunkering.
There is a nice pacing to the routing with a docile par-five and par-four to get you started, but then the difficulty ramps up. The highlight for me was the dual-green par-three 8th hole. The putting surface to the left is a mid-iron to a postage stamp-sized affair fronted by a steep slope that propels anything short back toward the tee. To the right is a little island par-three sitting well below you. In fact, this is an all or nothing shot with some sort of wedge that makes the 17th at the TPC Sawgrass Stadium Course look rather easy by comparison. It just so happened that my less skilled playing partners each hit the putting surface and made pars while I dunked my attempt and made a double-bogey. With any sort of breeze, the small angled green coupled with the elevation to figure out the right club, and anyone could easily lose more than a sleeve of golf balls really quickly, even on a good day. What a gorgeous, tough, but fair little hole!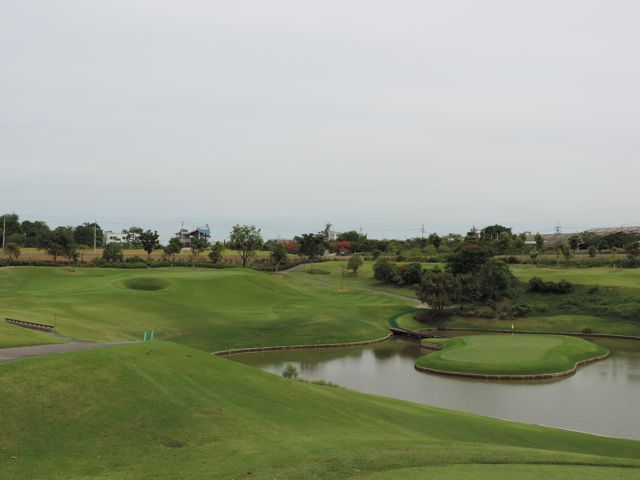 Above you can see both the green further to the left with its pot bunker and the shorter island one below to the right. As shown below, the angle and size of the shorter island green require not only a precision shot, but just the right club selection! (Photos by Robert S. Fagan)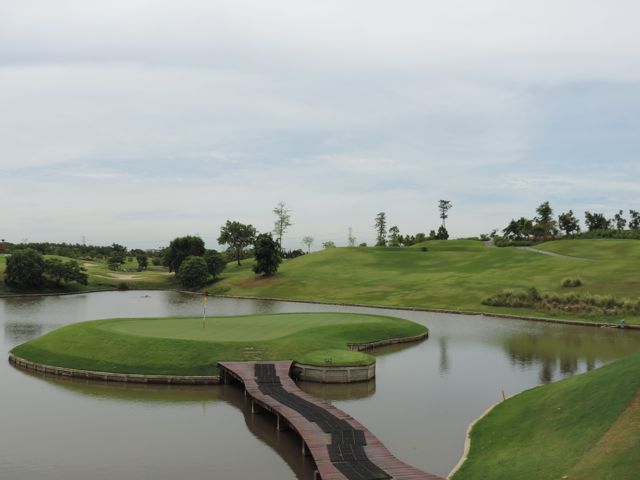 The course easily continues its impressive array of holes with more elevation changes, bright bold bunkering, and interesting well-attended putting surfaces. Even in less than ideal photographic conditions, I wanted to keep my camera handy and the aesthetics do not disappoint. The course concludes with an impressive par-five that long hitters may attempt to reach in two. Otherwise as you climb gently back to the clubhouse, with water, mounding, and bunkers lurking, it requires great strategy and culminates with an elevated tricky putting surface – just like the rest of Riverdale!
Every shot on the finishing hole at Riverdale commands your attention! (Photo by Robert S. Fagan)