This 1995 Jerry Pate design remains one of his best designs as well as one of the premier layouts in Alabama that anyone can play.  In fact, Kiva Dunes is the only coastal course in Alabama.  While you never see the beach or the water, the usual Gulf breezes remind one that they are near the coast – and add to the challenge.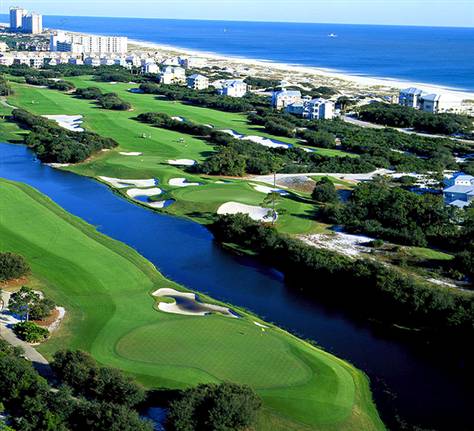 Kiva Dunes may actually qualify as a links for the layout plays among some supposedly tiny natural dunes in a secluded area not far from the beach.  With swamps and lagoons a strong part of the landscape, the links moniker is a stretch.  Regardless, the course plays soft and green in the American aerial style, the opposite of a firm and fast links layout.
Other than some push-up greens and some muted mounding, this is essentially a flat course, but a very fine one.  Pate provides relatively wide landing areas, but stray from them and you will struggle here.  Likewise the water provides several forced carries.  The bold bunkering is the highlight for me as it defines the challenge, which is finished off by some large, but interesting putting surfaces with few flat putts.
I particularly liked the par-threes and there are several stout 2-shotters as well.  Overall the strength of the course is that it has no glaring weaknesses.  The challenge extends to over 7,000 yards, but when the wind appears, Kiva Dunes can turn into a beast.  The majority of the holes meander around the lakes and natural habitat areas in an east-west direction.
While Kiva Dunes is the most expensive of some very good golf courses in the Gulf Shores, Alabama area, it remains a bargain compared to comparable experiences across the rest of the Country.  Service, value, course, aesthetics, conditioning, memorability, and challenge all rate high in my book!
Fagan Grade – B+. I apply this rarified rating as I consider Kiva Dunes one of America's best resort courses and the gold standard of the Gulf Coast as well as Alabama – a Top 100 Contender.  The pricing and service here are a real value and the conditioning is very good.  This is THE must-play course in the Gulf area that every golfer should want to play at least once.