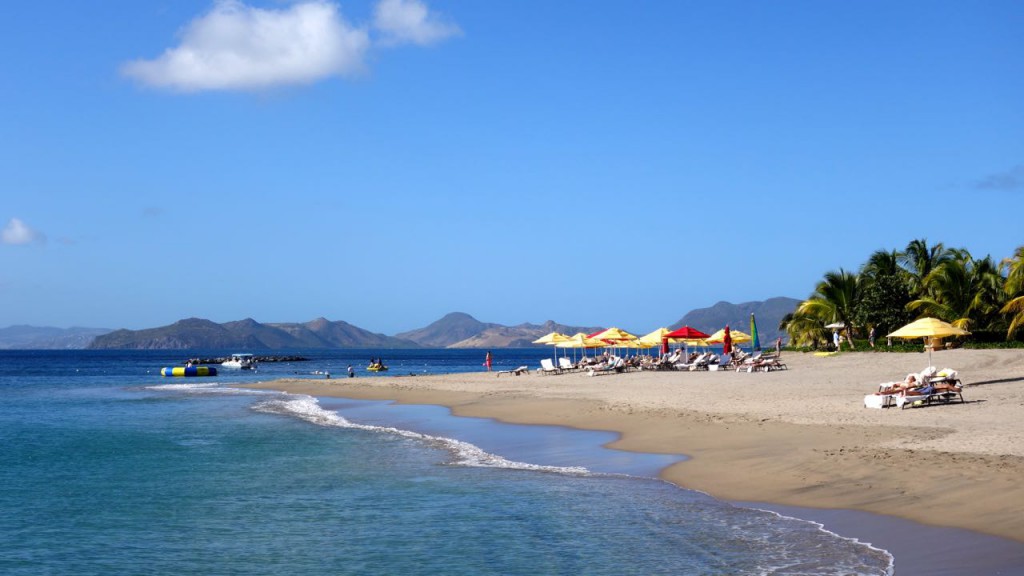 Here is a view from the Fours Seasons Resort on Nevis of nearby St. Kitts. Either location is sublime. Could you picture yourself here?  (Photo by Robert S. Fagan)
You've braved the ice and snow to make it to the airport. It's winter, of course, and your heartbeat quickens as you are able to pack light. You become even more excited as you fly over one tropical Caribbean island after another set almost as pearls in the sea. The beautiful blue waters glisten below. Could it really be that warm and comfortable? As you land and depart down the steps from the jet and are greeted by the ideal breeze, the quick answer is a resounding "Yes!" You have just stepped foot on one of the most beautiful, most friendly islands in the Caribbean – and what is about to emerge as a world-class golf destination – the federation of St. Kitts and its sister island Nevis in the West Indies in the Eastern Caribbean.
Yes, you have just entered the state of "Happy Time." Bright white smiles and carefree voices are there to greet you at the comfortably modern airport. For me and many, your destination currently is either the Marriott where I stayed or one of several engaging boutique hotels. How far a drive we asked? About forty-five minutes was the laughing answer. In reality, the drive took barely five minutes and really nowhere on St. Kitts takes that long unless you include the water taxi to spots on Nevis two miles south or are going from one end of the island to another. Yes, you have just entered "Happy Time" where "island time" prevails and no one ever seems in a hurry – a welcomed adjustment for me.

Above is a view of "Happy Time" as defined by beautiful St. Kitts – a place that is thankfully not overrun by tourists and commercialism.
I am slowly, but surely taking in all the golf among the many islands that make up the Caribbean, and I was in for a pleasant surprise. You see, in this part of the world, the quality of the golf and the conditioning can really vary greatly. Getting the proper maintenance equipment, having the necessary supplies on hand, and applying skilled, consistent supervision and labor is not something to be taken for granted. Conditions elsewhere throughout the region can be scruffy if not downright bad, even at premium prices. Not here for the two featured courses on St. Kitts and Nevis. The Royal St. Kitts Golf Club and the Four Seasons Nevis Golf Club are in excellent condition and a joy to play.
This delightful trek was in part to participate in the 5th Annual Admiral's Cup Pro-Am. While Caribbean golf can sometimes be an adventure, playing in any golf event run by Tom Jaronski and his team at The Golf Connection LLC is not. From the hosted tee prizes from sponsor Puma Golf, on-course refreshment treats, the easy managed logistics, and tournament administration, hosted parties and dinners, The Golf Connection does it right as evidenced with many smiles and a majority repeat teams/players returning year-after-year. In fact, this was my third experience at three different locations with The Golf Connection and regardless of the quality of my game, it continues as a pure delight!
The tournament competition would be held with two rounds at the Royal St. Kitts Golf Club that was a par-five's walk from my room at the adjoining Marriott and with a round sandwiched in between we would be shuttled over to the gorgeous Four Seasons Golf Club on Nevis. These two very different, but engaging layouts form the nucleus of what will eventually qualify St. Kitts/Nevis a four-course world class golf destination, but more about that in a moment.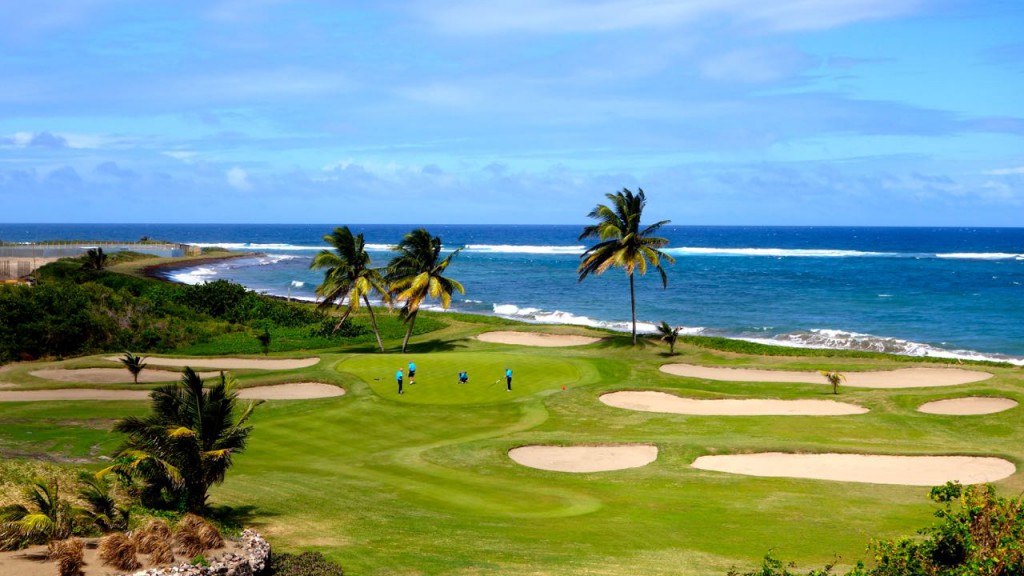 Does this have your attention for quality golf? This the par-three 15th at the St. Kitts Golf Club, part of an exciting 5-hole finish!  And how would you like to begin your day starting on the par-four 16th in a Shot-Gun start? This is my left-handed teammate hitting a gorgeous tee ball down the middle to start the day. (Both photos by Robert S. Fagan)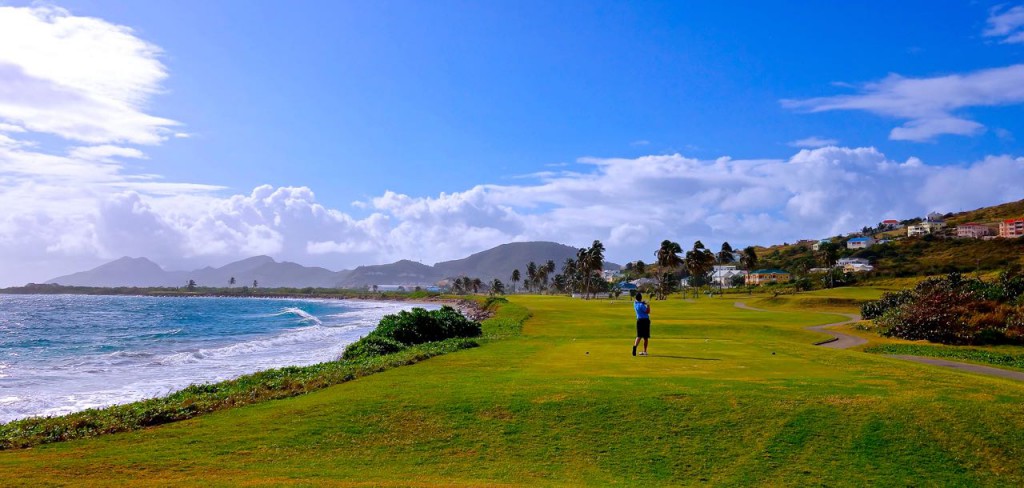 The Royal St. Kitts Golf Club is the perfect course to regain your game and begin any stay away from wintry weather or anytime for that matter. Beyond the spacious, well-done driving range, putting green, and short-game areas, and modern clubhouse areas, there is an abundance of plentiful colors that go beyond the golf to include the multi-colored pastels of the hillside homes to the blue Atlantic Ocean that is so imminently in play just a couple of paces off the nicely groomed green fairways. In fact, depending on the breezes, many may start their shots well out over the ocean on the par-four 16th and 17th holes. This is as dramatic golf as anywhere. Fortunately if you are finding your golfing legs, Royal St. Kitts begins off in relatively benign, though not easy fashion. Wide fairways guarded by large fairway bunkers and water, nonetheless provide ample room to spray your shots. Though not particularly long at just over 6,859 yards from the tips, the often-present breezes, tricky elevated greens, and long par-threes cause the course to challenge even the best players. A variety of tee locations facilitate the less powerful golfers.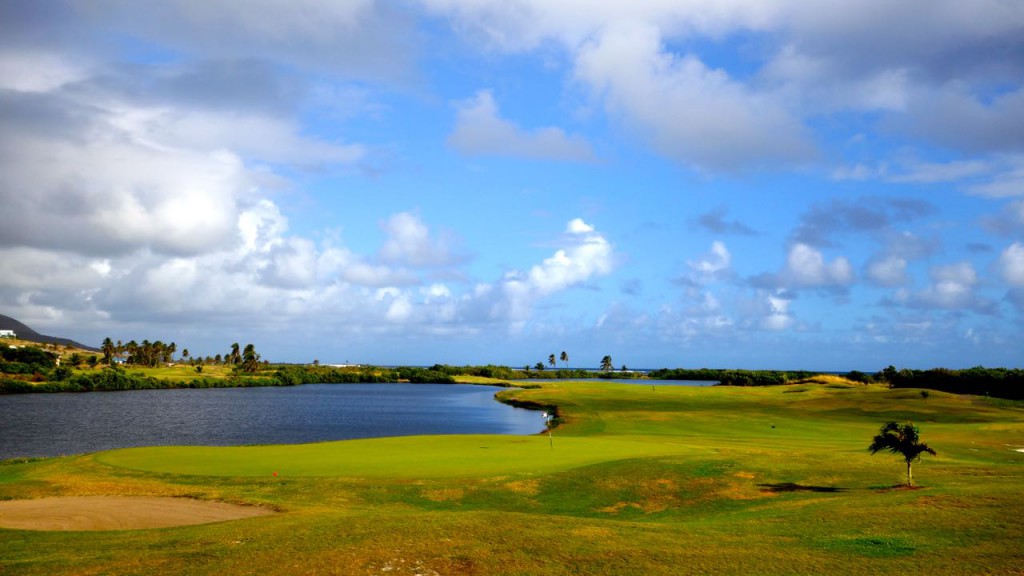 Hold on to your hats for the five-hole finish at the fun St. Kitts Golf Club. Tees shots have to split water both left and right on the 451-yard finisher shown above.  (Photo by Robert S. Fagan)
Outside of the excellent conditioning, Canadian golf course designer Thomas McBroom's design is solid, but not too unique or unusual until you come to the finishing five holes. Beginning with the short, but testy 332-yard 14th, the course definitely steps things up. This teaser of a par-four with its elevated putting surface makes two-putts anything but automatic, but spectacular views commonplace. The 163-yard drop-shot par-three that follows with the Ocean backdrop will have you either reaching for your camera or wishing that you brought one. As you step to the 16th tee and preview the landscape that also includes the 17th hole, you will realize that this is nothing short of spectacular golf. With the winds coming in from off of the Atlantic, many players will be forced to start their tee shots over the water – testy indeed. The 405-yard 17th is an even bigger version of the previous hole and includes a pond to the right as well. Depending upon the wind, it can easily play 75-80 yards longer. Pars are apt to feel like birdies on this beauty whose green is perched right at the water's edge.  If you believe that the inward finishing par-four might offer some decompressing relief, you'd be sadly mistaken. This is a 451-yard beast with lots of bunkering and prevailing winds off the ocean that blow toward a lake that extends from tee to green. What a finish!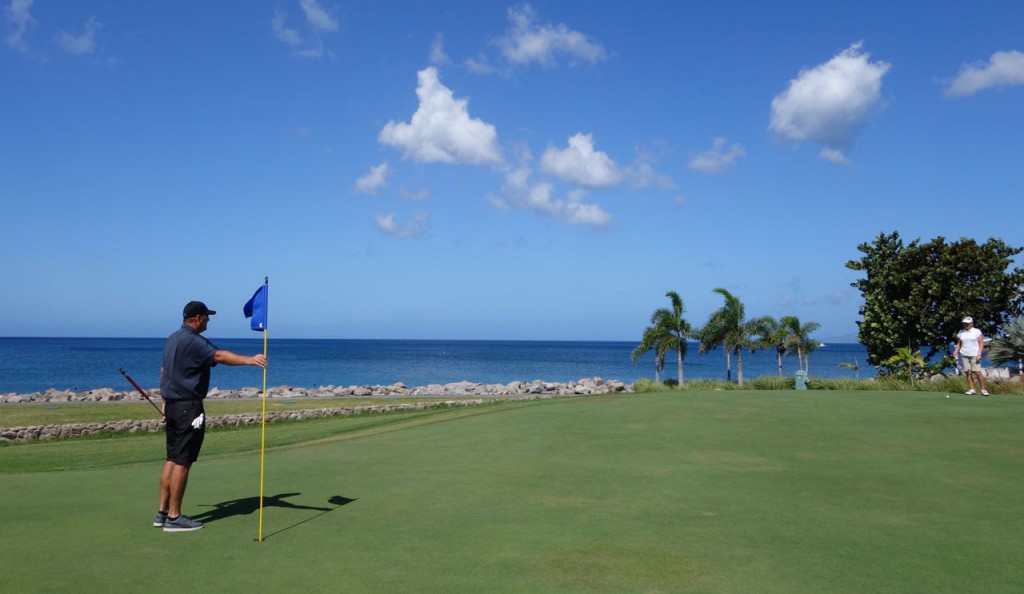 As is the case also with St. Kitts Golf Club, the golf course at the Four Season Resort Nevis also finishes with a bang. It's a long par-four with trouble left and right and concludes with a large contoured, slightly elevated putting surface with the Caribbean immediately in the background.  (Photo by Robert S. Fagan)
If Royal St. Kitts is more flat and open, the Four Seasons Golf Club on Nevis is anything but. Robert Trent Jones II crafted a routing that weaves itself naturally through the resort and housing up into thick jungle hillsides that feature generally more narrow, enclosed fairway corridors, and definitely more trouble tee-to-green. Playing firm and fast, its 6,766 yards demand thought and probably at least a couple of trips around it for this is a golf course you would be badly mistaken to try to over-power. What's more, the smooth greens are "country club fast" and falling away from the dormant volcano toward the Caribbean feature many optical illusions that may fool even the most experienced players. Interestingly, the housing is not intrusive, but often downright interesting with some structures selling in the high 7-figures. Generally speaking, all the par-threes prove attractive and the view from the downhill 665-yard 15th that plays far shorter or the strong finish at the 445-yard 18th that visits the sea may make for the most memorable, but this is a very under-rated, special golf course!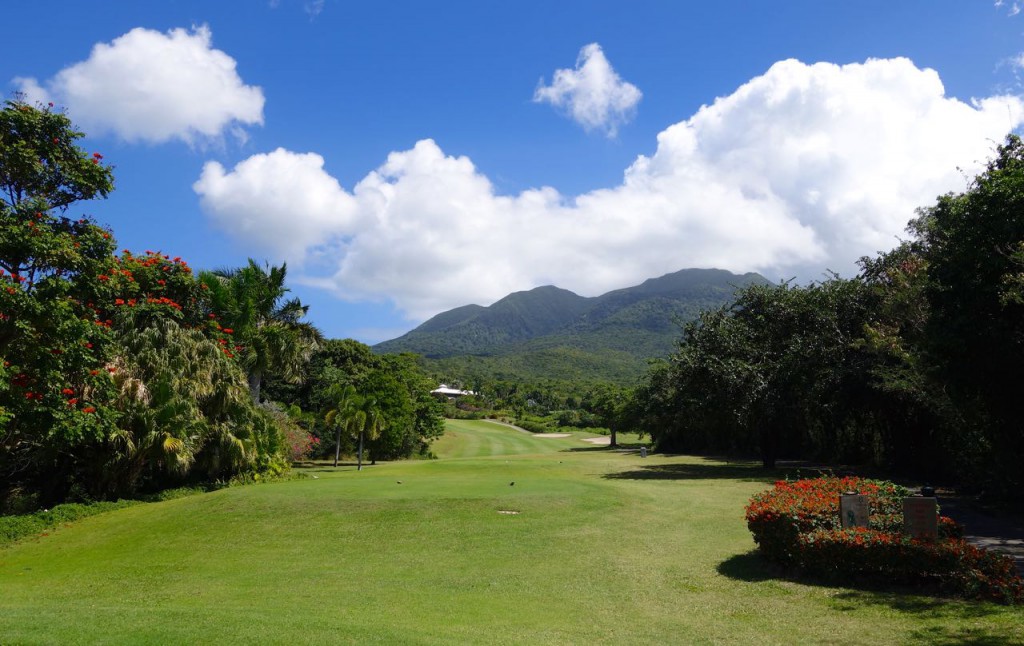 With the dormant volcano or the Caribbean in the opposite direction, the golf course at The Four Seasons Nevis features spectacular views. Shown above is the tee shot for the uphill par-five 8th and below is the par-three 13th.  (Both photos by Robert S. Fagan)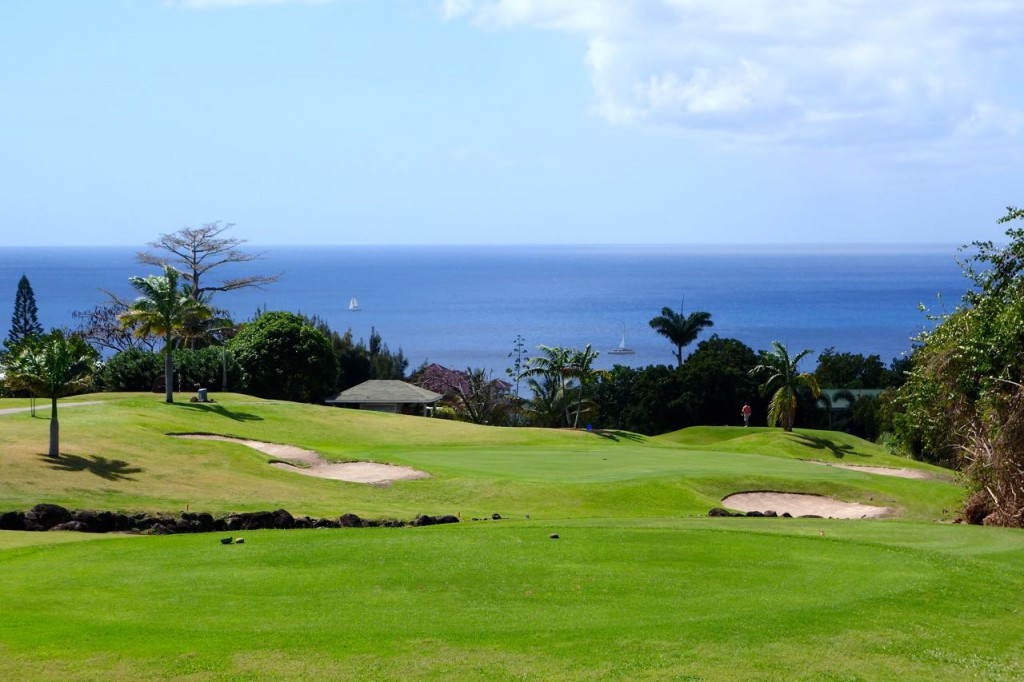 To date St. Kitts and Nevis, from a golf standpoint, really qualify as a "destination with golf," but in the next couple of years that will change directly to a a "golf destination." During my stay I was treated to preview two more properties. On the north end of St. Kitts, the new ultra luxurious boutique hotel, the Kittitian Hill Resort has opened to rave reviews. Fashioned within a secluded organic farm and wildlife area on a hillside overlooking the Caribbean, it boasts an Ian Woosnam/Gary Johnston-design golf course called Irie Hill. It features water views from every hole. Smallish playing elevated putting surfaces with lots of movement and imposing bunkering along with some forced carries will make this a must-play golf course on a must-stay resort that amounts to virtually a "Bucket List" type of retreat. At the opposite end of St. Kitts about 45 minutes drive to the south is a 2,400 acres real estate extravaganza, Christoph Harbour, anchored by a spacious, upscale marina that will even accommodate the super-yachts . Complementing this is breathtaking real estate fronting both the Caribbean and the Atlantic from the hillsides, are a Hyatt Hotel, and a simply spectacular Tom Fazio-designed golf course that will include mountaintop holes 700 feet above the Caribbean with world-class views along with holes that traverse nearly down into the harbor area. These two additions will provide the variety of look, feel, difficulty, and pricing that will truly catapult St. Kitts and Nevis into a bonafide golf destination. Investors take note!

Above is the view looking northward on St. Kitts from the par-four tee of the 17th hole about 1/3rd up the mountain at the expansive 2,500-acre Christoph Harbour development at the southern tip of the Island. (Some holes will be about 500 feet higher!) To the right is their beach on the Atlantic while on the left is the finished harbor and the Caribbean. Below is one of the fantastic single room villas on the north end of St. Kitts at the amazing Kittitian Hill Resort where everywhere and everybody has a spectacular view. (Above photo is by Robert S. Fagan)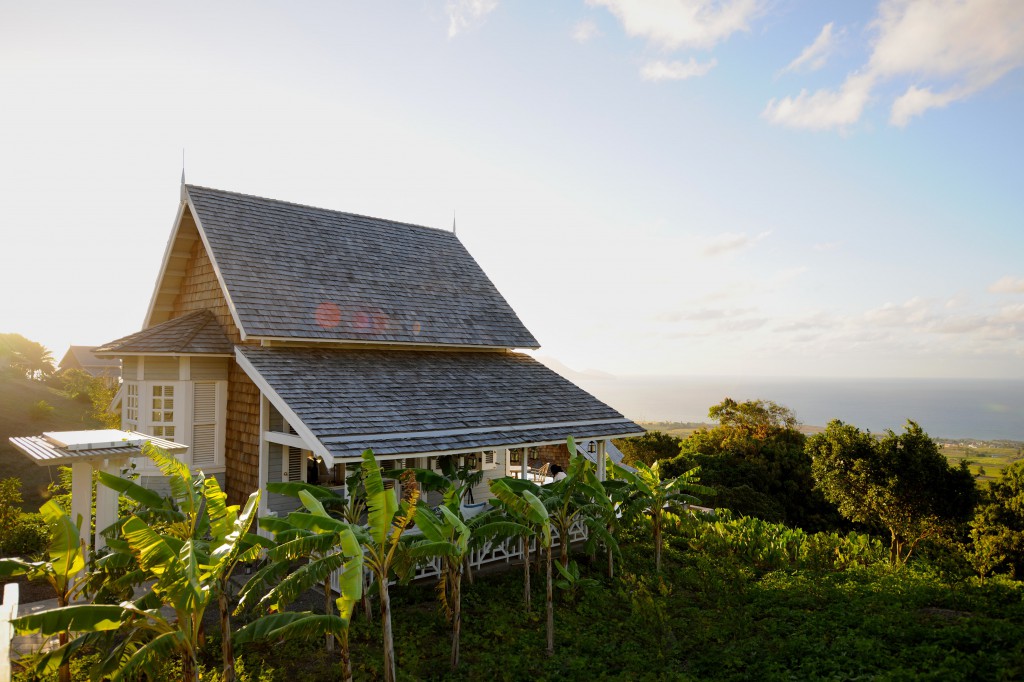 Christopher Columbus spotted St. Kitts in 1493, but it wasn't until 2015 that I did. The Europeans didn't colonize it until 1623 and until just a very few years ago, it was sugar cane farming and not tourism that mattered. In fact, steps have been made to firmly protect the local environment, and eco-tourism and sustainable green tourism are now thriving here. St Kitts is equally well known for its lush and picturesque central mountain chain, which rises to nearly 4,000 ft. at its highest point and is covered by a verdant, thriving rainforest. To help protect this precious natural asset, the St. Kitts & Nevis National Parliament has declared all land above the 1,000 ft. contour to be a National Forest Reserve covering 1/4 of the land, effectively protecting most of the island's lush rainforest. Classified as an American Oceanic Rainforest, it is one of the rarest types found on the entire planet and it's actually expanding rather than shrinking! Those who choose to venture into the rainforest on one of many winding trails will be embraced by a canopy of rich green sprinkled with brightly colored flowers and the soothing sounds of nature.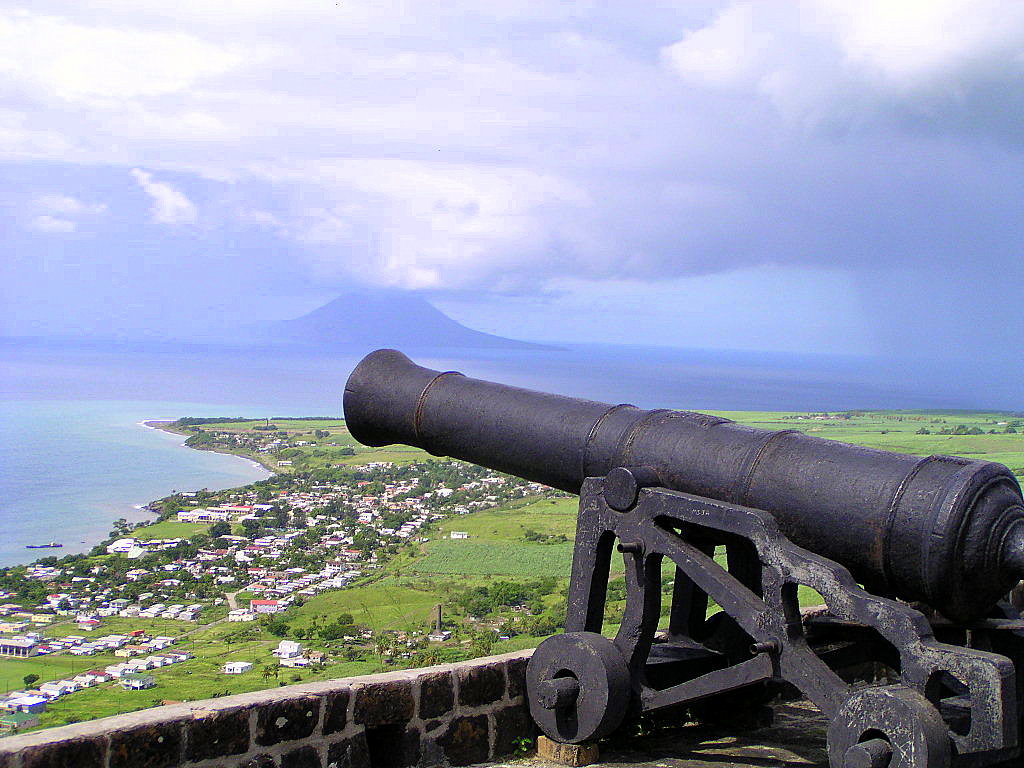 St. Kitts features a host of engaging and exciting activities, friendly folks, and a laidback life style.
As a winter escape or even a summertime change of scenery, I cannot wait to return to St. Kitts and Nevis anytime. Whether exploring the boutique hotels and pristine beaches that I heard about on Nevis, the interesting eateries, the many beaches, snorkeling, diving, hiking, biking, bird watching, kayaking, sailing, horseback riding, spas, or other activity, this area has so much to offer. And then there is the entertaining golf. May there be a St. Kitts or Nevis in your future?
For more information on both St. Kitts and Nevis, refer to:  http://www.stkittstourism.kn/ and http://www.nevisisland.com/.