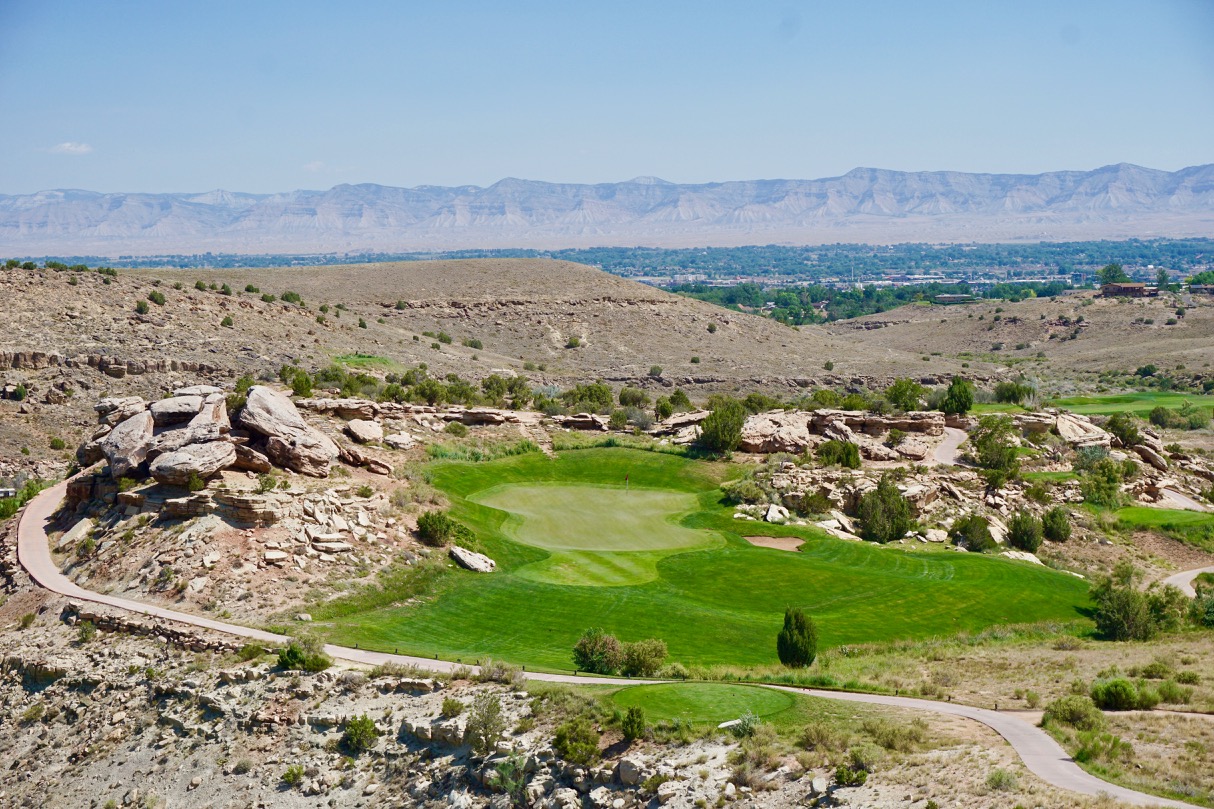 The brawny par-three 17th at Redlands Mesa is just one of many "Oh Wow!" holes and the views from its elevated tee are simply spectacular.  (Photo by Robert S. Fagan)
I've played many golf courses, more than 3,000 and counting. There are many nice ones among that, but Jim Engh's creation upon the almost moonscape-looking terrain overlooking Grand Junction qualifies as a "Bucket List Course" one – spectacular and full of character.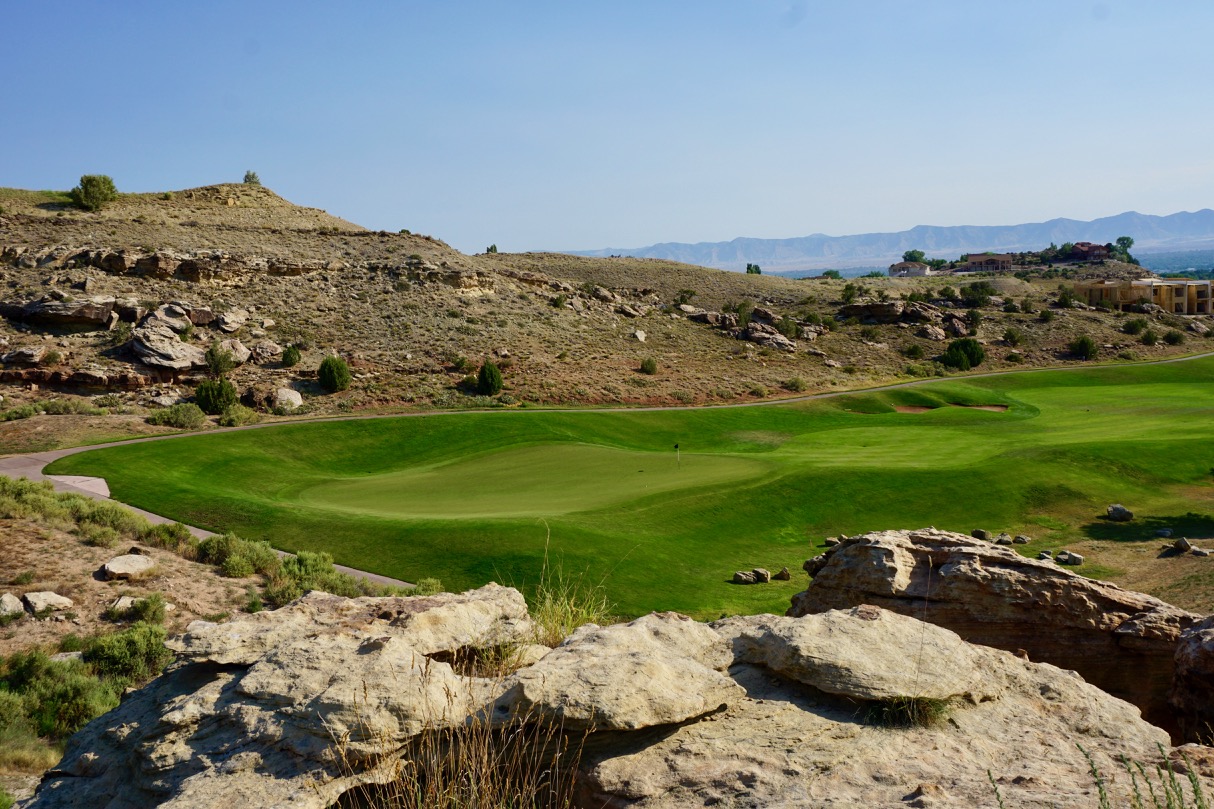 The green of the fairways and putting surfaces stands in stark contrast to the rocky desert terrain. Pictured is the uphill par-four 7th hole.  (Picture by Robert S. Fagan)
If you have a camera, this is definitely one course you will constantly be reaching for it as there is one "Oh Wow!" hole after another. Green ribbons of fairway splice the high desert and rocks to produce an exhilarating golf experience. There are several ponds to contend with as well. Fellow golf writer David Finn calls Redlands Mesa one of the "Top 10 Courses You Can Play" in the United States and I have no argument on that.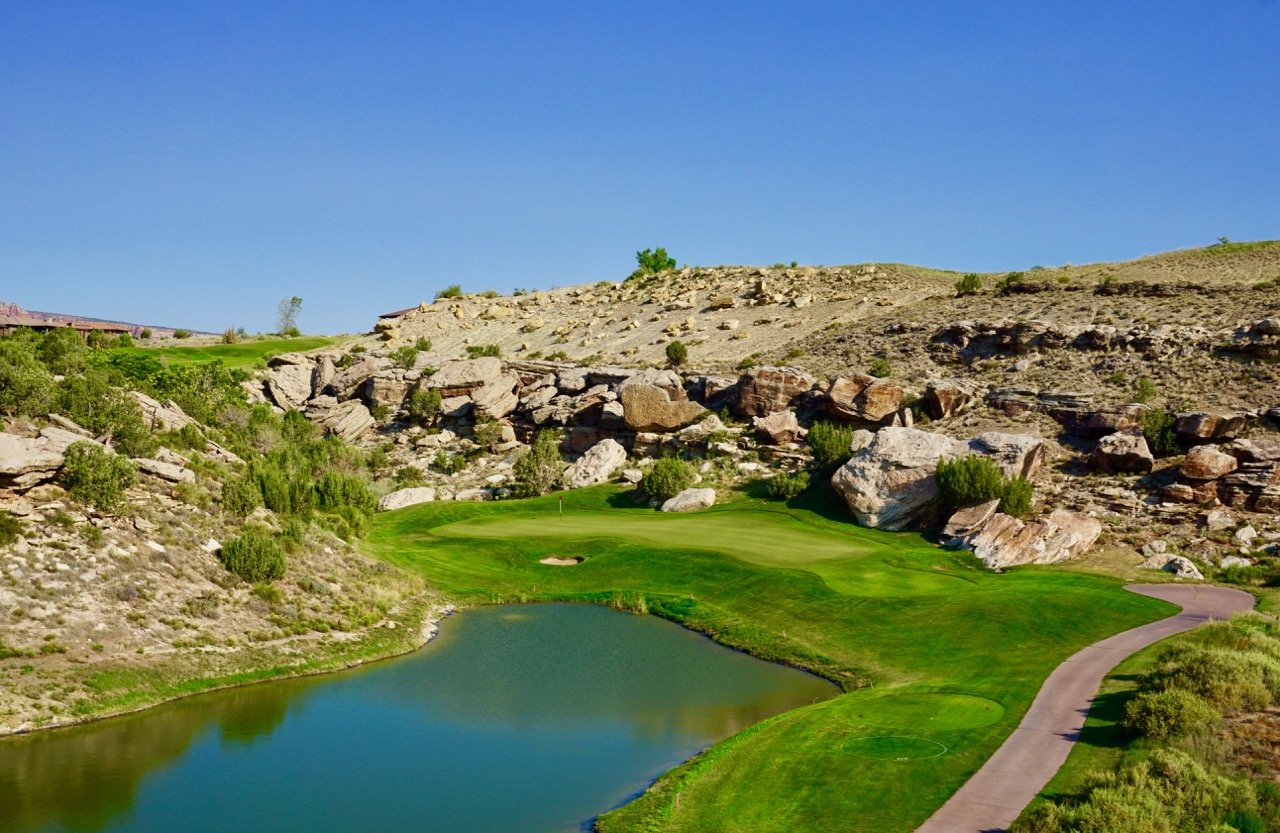 The par-three 8th will definitely have you reaching for your camera, but you had better pay special attention to what club you choose.  (Photo by Robert S. Fagan)
The uphill first hole that climbs gently against the backdrop of the Colorado National Monument gets you started in a relatively benign fashion. Then course architect Engh fashions a series of elevated tee boxes, bold dazzling bunkers, and diabolical putting surfaces over hilly terrain that are sure to get your total attention. There are a several blind shots, water hazards, and elevated greens that add variety.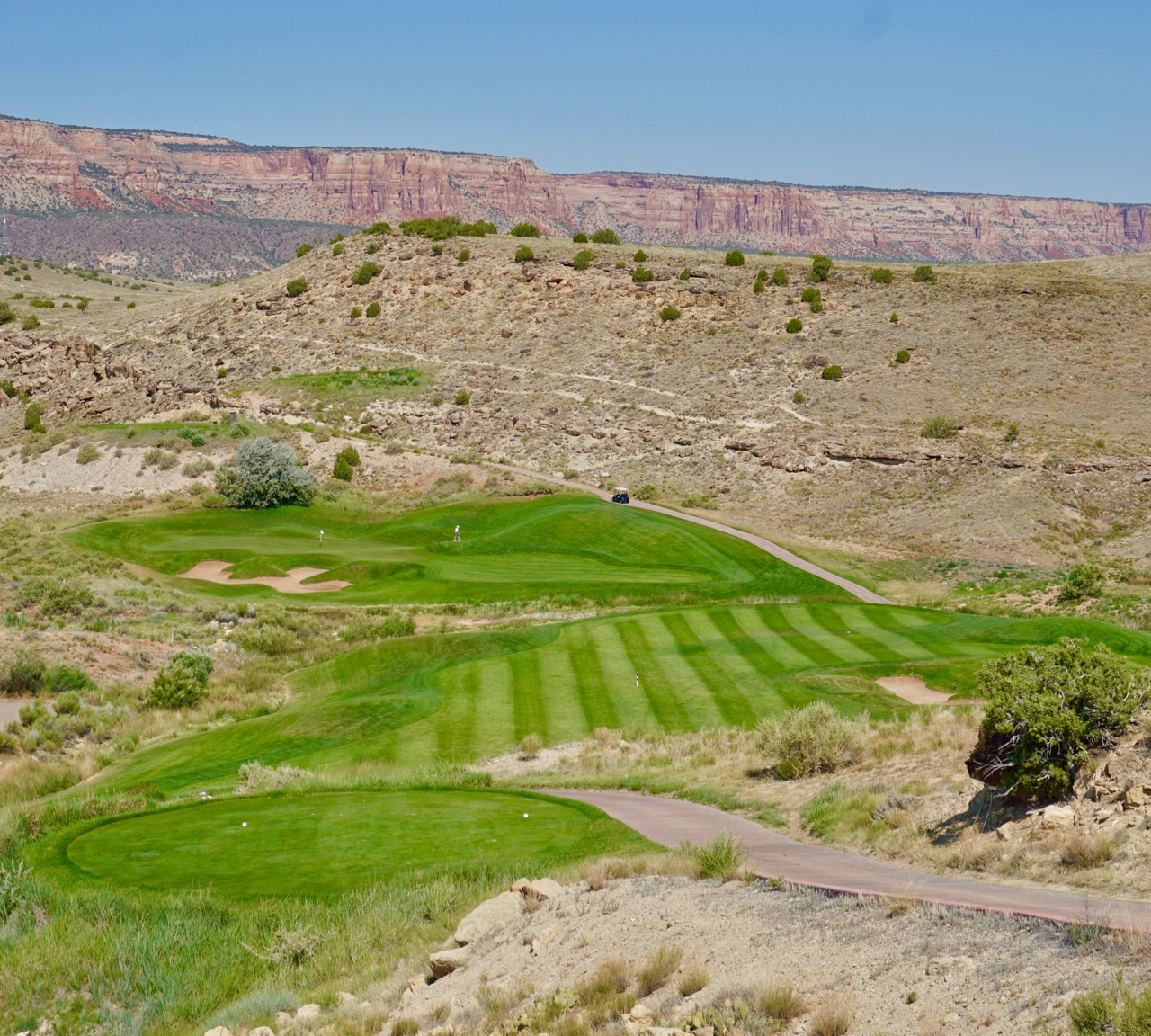 The rugged terrain just spills and tumbles downhill sharply as seen near the tee of the par-four 11th.  (Photo by Robert S. Fagan)
The routing is surrounded by upscale housing that except for the right side of the par-five tenth hole is not intrusive. The only blemish in my opinion is that tenth hole. It begins with a warning sign on the tee that golfers are financially responsible for damage to the housing to the right. If that doesn't plant a negative outcome in one's mind, I don't know what does. Secondly, the hole plays much shorter than its distance due to the elevated tee. Many golfer will therefore be swinging just a tad harder to hopefully reach the putting surface in two shots. That is not a good combination for negative minds and fast, slice/push producing swings. Rather, golf and safety-wise I believe that the 10th green should be repositioned to the left or alternatively the hole be shortened to a par-four with the green closer to the tee or further left as the housing on the right where most golfers hit is far too close for comfort. Otherwise, the attractive homes add rather than detract from the layout.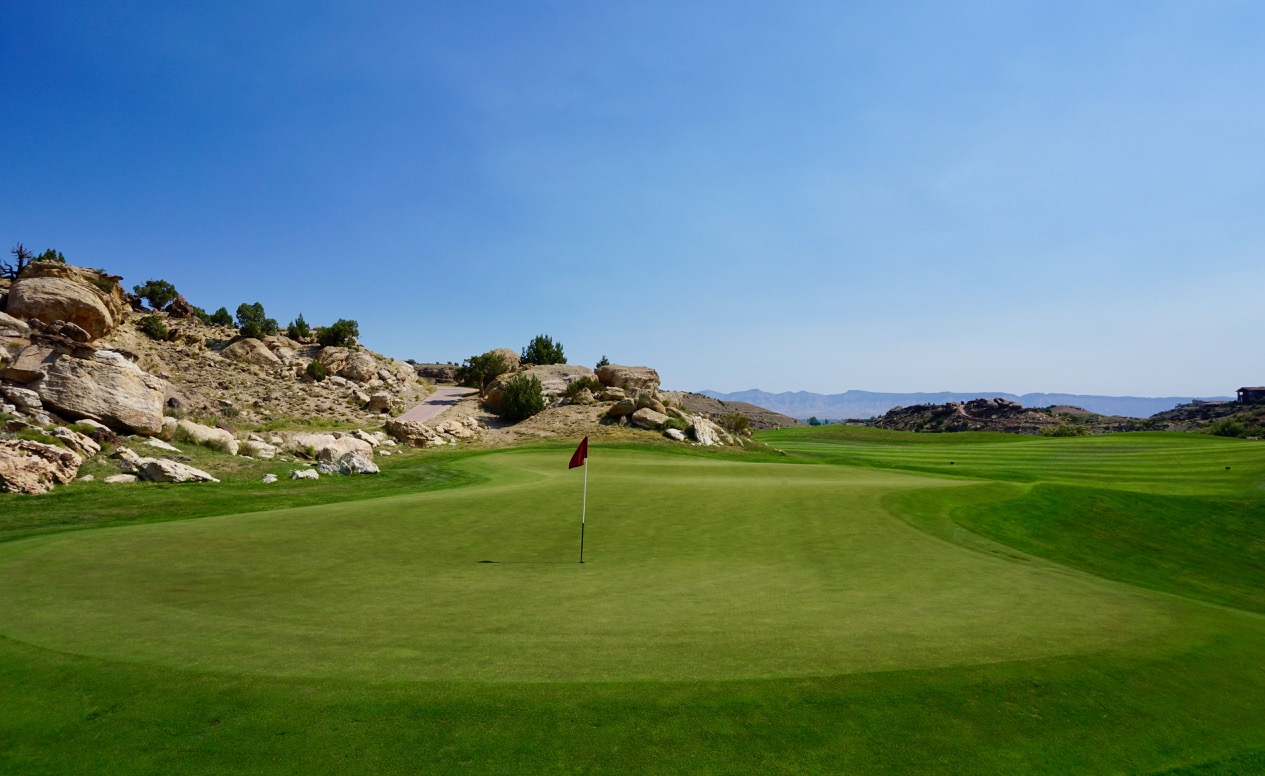 Venturing out to the undeveloped portion of the property, the short, but sharp dogleg right par-four 14th may tempt some, but discretion is the better part of valor on this teaser.  (Photo by Robert S. Fagan)
Redlands Mesa offers many intimidating looks, but the landing areas are actually quite generous and the course conditioning is excellent. Longer hitters will be tempted to take advantage of the 7,000-yard test, but the risk-reward factor and landing areas often narrow further off the tee. This is a course where the medium hitter with accuracy will prevail, but all of the par-fives will tease the aggressive player to reach them in two shots.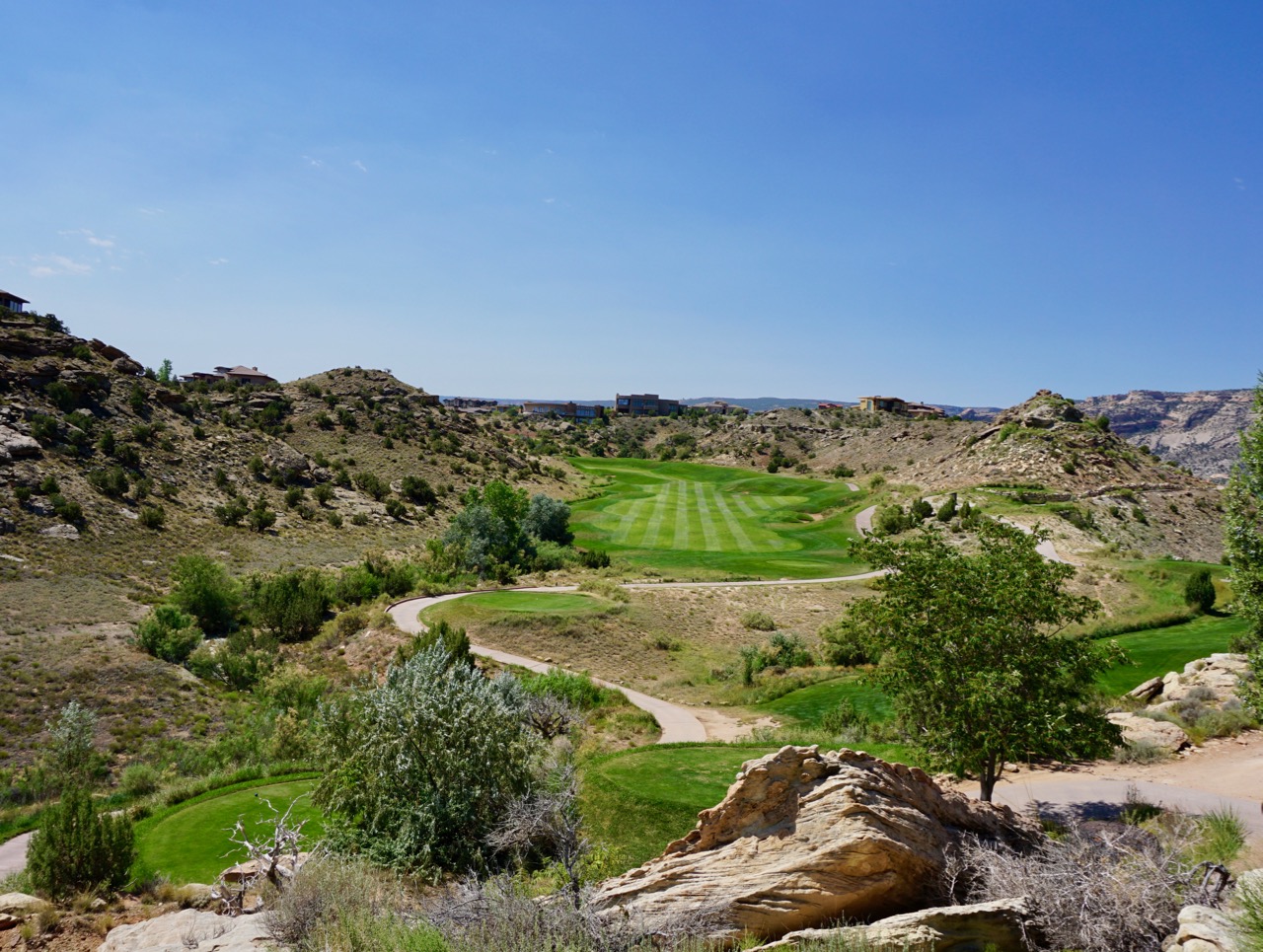 The uphill finishing par-four at Redlands Mesa is the fitting end to a round of spectacular golf.  (Photo by Robert S. Fagan)
The par-threes at number 8 and 17 are "All-World Attractive" and I particularly liked the two-shotters at 4, 6, and 11. There are so many other entertaining holes that your favorites may be different. There is some occasional quirkiness to call it "character" so you will likely find it will take a round or two of playing to establish your strategy and tee shot lines, but Redland Mesa is an excellent adventure.
Below:  longer hitters may be tempted to try to drive the par-four 4th hole, but the penalties can be severe, particularly with the cliff to the right and out-of-bounds to the left.  (Photo by Robert S. Fagan)