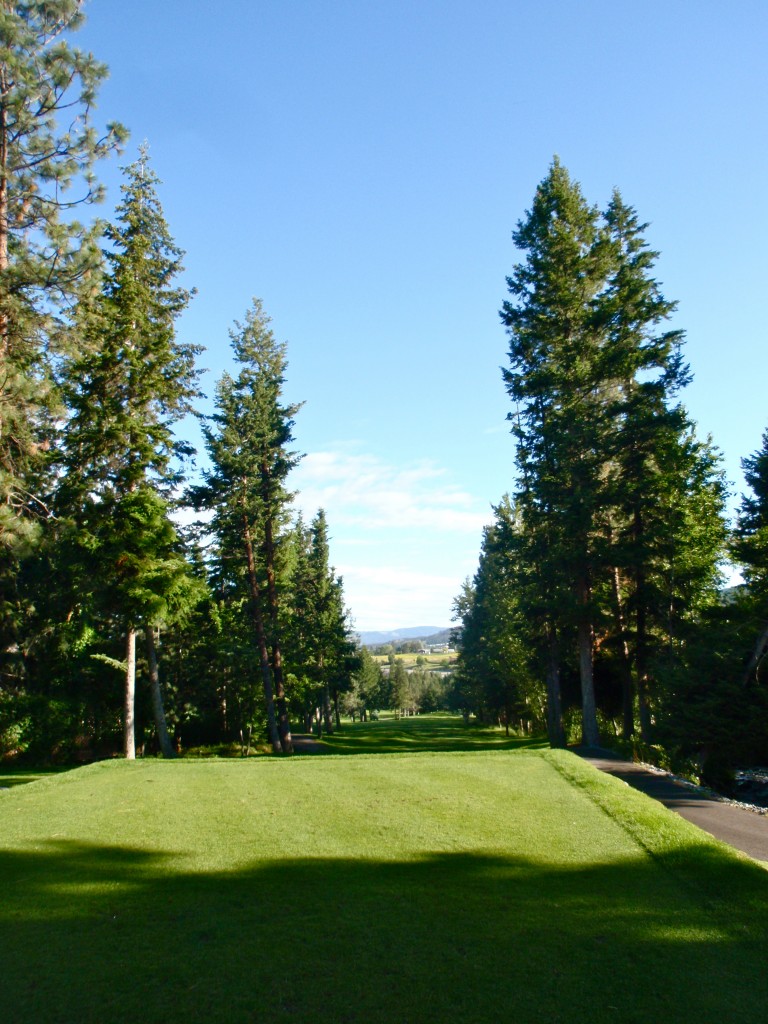 Talk about tight holes, the 14th is as narrow as it looks in this photograph.  Scotty Creek is immediately off to the right.
The Sunset Ranch Golf & Country Club is a really fun and testy course that sits on a scenic hillside not far from the airport.  It was designed primarily by landscape architect J. Bruce Carr and opened in 1990.  In the meantime,  real estate development has surrounded portions of the course, which takes advantage of its gorgeous hillside views.  Fortunately for golfers, this is core course as opposed to one that winds through a housing community.  As such, the housing borders only one side of four holes in a most unobtrusive way so that feature is really not a negative factor.
The layout is known as a favorite among the better area players, and I would imagine that they would hold a huge advantage in hosting any visiting matches.  Sunset Ranch plays through narrow corridors throughout.  On the very first hole you will discover Scotty Creek in the trees just to the right of the fairway.  After a rainy spring, it was loudly roaring during my visit.  It comes into play on several holes in a most strategic lateral or forced carry manner.
The most demanding aspect of the golf course is that the designer cleared just enough earth for the course to be reasonably playable – which it thankfully is.  There are many very narrow corridors with a couple of more generous ones as well.  The play is often up-and-down the terrain and Sunset Ranch's full length is less than 6,500 yards, but don't be fooled.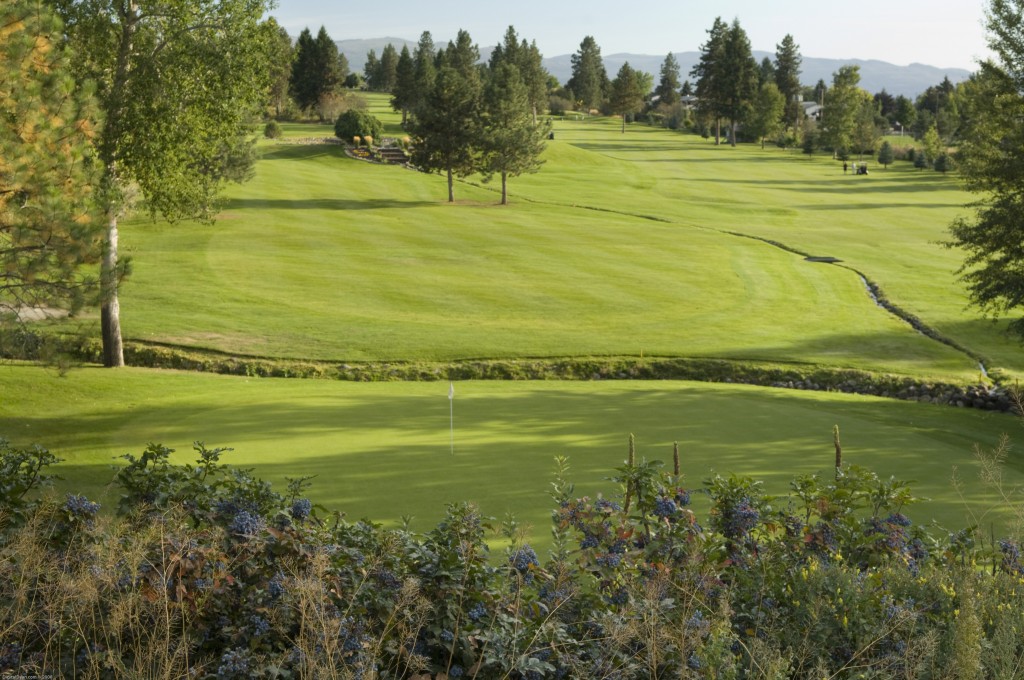 The 10th (left and green) and 18th (right) holes, side-by-side par-fives, provide about as much for driving as you will find at Sunset Ranch. (Courtesy of Tourism Kelowna and Sunset Ranch Golf & Country Club)
So you think you might "eat up" Sunset Ranch?  Think again.  There is trouble galore.  Errant tee shots and mis-clubbing can spell disaster on more than half the holes.  This is a layout that must alternately be caressed and attacked, but since there are a number of uphill semi-blind approaches, getting close to your target is anything but automatic.  Take the stretch between 13 and 17.  On a good day, a pretty fair player might well go 2 to 3 under par, but on a bad one the same person might be 7-8 over!  The same variability goes for the opening and second holes.  And then there is the little 161-yard slightly uphill 5th.  First, it plays at least a club longer than it looks and if no one tells you, Scotty Creek roars just short of the putting surface. When you add in the challenging putting surfaces, Sunset Ranch is "a wolf in sheep's clothing."
And you notice that I've said nothing about the putting surfaces.  Let us just say they are challenging enough and don't necessarily conform to the putting rules of mountain golf.  In other words, your work is not finished by just conquering the narrow tee shot corridors.  Sunset Ranch tests you all the way!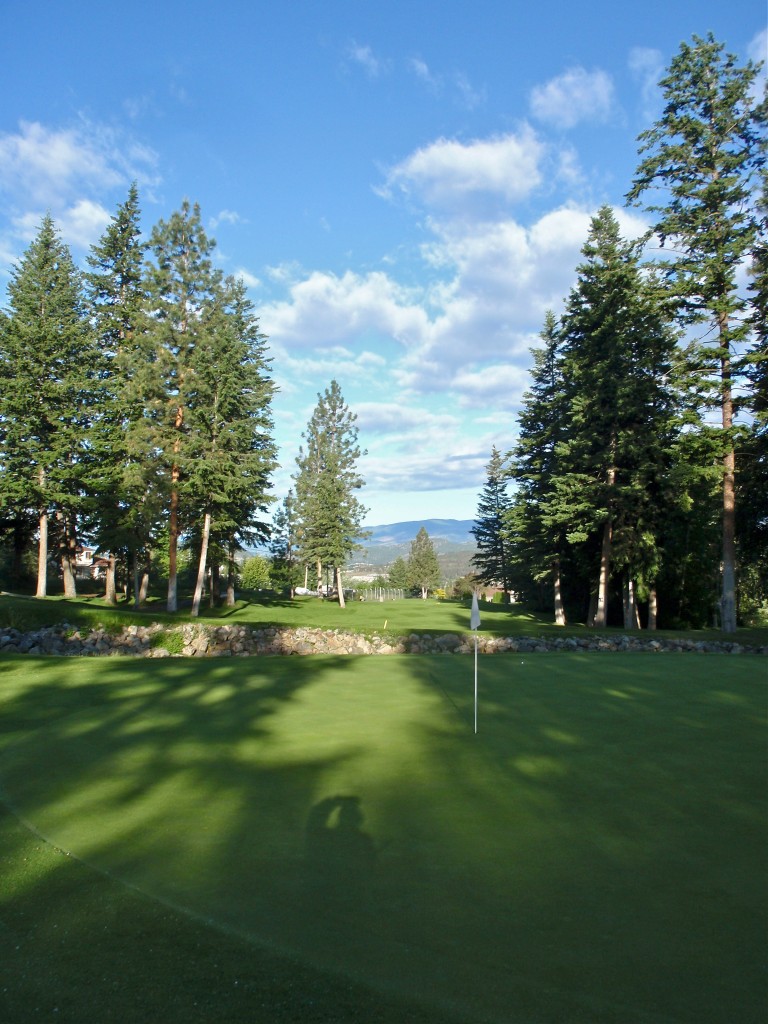 Looking toward the tee on the deceptive uphill 161-yard par-three 5th.  Scotty Creek that runs immediately in front of the putting surface is not visible from the tee.
The par-four 6th and par-five 7th holes play a distance from the rest of the layout and present of very different look, but also afford some attractive vistas.  The drop-shot par-three 8th is a beauty and returns you back to the core of the course.
Don't go long on the little downhill 132-yard 8th hole!
I very much liked Sunset Ranch and recommend it to anyone who is reasonably accurate off the tee.  If not, this little honey will eat your lunch and spit you out!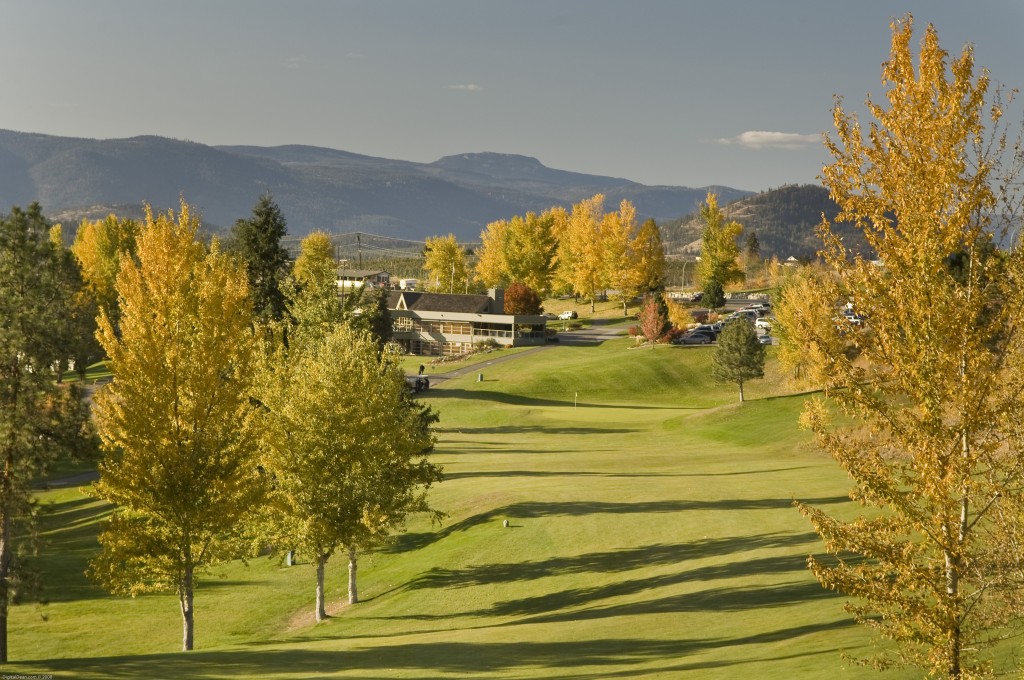 At a robust 449 yards, the dogleg left ninth is easily Sunset Ranch's longest par-four and a slicer's nightmare. (Courtesy of Tourism Kelowna and Sunset Ranch Golf & Country Club)
Fagan Rating:  B-. Sunset Ranch is easily a better than average golf course with several very good holes, any of which will test all golfers.  I experienced very friendly folks there and a golf course that can turn on you in a dime if you don't stay focused.