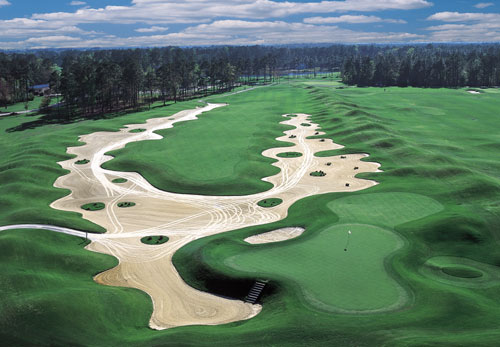 The picturesque par-four 10th is actually the shortest par-four at Long Bay and somewhat of a "breather" on a very demanding aerial style golf course.
The 1980s was a period of excessive difficulty in the American golf course design that has since proved largely unsustainable. Many of the designs either service private clubs or have had to be modified to survive. Some exist as magnets for the better players to test themselves. It wasn't just one architect, but a host of them that were building golf courses that had shallow protected greens, a plethora of penal bunkers, abrupt mounding, water, and lots of length. If Jack Nicklaus wasn't at the poster boy of this movement, he was certainly in the forefront – building courses that only he and a few others could play well. The Long Bay Club is one of those examples – extraordinary for a pubic resort offering.
While there have been recent efforts to ease the challenge, the Long Bay Club along with its area Nicklaus sister-course Pawleys Plantation both represent this era aiming at attracting better players. Whereas Pawleys Planatation is mostly tight and narrow with the difficulty more in the tee shots, Long Bay is open and really puts the squeeze on the approach shots. Sage players will bring their trusty sand and lob wedges to Long Bay.
Actually Long Bay provides lots of room off the tees, and in the subsequent years, Long Bay's once daunting distance is now very manageable given the immense added distance that today's players hit it. I played with a young bomber who routinely hit the ball easily well over 300 yards and could reach every par-five at Long Bay in two shots. At forty or more yards shorter off the tee, I could not and if I hit into the thick Bermuda rough, any opportunity to putt for a birdie would quickly vanish. Suffice it to say, you had better move up a tee box here, because though you may have the distance to get to the greens, you probably won't have the necessary trajectory to hold them. Long Bay defines the Nicklaus style at that time of aerial golf in which you fly your ball into the greens with few run-ups. In other words, tee it forward or choose another golf course for Long Bay is a "player's course" requiring a high trajectory into your target.
Yes, I don't recommend that casual golfers or newcomers to the game tackle Long Bay, but if you're reasonably good, Long Bay is well worth visiting – even fun. There are several truly exciting memorable golf holes and lots of sand and water. The shortest par-four on the course, the tenth is usually pictured in promotions as a huge giant waste bunker completely surrounds the fairway on both side and as well as in front of the green. There are two more par-fours with similar giant waste bunkers. Even on a windless day, there is no room for error on the par-three 13th with its island green that extends to 156 yard. And with no wind and your "A" game, Long Bay is very playable for the single-digit handicapper.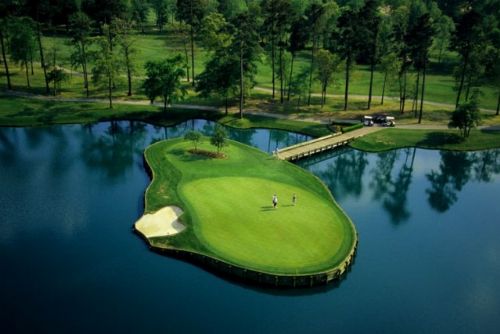 There is precious little margin for error on the par-three 13th hole.
Actually, I rather liked many of the holes at Long Bay and never felt restricted off the tee (unlike Pawleys Plantation). The conditioning was good though the thick Bermuda rough was more than a little penal thanks to a wet summer. Actually the 7,025 yards from the tips is hardly excessive – maybe even tame by today's standards.
Water comes into play on eight holes and many of the putting surfaces are elevated with some being shallow to boot. Sand or that thick Bermuda rough come into play around the greens time after time. The yardages don't mean that much, but the shaping and hazards do at Long Bay. If you fancy yourself a player, this is a golf course you will want to target when visiting Myrtle Beach.
Below:  most greens at Long Bay are heavily bunkered such as the par-five 7th.