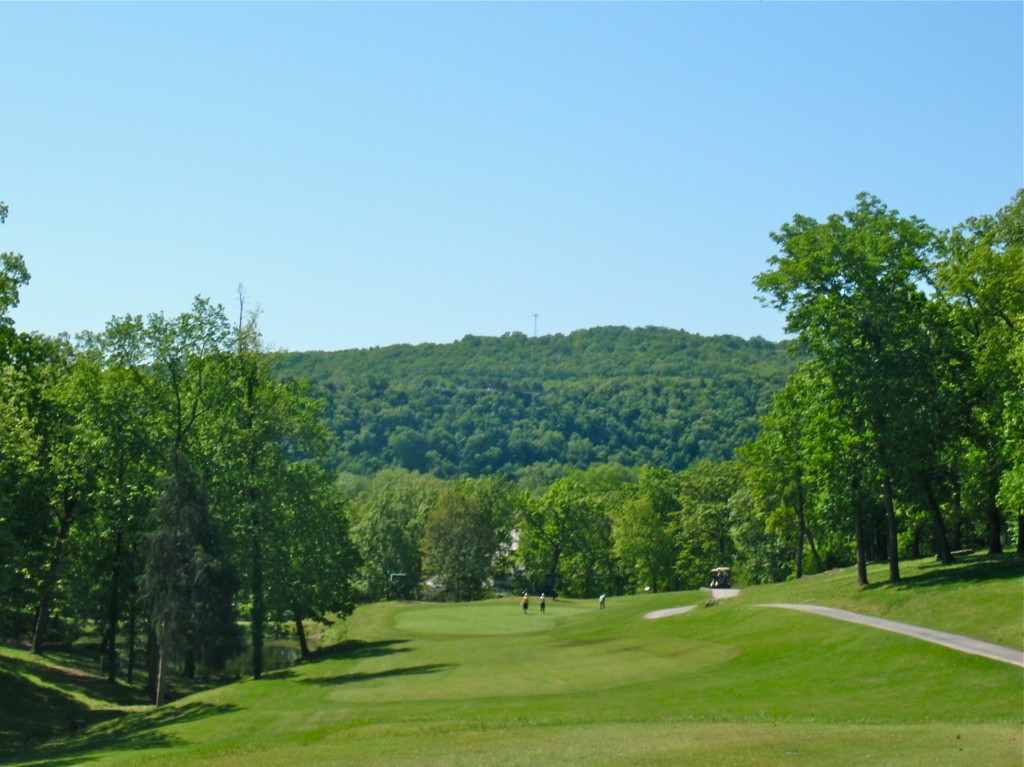 Don't be long or left on the par-3 eight at Pointe Royale!
The Pointe Royale Resort & Golf Course is a fun, sporty course that many golfers will enjoy playing.  At 6,515 yards on a par-70 frame from the tips, some may assume that there is not enough meat on the bone for the advanced or strong player's appetites, but don't let the course fool you  – this may qualify as a "wolf in sheep's clothing."  There are some treacherous greens several with water, drop-offs, or that are semi-blind, and when speeded up are exceptionally challenging along with some very testing tee shots as well.
Pointe Royale is another hilly Branson test that winds through a nice residential neighborhood which includes singer Andy Williams' home just to the right of the second tee and Mickey Gillis' home on the right of the sixth hole.  That said, the housing for the most part is set back and doesn't detract from the layout.  Tall trees stand sentinel and frame most every hole.  Accuracy succeeds here over raw power though long tee shots will set up some scoring opportunities.  Either way, The Pointe definitely gives players with local knowledge a distinct advantage.  There are any number of good holes at The Pointe, but the third, fifth, eighth, twelfth, thirteenth, and sixteenth stood out for me.  Both nines finish alongside one another with the ninth and eighteenth featuring severely uphill tee shots and challenging approaches – a combination that has doubtlessly ruined many a nine-hole score.
Fagan Course Rating:  B-. The Pointe Royale Resort & Golf Course is a easily a better-than-average golf course though I wouldn't consider it the best in the Branson area.  Its attractive treelined surrounds and friendly service will make for a delightful round of golf and don't be surprised if you leave a couple of shots wasted on this disceptively challenging and attractive layout.
Below is the very testing and attractive 224-yard 12th at Pointe Royale.