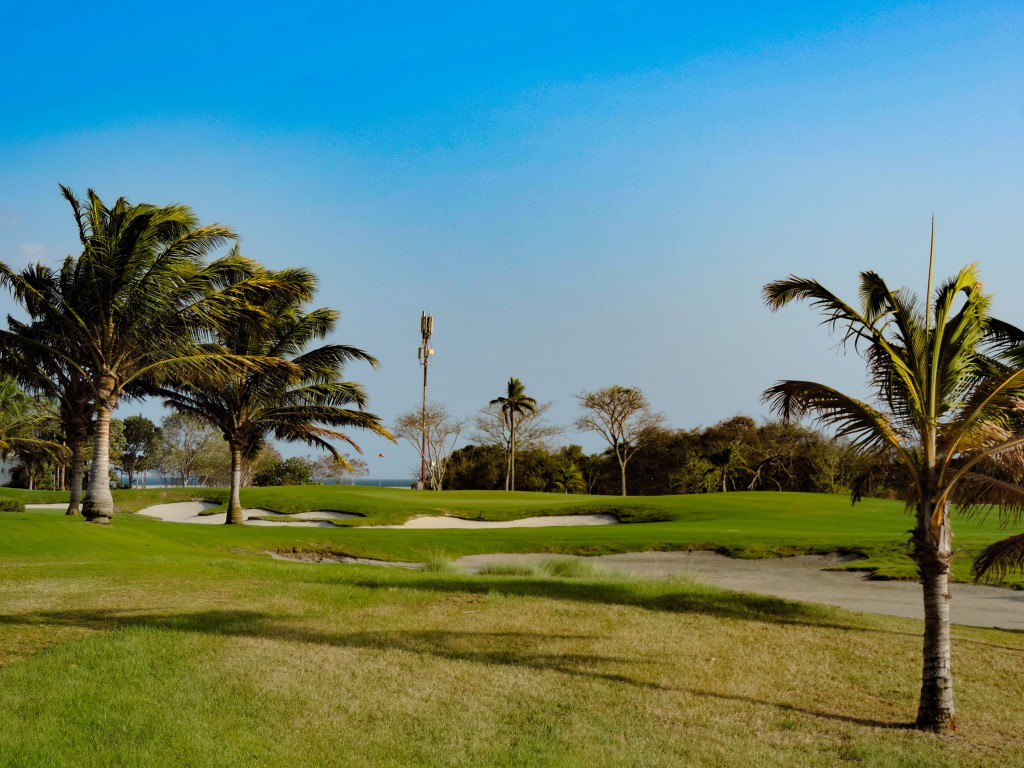 This is the view adjacent to the par-three 14th. A 200-yarder from the tips, Nicklaus as he has elsewhere at Buenaventura frames the hole with artistic, yet understated bunkering that is in harmony with its surroundings. This is something he did not do early in his career as he may have manufactured "chocolate drop" or pyramid-shaped mounding all about.  (Photo by Robert S. Fagan)
Buenaventura translates into "good fortune" and that's exactly what those who visit and play the golf course by the same name have. At this writing, Buenaventura is easily the best resort course in Panama and a resort where discriminating golfers should want to stay. Part of the J.W. Marriott Resort about 90 minutes' drive west of Panama City, you are in the lap of luxury, a separate world of comfort, service, and serenity, not to mention pristine beauty. This is the Jack Nicklaus organization's premier product in Panama and depending on your tastes, arguably the Country's best golf course.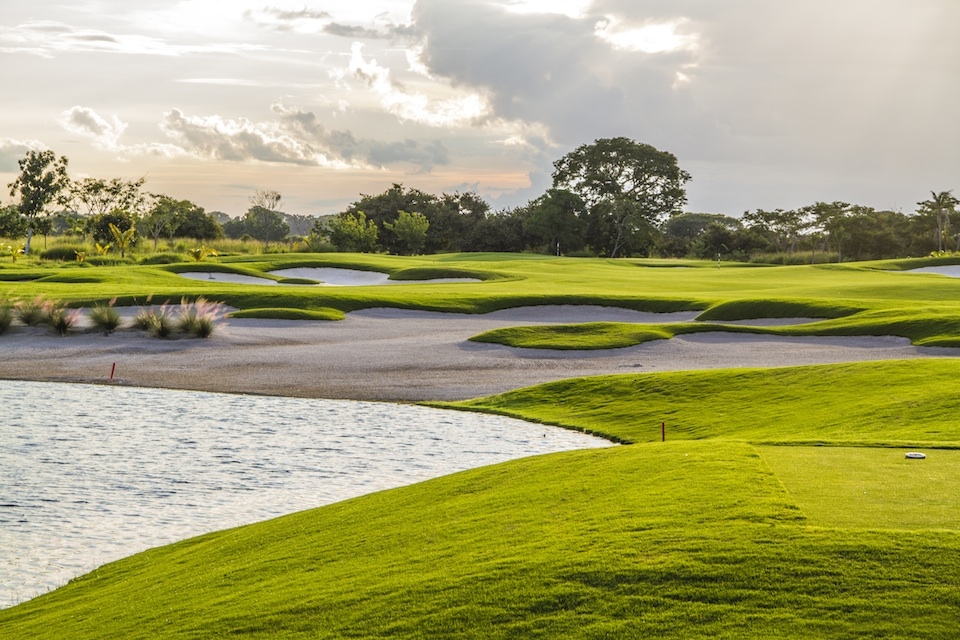 For whatever reasons, Nicklaus shows more defining bunkering off the tee at Buenaventura than he did at Santa Maria. What's not to like here? The bunkering immediately in front of the tee is effectively for aesthetics and shouldn't come into play for most.
Yes, comparisons will naturally be drawn between Buenaventura and Nicklaus' other product, the private Santa Maria Golf & Country Club to the East in Panama City. Except for the service element which is excellent at both facilities, my opinion is that Buenaventura wins hands-down. The quiet country ambiance resembling an old country estate or ranch is furnished with spectacular and mature landscaping at Buenaventura standing in stark contrast to the bushes, sheds, high rises, and general congestion, not to mention the noisy Pan American Highway that bisects the sprawl of Santa Maria. It will take literally many decades for Santa Maria to approach the effect of some of the old trees whose huge canopies grace the Buenaventura links. And don't get me wrong, Santa Maria is a fine facility, but I prefer Buenaventura.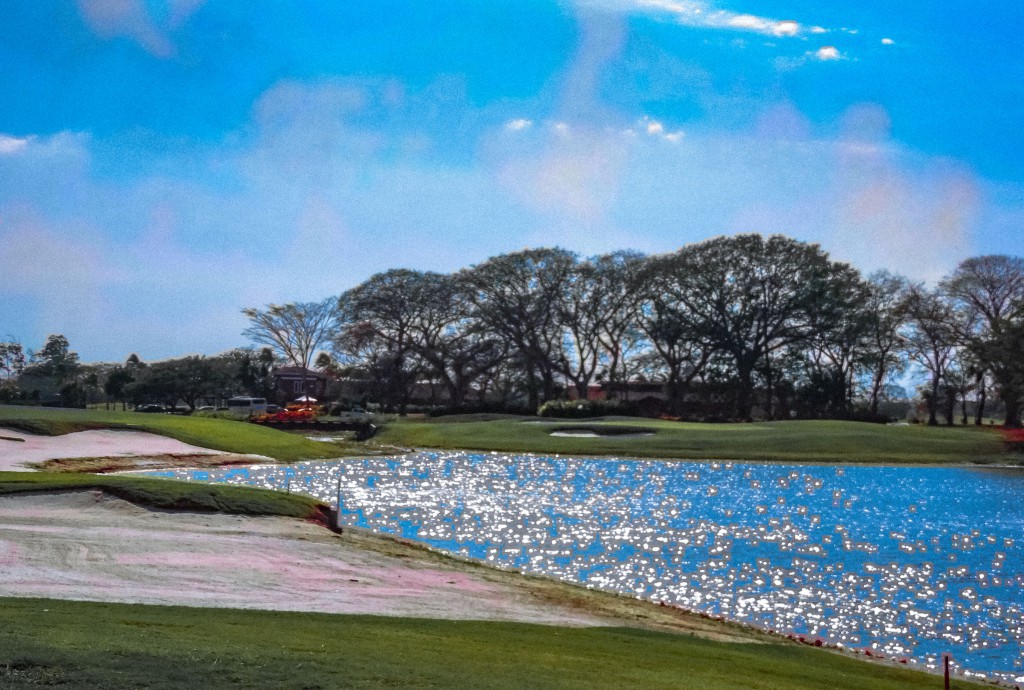 Again Nicklaus enjoys a wonderful collection of irreplaceable trees that he used to frame the background on the 593-yard 9th. Most people will lay-up to the left of the picture to set up their approach. Otherwise, this is one long carry!  (Photo by Robert S. Fagan)
Both golf courses share a similar very flat terrain and immaculate grooming. There is and will be less intrusive housing at Buenaventura as this golf course qualifies more as a "Club in the Country" as opposed to an "Urban Oasis."  Off the tee, the aesthetics and challenge are superior at Buenaventura, but like Santa Maria there are expansive landing areas. Unlike Santa Maria, the green complexes are a bit less severe though far from mundane. And as is the case with Panama's Pacific golf coast, the wind during the dry "Summer Season" can border on ferocious. Stretching to nearly 7,400 yards, there is nothing anemic about the overall challenge, and that brings up the layout's on shortcoming. From the very forward tees, Buenaventura measures more than 5,700 yards making it far too long and difficult for newer or weaker players though there are not many forced carries – hardly a friendly environment for many women and seniors.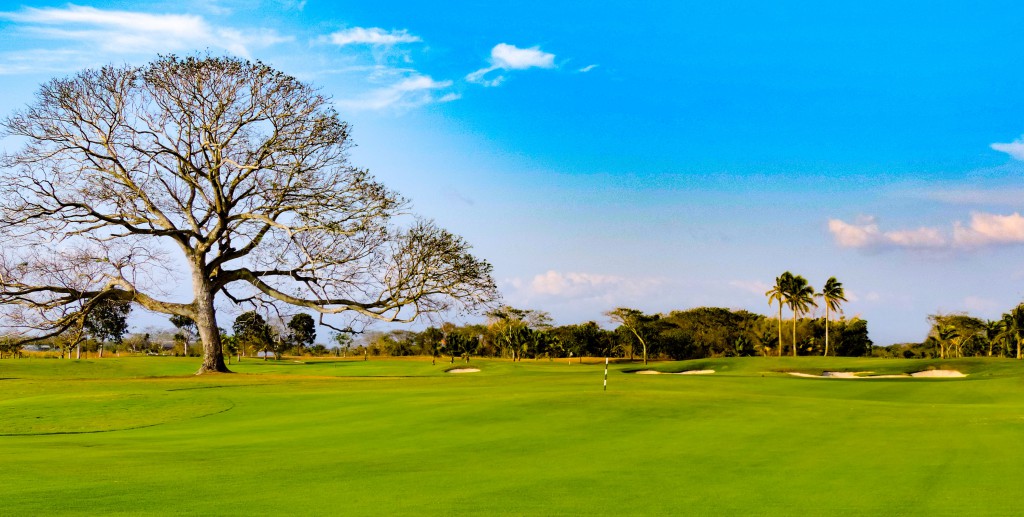 There are a number of trees at Buenaventura that beyond their obvious golf significance, are simply magnificent to behold. This one stands sentry to the left side of the 584-yard 15th fairway. As illustrated from about 200 yards from the green, this par-five features an extra wide fairway that narrows as you approach. This course is thoughtfully built to accommodate windy conditions.  (Photo by Robert S. Fagan)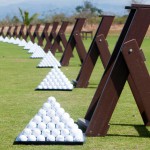 Like Santa Maria, play is light with members, their guests, and J.W. Marriott guests only able to play, and the pricing for a round approximates rates for celebrated, upscale American courses in the mid-$250s. A complete first-rate practice facility along with new carts and high-end rental clubs are available.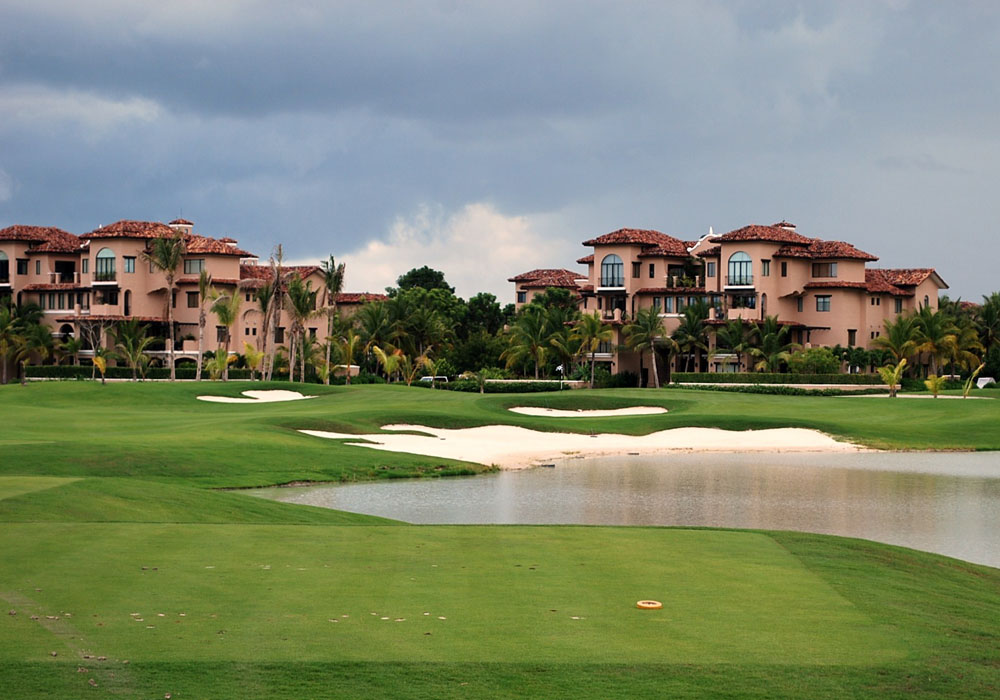 This is one of the few areas you will encounter adjacent housing at Buenaventura – the par-three 7th.
A final word on why I so highly rate Buenaventura and that is "ambiance." Ambiance can seldom be bought, imported, or manufactured, but Buenavista exudes a comfortable, elegant yet understated ambiance. It is a low volume, high-touch experience utilizing all the modern upscale conveniences coupled with a classic, traditional feel. The golf course and the Resort for that matter are not noisy nor the service overbearing as in some high-end facilities, but a nice balance making for a great retreat. To his credit, the Nicklaus team did not overwork the property, yet took a dead flat property and captured that delicate balance between challenging and enjoyable – an equation that neither he nor others have always accomplished. While everyone has their different tastes in golf courses, this is a golf experience that even the most discriminating will appreciate.
Below:  The courtyard area between the golf shop to the left and the open air bar and restaurant area to the right exudes a quiet, calming influence. Gazing upon the course, it's a great spot to prepare or unwind with a cold beverage and a delicious meal.  (Photo by Robert S. Fagan)