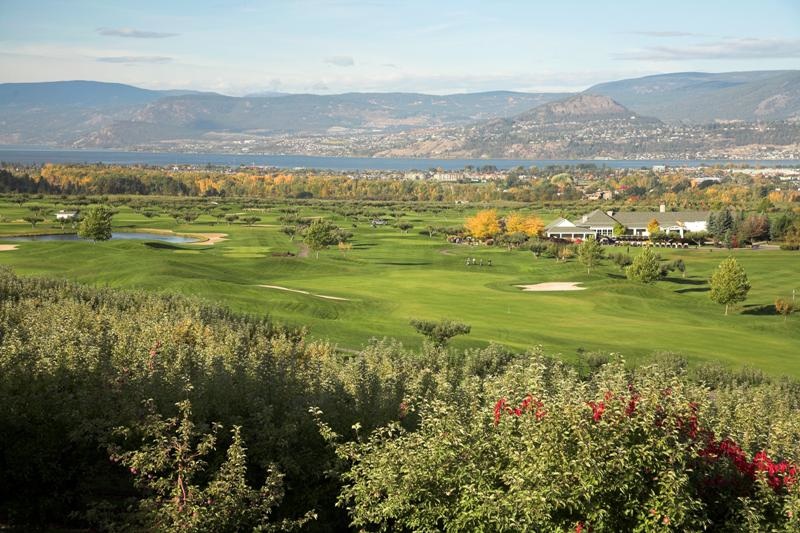 Looking down upon the lovely open fields of The Harvest Golf Club and Kelowna and Okanagan Lake beyond. (Courtesy of Tourism Kelowna and The Harvest Golf Club)
This Kelowna layout is very different looking course from the tightly wooded layouts that populate the area.  Surrounded by orchards and vineyards, The Harvest Golf Club is easily walkable on mostly flat and wide-open terrain though the property sits just high enough to afford constant views of the lake and city several miles distant and there are some shots to elevated greens as well as elevated tee shots.
While the course is essentially wide open, it does not tolerate reckless driving easily.  There is some very nasty punishing rough in spots though the look and feel of the course will keep golfers reaching for their drivers.  Other than the nasty rough, the bunkering is the main hazard and the greens are relatively tricky with some big swings in undulation.  While one shouldn't lose many ball while playing The Harvest, the course will nibble away if you aren't accurate with your approach shots.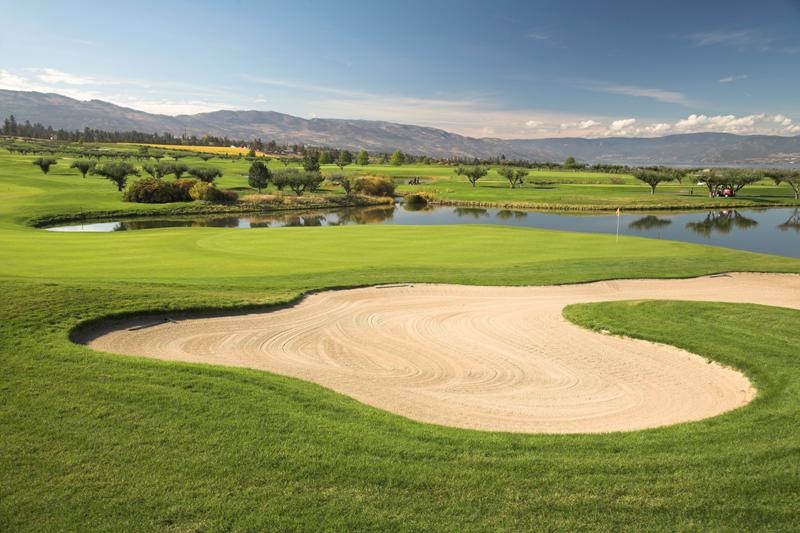 Looking from behind the green on the 397-yard par-four 3rd hole. (Courtesy of Tourism Kelowna and The Harvest Golf Club)
The best thing is that the course is eminently playable for all levels and should the operators want to toughen it up for tournament play, that is easily accomplished.  Many of the other area courses are so tightly treed or bunkered that they are intimidating.  While The Harvest Golf Club has that nasty rough and plenty of fairway bunkers, the bunkers are relatively shallow and the look is far more open – a refreshing change of scenery for many players.  And because the golf course is at a slightly higher elevation and completely exposed, when the wind kicks up, that in itself can make The Harvest play quite challenging.  The layout has plenty of distance measuring as long as 7,109 yards and as little as 5,454.  The conditioning of the course and amenities are first-class making for a fun country-club type experience.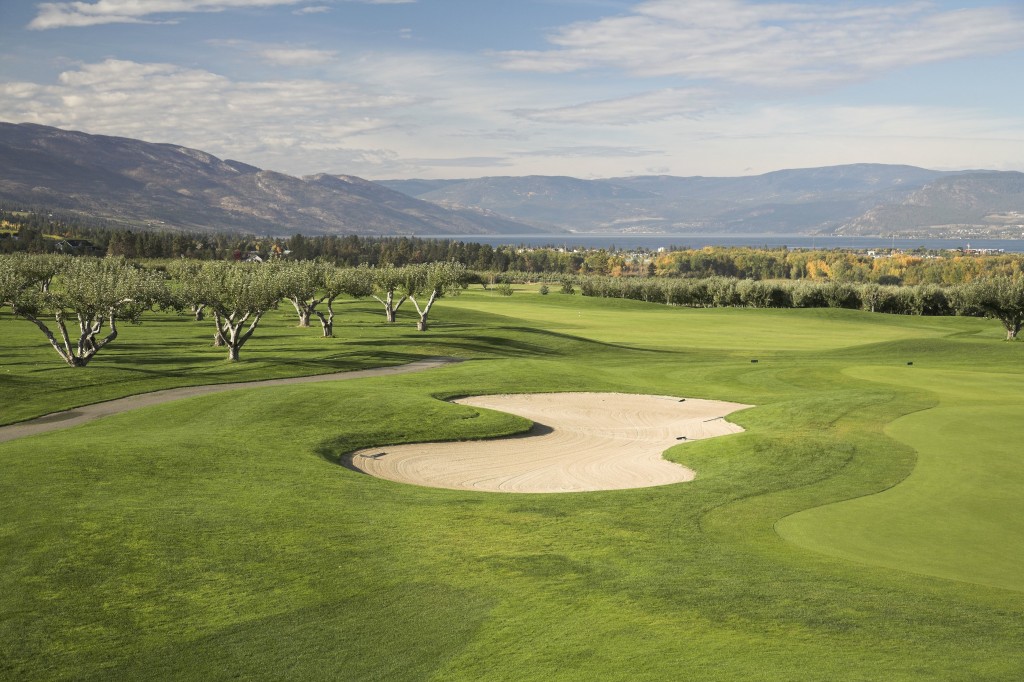 The chopped off apple trees and abundant low-profile bunkering are indicative of the look at the Harvest Golf Club. (Courtesy of Tourism Kelowna and the Harvest Golf Club)
Fagan Grade:  B-. The Harvest Golf Club is a fun wide-open looking golf course that is a good change of pace from the other area courses.  It can still be a challenge, but what is doesn't do is break any new ground or have any particularly inspiring individual holes.  That is not a bad indictment because this layout is fundamentally solid and will be thoroughly enjoyed by most golfers.
The par-three 5th stretches back to 203 yards.