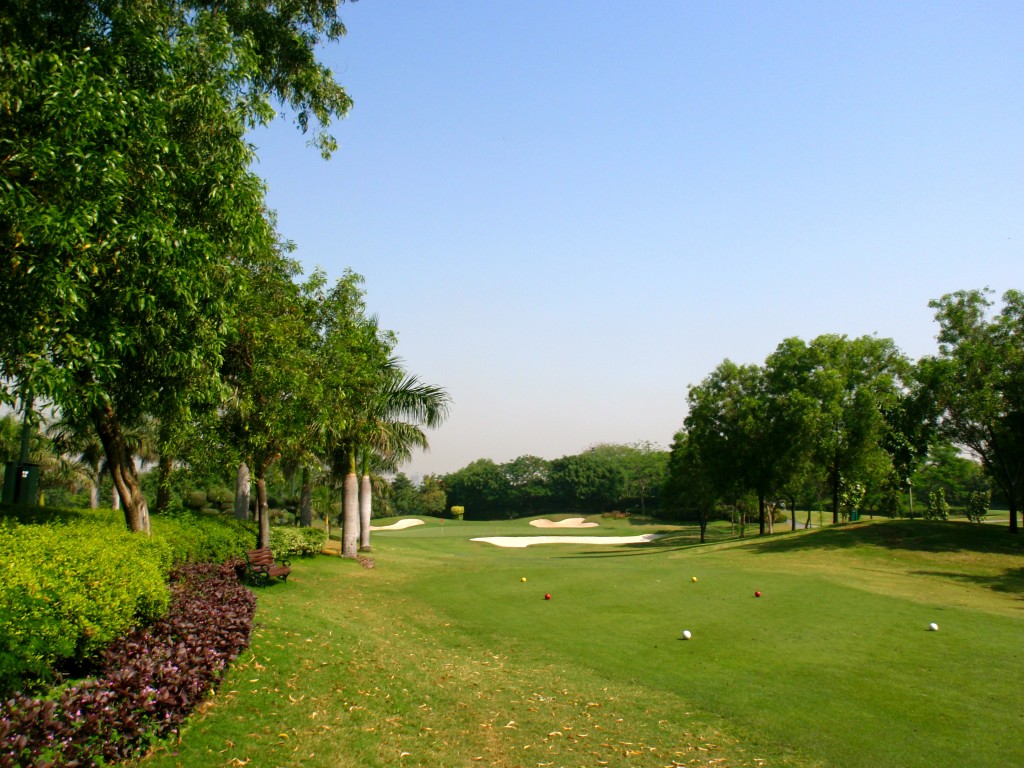 Exciting golf awaits you in the Delhi area.  This is the par-three third at the DLF Golf and Country Club.

Yes, there most certainly is golf in India.  What's more, it's the kind of quality golf that mixes with India's other many alluring attractions to make for a most memorable vacation.  Take your pick.  There are a host of cultural, historical, outdoor sports and adventures, nature, shopping, spa, and general sightseeing to combine with golf.  And if you have never been to India like me, you will be well advised to follow my footsteps to the Delhi area.
Okay, golf is probably the last thing you may have associated with India, but there is fun golf waiting there.  And
did you know that the oldest course outside the British Isles is the Royal Calcutta Golf Club?  Thanks to the British occupation, golf was introduced there in the early-19th century.  Today, while there are now nearly 200 courses, golf is still a game of the socially elite servicing just nearly 100,000 Indian golfers.  The good news is that with the right connections we visitors can enjoy it too.
What you should first be aware of is that the golf courses are spread out around the country with no area presently having a concentration of playing opportunities such as you might find in the United States or the British Isles.   Secondly, the vast majority of the courses are nine-holes.  For that reason, up to now few Americans would venture to India for a "golf vacation," but when you add in all the other amazing attractions, your trek to India definitely qualifies as "Bucket List" material.
India is indeed a land of diversity and potential and has been making great strides during the past few years. Fortunately this now includes golf.  Anyone's first golf holiday there should probably include Delhi because the area features the greatest concentration of quality golf experiences.
The greater Delhi area is estimated to have a population nearly the equal of the entire country of Canada!  You will find modern shopping, hotels, spas, and fine eateries along with the seat of government, and amazing history and culture.  In total, Delhi was much more modern and clean than I had anticipated.  Secondly, there is a total absence of violent crime; all of which make for a most interesting and relaxing sojourn.  A typical recommended trip to Delhi preferably lasts 10-14 days, which includes enough time to get in four to five rounds of golf at five different courses.  Here are five that were recommended to me as the best and which I very much enjoyed.  You can tell by their design pedigree that they have something to offer with people such as Arnold Palmer, Jack Nicklaus, Greg Norman, Martin Hawtree, and Peter Thomson involved.  All are private, but available for play through your tour operator during the week.  You can expect expert caddies and the highest green fee among the five was a thrifty $60.  Caddies are even more of a bargain with the top rate including tip being in the $20 range.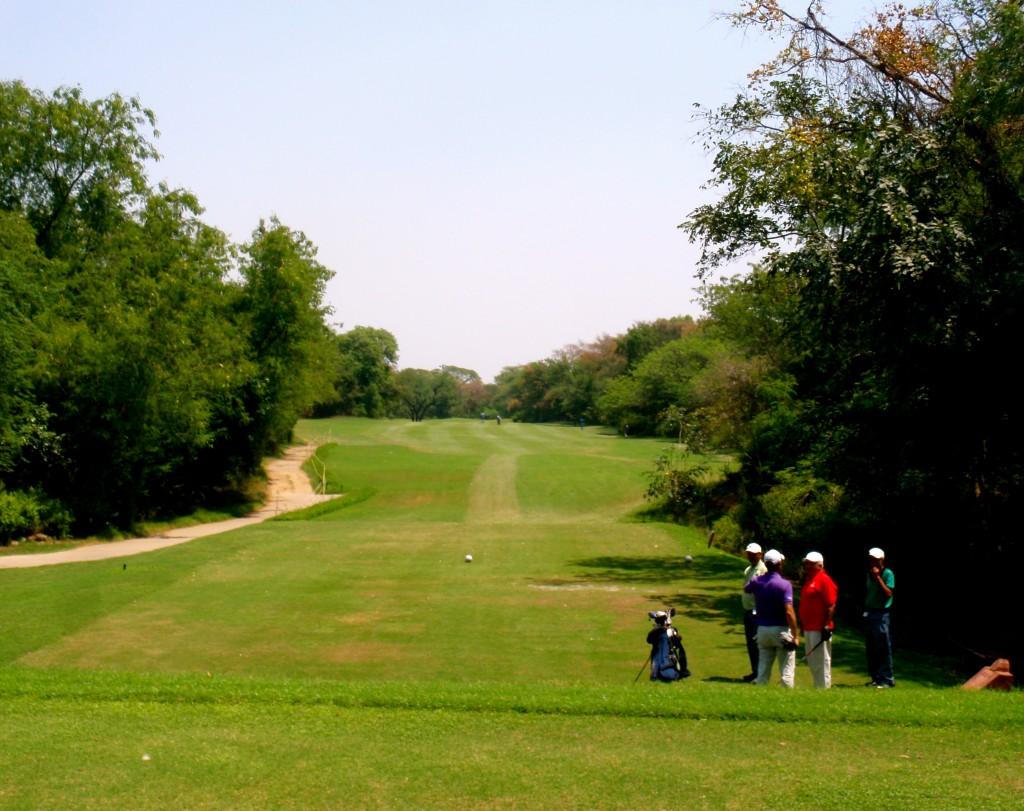 You had better drive it accurately at the venerable 27-hole Delhi Golf Club.  Shown above is the demanding 412-yard fourth hole.
My favorite course among the quintet was the DLF Golf and Country Club designed by the Arnold Palmer Design Group.  A tropical design with bold bunkering and lots of water, DLF is comparable to the best layouts you might find in Las Vegas or South Florida.  If you like the old style clubby course with lots of charm, the deceptively tough and tight Delhi Golf Club in the heart of Delhi fits the bill.   There you will play amidst more than one hundred ancient tombs on the property for a truly rare experience. The 27-hole Classic Golf Resort shows off Jack Nicklaus' skills as it was his first Signature Course in southern Asia.  And if you want another boldly bunkered test with lots of sand reminiscent of South Florida, you should play the luxurious Jaypee Greens Golf Resort by Greg Norman.  Finally, the "diamond in the rough" is the Golden Greens Golf & Country Club that features some wonderful shaping and a rugged look as you play among the native brush. (For more details on each layout, consult my "Course Reviews" tab on www.theaposition.com/robertfagan.)  Suffice it to say you will enjoy the different looks featured by each of these five layouts.
Now for some points you must consider.  The best time to visit Delhi is between late October and early April as
the summers are too hot and the monsoon season runs from late July into September.  Don't expect to visit independently and arrange for your golf.  These courses are private and a reputable local tour operator will be able to secure a weekday tee time in advance. The second thing is that when you rent a car, you must also rent a driver.  Labor is very inexpensive so this is no big affair and within five minutes driving in India you will completely understand why this is a requirement.  Driving is absolute chaos by American or even busy European standards and finding several of these courses is next to impossible if you were to do so by yourself – perhaps even with GPS!
I heartily recommend you consider Pash India for all of your travel and golf arrangements.  They are a most professional outfit and the golf division of Le Passage to India (LPTI) employing more than 900 people through all locations in India.  They happen to be the largest tour operator in India and I was personally so very impressed with the way they handled the details for my trip.  They even track all their vehicles so should one of their drivers have any problem, they already are aware of it and have help ready in a jiffy.  Pash India also knows not only the right mix of hotels and eateries for your golf, they arrange expert tour guides, safe shopping, and in conjunction with their parent organization are specialists in a host of other Indian niche travel markets.  Pash India even helps coordinate some national and international golf competitions.  For golf, they can secure a tee time at the exclusive Delhi Golf Club where the waiting list approaches thirty years even for sons of members!  In sum, Pash India does it all.  Refer to:  www.pashindia.com.  And even more good news on the golf front is that the Indian Ministry of Tourism recognizes the value of golf tourism and is actively promoting it.  See also www.incredibleindia.org for their website.
Delhi also exceeded my expectations off the course as well.  There are fascinating and historic temples, tombs, mosques, government buildings, museums, spice markets, forts, stadiums and sporting events, and shopping, not to mention a must-visit rickshaw ride through the crowded narrow alleys of Old Delhi.  And then there is the Taj Mahal.  Words and pictures do not come close to doing the place justice.  Finished in the mid-1600s, right up close it appears to have been completed only last month.  The scale and energy there have to be experienced first-hand to be believed. It is located in the city of Agra, which is a five-hour car trip from downtown Delhi and I recommend driving there and taking a two-hour train ride back if possible. In that way, you will better appreciate the rural flavor of India that you would otherwise miss by staying in Delhi and have the ease of a leisurely trip back.
Spending two weeks in the greater Delhi area is akin to visiting New York City or Washington D.C. and believing that you really understand America, but it's a great start.  You have only begun to scratch the surface of an amazingly culturally rich and diverse country, and you have also included wonderful golf.  As you branch out to other areas, there are some other fine golf offerings, but not as plentiful.  That said, I can't wait to return to continue exploring India.  I am quite confident your trip will also be one of your best ever!