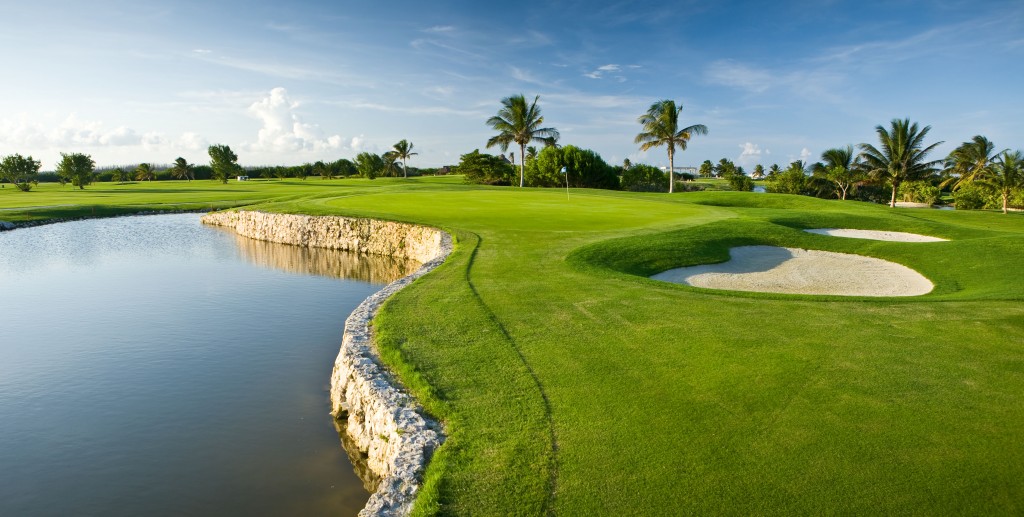 Water lurks left on the approach to the par-four 2nd hole at Iberostar Cancun Golf Club.
Any golfer heading to Cancun who wants a fun, convenient round of golf without venturing too far will enjoy the Iberostar Cancun Golf Club. Located on the main road that heads west out of town toward the Cancun airport, this is the newest addition to the Iberostar family.
As the most convenient 18-hole layout to Cancun, golfers will discover a flat layout much as you might discover in South Florida with swaying palms, bright white sand bunders, and scenic bay vistas. There are plenty of water hazards to enjoy from an aesthetic viewpoint and they do come into play around the greens, but thankfully the fairways and playing avenues are forgivingly wide so most golfers should neither lose many balls nor suffer penalty shots. If the conditions are relatively calm, Iberostar Cancun is a player-friendly layout.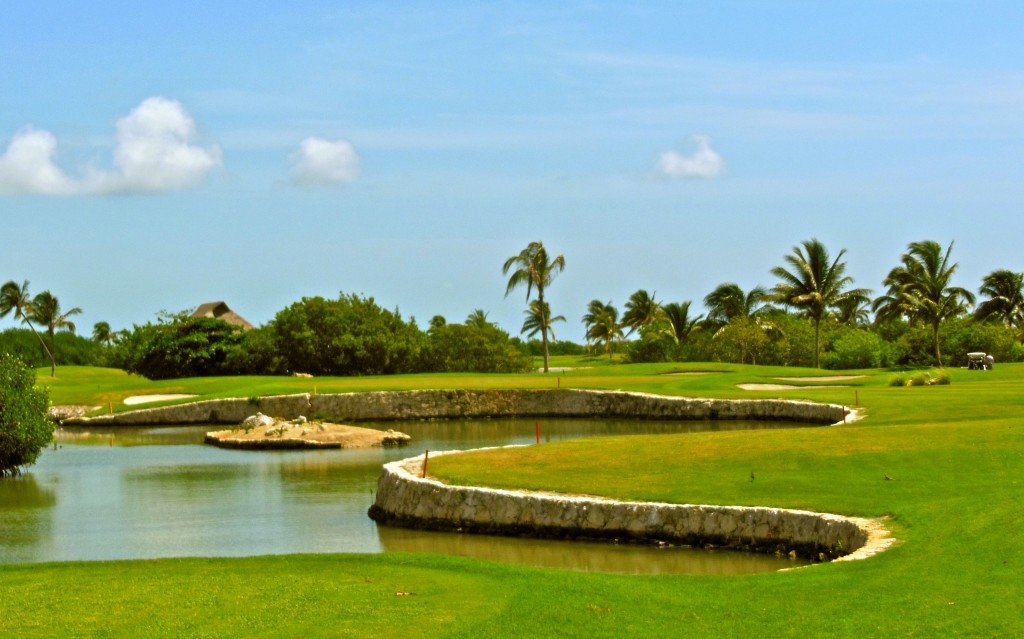 The par-three's at Iberostar Cancun pose its toughest challenges as demonstrated by the attractive 178-yard 8th hole.
The flat terrain and minimalist shaping extends to relatively flat putting surfaces and shallow bunkering that is not too intimidating for the recreational player. There are more than a few holes where golfers can bomb away with their drivers to the wide fairway corridos, but a few holes that because they are not so long, the stronger players will want to lay up. Without the sea breezes, this is a golf course that the more accomplished player can blitz par on its 6,734 yards from the tips as the rating/slope is a docile 71.1/121 on its par-72 frame. Unlike many of the other area golf course, players should not lose nearly as many balls here.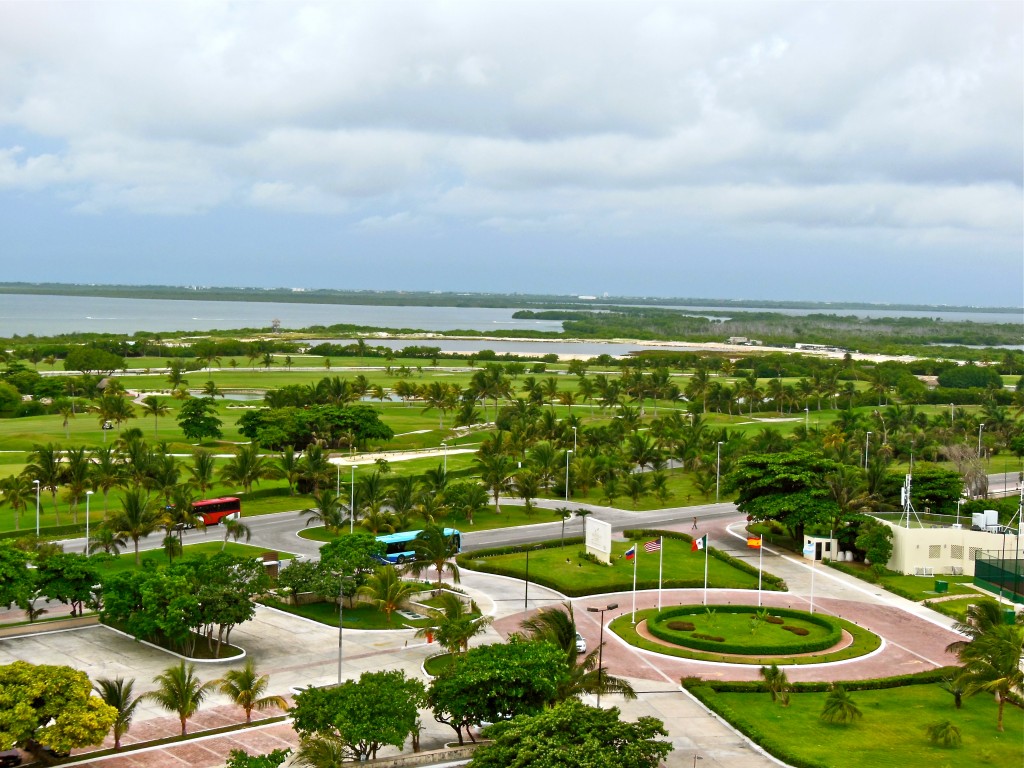 The view of the course from the Iberostar Hotel.
An interesting note is as Iberostar acquired this golf course only in early 2012, they purchased the magnificent hotel (formerly The Hilton) directly across the street with its attractive beach frontage in mid-2011. After investing $100 million in the purchase and upgrade of the hotel, they really elevated it to a spectacular spot to stay or conduct business. It is projected that they will also make improvements in this already solid golf course as well.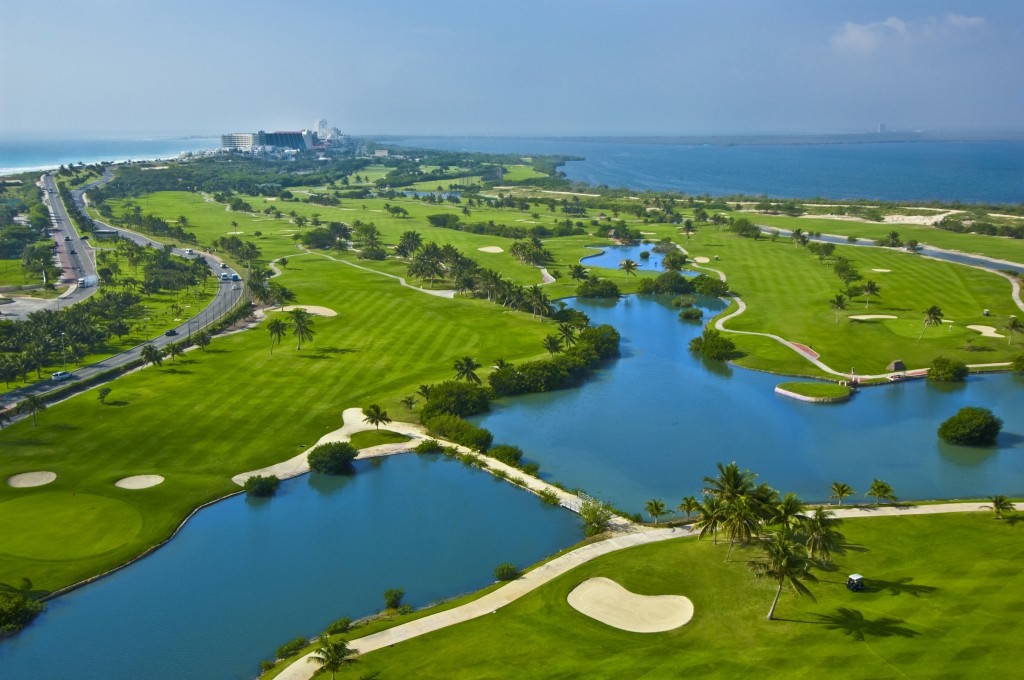 Candidly, the Iberostar Cancun Golf Club is not a special enough layout to cause anyone from America to travel to Cancun solely to play it, but once you're in Cancun, it is an inviting, attractive option. It is a splendid track for the recreational player and a good "second course" to play for example with its sister course, the Iberostar Playa Paraiso about a forty-five minute drive away. The course is also the most convenient one for visitors staying in Cancun – a fun place to play a casual round or two of play!