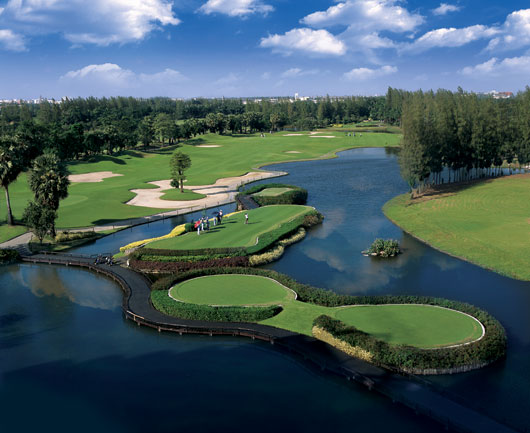 Above is the 13th hole and the 14th tee.
Seriously now, with a name like Summit Windmill, I expected some hokey layout akin to a miniature golf course. And as I saw a sign directing me to the facility, I was concerned that I was headed down some lane approaching some slum with perhaps a Driving Range at the end.  Boy, was I mistaken!
Summit Windmill Golf Club is a rather outstanding golf course surrounded by some of the largest mansions I have ever seen, even in America (albeit on small lots) and hosting a first-class five-star hotel.  Located upon the same flat land as the nearby Muang Kaev Golf Club (see my course review – http://theaposition.com/robertfagan/golf/golf/courses-and-travel/2978/course-review-muang-kaew-golf-club-bangkok), a substantial sum of money was invested in moving earth and creating extensive landscaping that was missing at the neighbor course.
Nick Faldo is listed as the 1993 designer, but the fact is that he wasn't really designing then and I suspect that the work was done by IMG's team, possibly a former classmate of mine, Brit Stenson.  Be that as it may, this is a "Wow! Course" with the look of a Nicklaus design.  This is definitely a cut-and-fill job with big bold hills tossing some fairways and greensites while other holes play closer to their original flat design.  Though the course was completely manufactured, it has a natural feel to it where you can take no shot for granted.
I liked the use of angles on tee shots where on several occasions you could bite off as much of a dogleg as you dare.  There is plenty of bold bunkering as well as contour in the putting surfaces without being excessive.
The layout is also an entirely lighted golf course and I had no problem playing at night, as the lighting was better engineered than at other lighted courses I've encountered.  Night golf is a popular pastime for Thai golfers as it is not so hot so the tees sheets are booked full.  About the only negative is that this is a very popular course and with overbooking and poor marshaling, play creeps along at a snail's pace.
Back to the golf, the layout is not particularly long at 6,964 from the tips, but there is plenty of challenge for most any of us.  For me, the strength of Summit Windmill is the set of par-fours and fives.  All are interesting though none of them are very long.  The ninth hole at 438 is tied for the longest and one of several holes that you can bite off as much water as you dare.  I also found the 8th hole to be a great short two-shotter at 378 yard from the tips.  The course also opens and closes with strong par-fives on opposite sides of a lake measuring 618 and 577 yards respectively.
The most interesting feature of this day playing both Muang Kaew and Summit Windmill is that Summit Windmill unlike its neighbor lacks any compelling photography, but shows up sensationally in person – lots of golfing eye-candy at Summit Windmill.
Fagan Rating – B+. What a nice surprise to play an unscheduled round at Summit Windmill – a course that should definitely be included in your schedule  If there are any courses in Thailand much better than this, I'd love to see them!