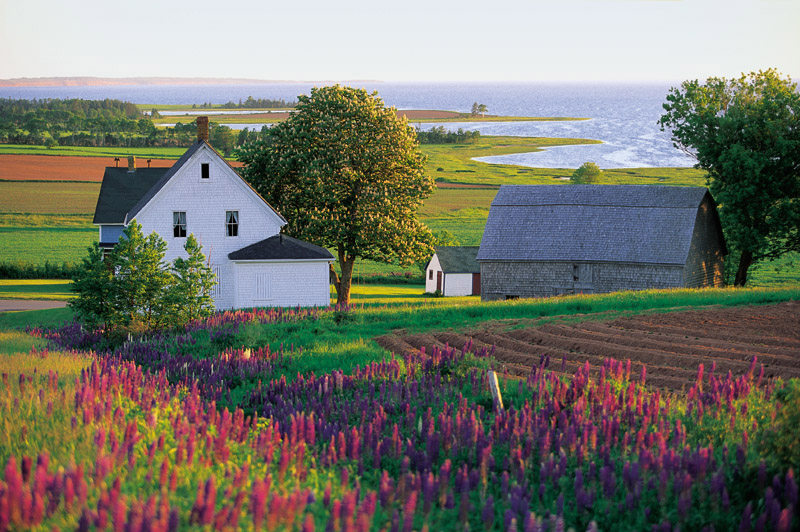 Prince Edward Island – "the perfect option for those who want to minimize travel and maximize the destination experience."  – Barry McLeod
Recently I had the good fortune to visit Prince Edward Island to explore the golf opportunities there.  Yes, I quickly discovered world-class golf, but also so much more.  Here are fifteen great reasons you might want to join me as I hope to soon return to this uniquely special place.  – Bob Fagan
Prince Edward Island (PEI) is the smallest province in Canada and known as the "Birthplace of Canada."  Located in the Gulf of St. Lawrence northeast of Maine, it is a wonderful blend of land and sea traditions and made up of Scottish, Irish, English, and French who joined the native Mi'kmaq people.
Great Golf Haven– Golfers are quickly discovering PEI is unusually blessed with great golf courses.  Ten of the Island's thirty-three have been honored to been included among "Canada's Top 100 Courses."  The bonus is that all are great values and easily accessed.  It is no wonder that PEI was named "The World's Best Undiscovered Golf Destination of 2011."
Culinary Excellence – PEI is a hotbed of great food that is remarkable enough to draw and retain visitors in and of itself.  Imagine your taste bud's delight as you savor its renown lobster, mussels, oysters, scallops, produce, or famous PEI potatoes sold all around the world.  Fresh produce is only minutes from its source and there are even culinary bootcamps and a culinary trail!
Festivals – A wide range of events and festivals and events keep you busy.  From the fall "Shellfish Festival" to the Charlotte Festival that features the original stage production of Anne of Green Gables – The Musical, or Fall Flavours that features an island-wide food extravaganza, PEI offers those and more activities to entertain you.  Music is never far in PEI.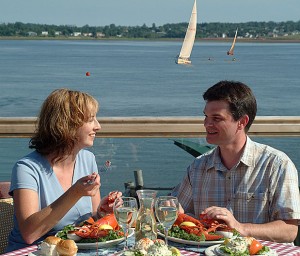 Attractive Meeting & Convention Center Location – Facilities, events, service, infrastructure, and the lure of PEI are a such a draw that meeting planners claim they enjoy 15% greater attendance compared to other meeting sites.  PEI offers complimentary services to make it happen at  www.meetingsandconventionspei.com.
Beautiful Beaches – The northern shore of PEI in particular has gorgeous beaches that make for postcard pictures
with the windswept dunes and the Gulf Stream waters lapping upon the shore – only minutes from the hub city of Charlottetown.
Charlottetown – The provincial capital town reflects a perfect blend of warm hospitality, food, charm, romance, history, shopping, and culture making it a perfect place to stay or visit.
Local Crafts & Culture – Walk in the shoes and observe local fisherman, farmers, musicians, chefs, and artisans.  Islanders are eager to share their experiences as you can weave a keepsake, catch and cook your own lobster, learn an Arcadian step, dabble in a work of art, or participate in the famous culinary bootcamps run there.  Alternatively you can watch harness racing or visit moonshine, chocolate, or potato vodka factories.  Attend one of the many festivals or that populate the calendar or enjoy a studio tour. They are all a rich part of the PEI experience.
Nature Walks, Cycling, and More – Yes, get outside to explore the nature and the beauty of this unspoiled Island.  Bike the Confederation Trail form one tip of the Island to the other.  Maybe you want to track down the more than fifty lighthouses that mark PEI or perhaps you want to ride horseback, birdwatch, camp, sail or kayak.  There is even parasailing and seal-watching!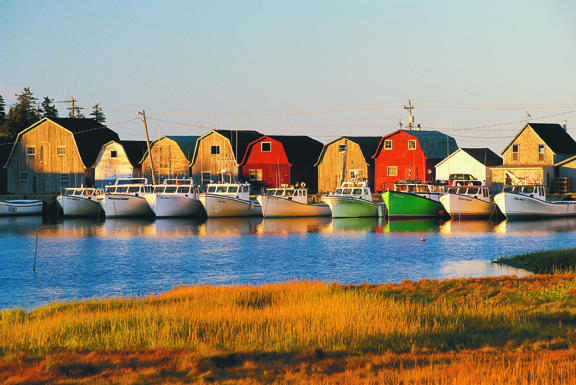 Fishing – Enjoy deep sea and freshwater fishing as many guided and charter tours are available.   Or dig for clams on the beautiful beaches.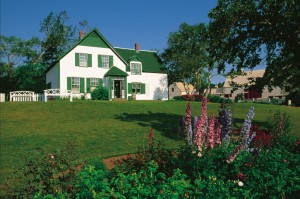 Anne and Green Gables – Published in 1908, most people only dream of Anne and her Island.  You can actually visit the homestead or attend the musical (Canada's longest running musical), or mingle with characters at Avonlea Village.
Coastal Drives – Enjoy the easy scenic pace of three distinct and clearly marked coastal drives around the island.  Stop at your leisure to snap photographs, picnic, and chat with the local folks.
Great Lodging Choices – From staying in a lighthouse to a 5-star resort, a cottage, B&B, motel, farm stay,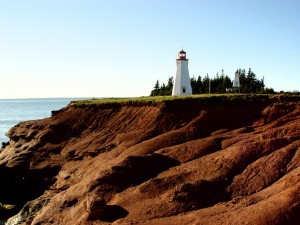 campground, cottage, inn, hotel accommodations are perfect fits for every sort of visitor and every requirement.
Getting There is Easy – PEI is truly connected whether by car, plane, ship, or boat.  The modern airport at Charlottetown connects directly to Toronto, Boston, New York, Detroit, Ottawa, Halifax, and Montreal.  Cars arrive via The Confederation Bridge or ferries.  PEI annually hosts 1.5 million people and they have not only the interest, but also the infrastructure to seamlessly do so.  And the hospitality is first-class.
Safety & Value – No one really likes to discuss safety and everyone enjoys talking value.  Increasingly safety becomes an increasingly important issue to consider when traveling.  PEI has experienced no violent crime and I experienced women routinely walking the streets of Charlottetown by themselves at night.   And the value for the dollar is there as well.
One-Stopping Planning – Take advantage of the local ins and outs so you maximize your PEI experience.  www.golfpei.com is the perfect partner to provide you full-time local expertise to help you plan, organize, and take care of every logistic and activity including golf and beyond.  You don't want miss a beat on or off the golf course and they will likely be able to save you valuable time and money!
So there you have it, Prince Edward Island is an unforgettable one of a kind place with so much to offer, but don't take my word for it, explore the PEI fun there for yourself!
Gorgeous natural scenery awaits you in Prince Edward Island, Canada.