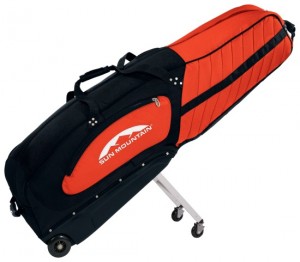 Seldom do I become so excited with a piece of golf equipment as with Sun Mountain's ClubGlider four-wheeled travel golf bag carrier.  Unlike other golf inventions, which may promise to shave a stroke or two off your game, the ClubGlider actually improves your life.  I often travel by air and have lugged my golf bag to all points in the US and many abroad.  While I love playing new courses, I dread struggling with transporting my golf clubs on long walks in and around airports.  No matter how lightly I pack my golf travel bag, the strain on my forearm, shoulders, and back in bending over, lifting, and dragging my bag and all begins to take its toll long before I even arrive at my destination or hit a shot.  No more, my days of drudgery are over with Sun Mountain's ClubGlider to the rescue.
My golf travel equipment has evolved from the canvas bag to the heavy, but durable plastic carry cases such as SKB makes and then gravitated to the lighter, heavy-duty fabric wheeled ones that Club Glove makes.  All have served me well, but my ClubGlider is worlds ahead of the competition!
Why?  This carry bag not only has the two wheels that you can drag, but also has two sturdy pop-out ones that support 100% of my bag and equipment's weight.  The Company estimates that the engineering eliminated an average of twenty-two pounds of pressure on the arms and shoulders, but with the way I travel, it may easily be twice that.
Not only have I eliminated all the constant bending over and picking up motions, but as the product's name would suggest, I can easily transport all my equipment with barely my little finger.  Now I glide through airports.  I even cheat and use the ClubGlider as a cart and put my regular luggage atop it.
Really the ClubGlider has no competition as its retractable sturdy legs can take a pounding and thanks to the maneuverability of its pivoting wheels, turning and walking are virtually effortless.  The ClubGlider also offers all the storage space and protection of a traditional golf travel bag. The ClubGlider is simple, fast and easy to use.  The retractable legs and wheels lock securely for travel. ClubGlider includes heavy-duty two-way zippers, thick foam padding extending down the travel bag to protect clubheads and shafts, internal storage pockets, internal cinch straps, ballistic fabric, vinyl-reinforced wear areas, and a lift-assist handle.  It also conveniently folds up to fit in car trunks.
The ClubGlider was introduced to the world via The Golf Channel's 2008 Show, "Fore Inventors Only" and was a Final Five winner among a thousand entries.  Sun Mountain took over the design and offers three models of the GlubGlider:  the Cascade ($269.99 – lighter weight fabric), Meridian ($319.99,) and slightly larger Pro model ($349.99) that will accommodate an oversized staff bag or two small carry bags.  And wisely for security reasons, the compartments are securely located inside the bag rather than outside the bag as featured by some competitors. For the retailer nearest you call 800-227-9224 or visit www.sunmountain.com. The ClubGlider may be one of the best golf investments you make.
The Fagan Rating for Sun Mountain's ClubGlider golf travel cover is a rare A+. I guarantee that owning one will make your golf travels so much more easy and enjoyable!