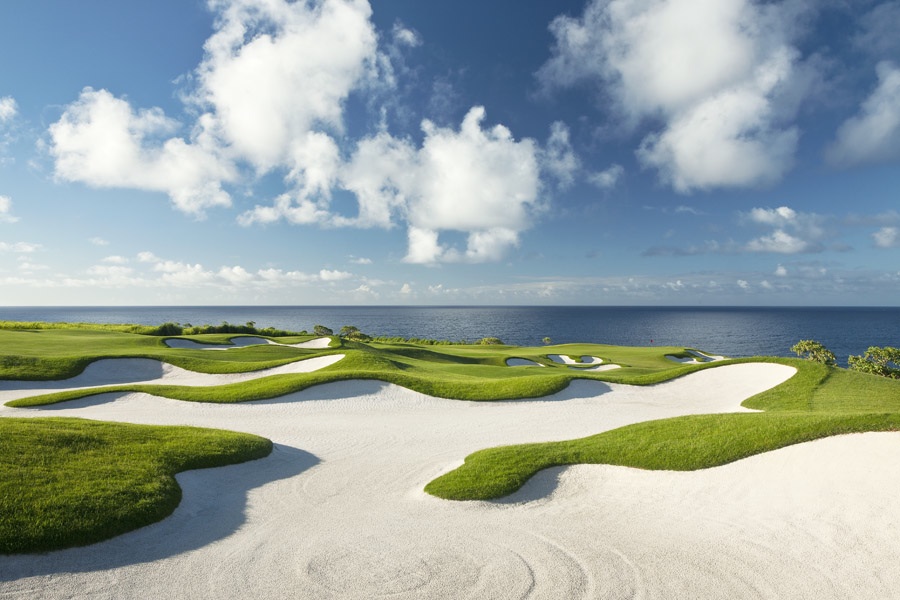 Tom Weiskopf usually offers a drivable par-four and there are two at Kukui'ula. Here is the 14th that is a engagingly diabolical as it is stunningly photogenic – one of his best!
Picture a beautiful woman with an easy-going demeanor, a dazzling smile with sparkling white teeth, and a bright engaging mind. Well, though the comparison may appear far-fetched, that is how The Club at Kukui'ula impressed me as a golf course. Kukui'ula is the stunningly beautiful Tom Weiskopf-design spread out over Kauai's southern shoreline. And if it isn't the best course in Hawaii, it will certainly give its competitors a real run for their money.
Some publications awarded Kukui'ula as the Best Private Course in America to open in 2011 for which I have no disagreement. The scale of head-twisting vistas is impressive as the layout is comfortably sandwiched between the ever present ocean to the south and the green fields and mountains  to the north – a visual feast! This is an upscale real estate development on the site of former sugar cane, coffee, and grazing areas that now compose a theme of a relaxed exquisitely manicured plantation, one that is comfortable, familiar, classy, and unhurried. So too is the expansive golf course that plays out in one large counter-clockwise loop.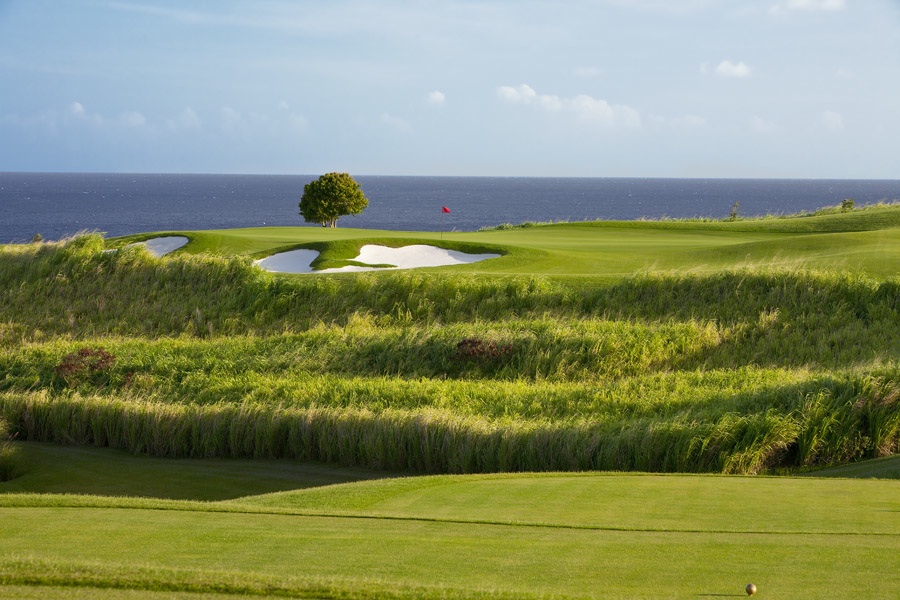 The par-three 8th hole plays to 223 yards from the tips and is but one of four dazzling one-shotters!
Though the ocean never comes into play for normal play, you feel its nearby presence throughout your round as the tradewinds provide an invisible defense to par and the blue ocean vistas form an irresistibly attractive backdrop – one that makes it hard to stress out no matter how intense your game.  The dazzling white sand imported from Cambodia was for me the connection to a beautiful woman with sparkling teeth. Like a great smile, the bunkering is stunningly attractive. Not only is it so photogenic, but it is strategically significant fitting both the surrounds and the golf challenge. Low profile natural tropical flora, gardens, and fruit trees complement, but never obscure the manicured green vistas making for a sublime setting.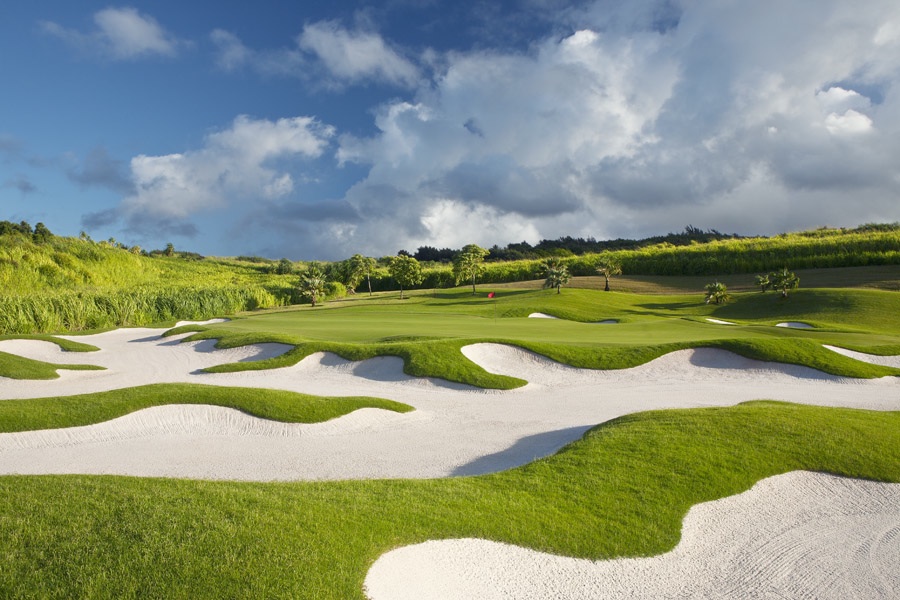 The 155-yard 12th is the shortest hole at Kukui'ula, but well-guarded by sand!
Rolling fairways that feature impeccable paspalum turf and firm true putting surfaces form a very playable layout that can be converted to downright testy at the drop of a competition. In a word, the playing conditions are typically "perfect." At first glance, the fairways seem more than ample and they actually are. Weiskopf sprinkles ornately sculptured bunkering, but sparingly on most of the holes allowing ample room for fairway play. He also figured that the tradewinds coming out of the east would more than influence play – and he was right. With his shorter holes or to protect his three-shotters, the bunkering is as intense and complex as it is beautiful.
Another view of the drivable par-four 14th at Kukui'ula and the beach area to the lower right has been the scene for movie "Pirates of the Caribbean" as well as the "Fantasy Island" television show. The hole is a potential eagle, but more likely a double-bogey for the daringly careless.
If there is a penal aspect to the course, it is the wirey, thick Bahia grass that Weiskopf planted. It looks innocent enough, but you will be hard pressed to find your ball in it let alone play out of it.
The course starts out innocuously enough with an average and short two-shotter, but oops there are those tradewinds. The 420-yard first and 365-yard second typically play right into the breeze making each play much longer and more demanding than you might imagine. The well-bunkered par-three third may feature a crossing wind, but then you are as Kukui'ula Head Professional Brian Paul says, on a "bit of a vacation." This is the section of the course you had better do well on if you hope to finish with a pleasing score.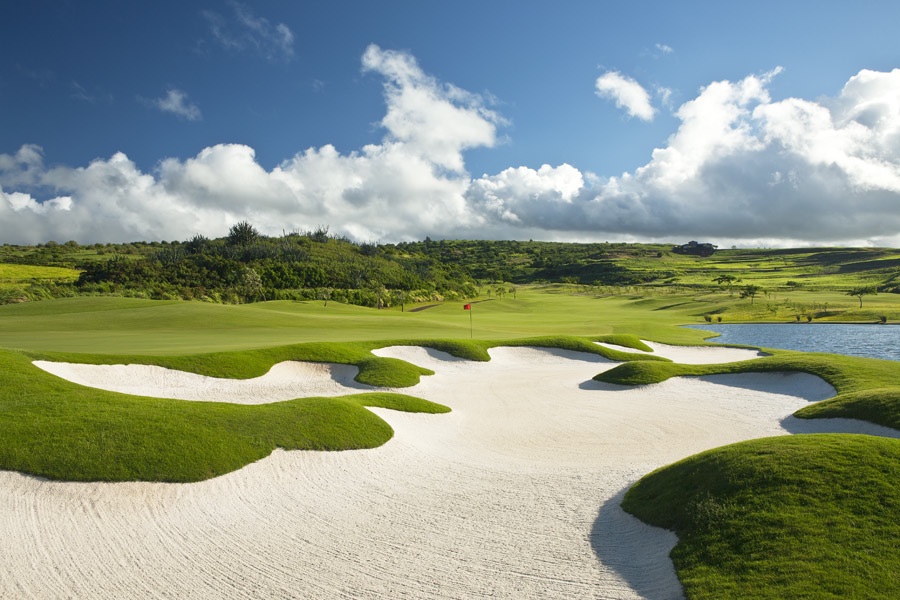 The 493-yard par-four 6th plays shorter than its yardage thanks to the downhill terrain and prevailing tailwind, but it is a beast nonetheless.
From the 4th through the 14th holes, you are either downwind or somewhat sheltered from the wind as you wind your way around the gentle coastal hills. I count several amazingly beautiful downhill tee shots as well as outstanding holes in the stretch. Weiskopf features two dramatic par-threes at the 8th and 12th as well as two driveable par-fours at the 11th and 14th. Three of the par-fives are all fairly short by modern standards, but the 13th was a favorite. Yes, again if you are going to have a good round at Kukui'ula, you had better play this stretch well.
The final four holes play back into the prevailing breeze and start with 473 and 475  beasts. The 187-yard 17th may not appear on the card as too severe, but finishing into the wind, it's no let up. Finally you finish with a 504-yard par-five that completes the par-72, 7,028-yard test from the tips. This is a fun finisher as an eagle is within reach for the long hitters, but so is a double-bogey as water guards the green.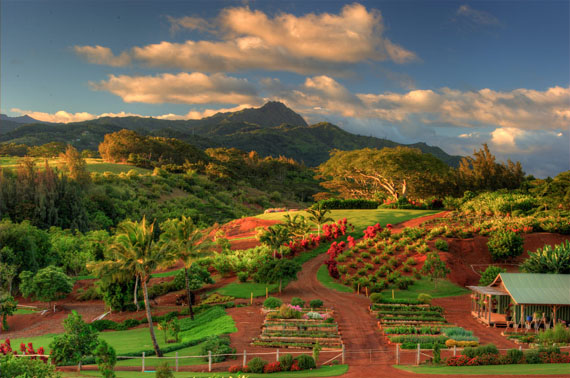 Kukui'ula features a farm/garden area for the use of the restaurant and its members.
"Tom Weiskopf has designed the Kukui'ula golf course to complement the island's rolling terrain, dramatic view planes and thrilling trade winds," continues Brian Paul. "In doing so, players will face a different set of challenges and opportunities each time they play. As with all the world's best golf courses, shooting a low score at Kukui'ula requires you to think your way around the course." I agree with Brian. He went on to tell me, "On almost every hole at Kukuiula grows something that can be eaten or worn. From macadamia trees to pineapple plantations to lychee orchards to crown flower forests, the golf course celebrates and displays the tropical vibrancy of Kauai."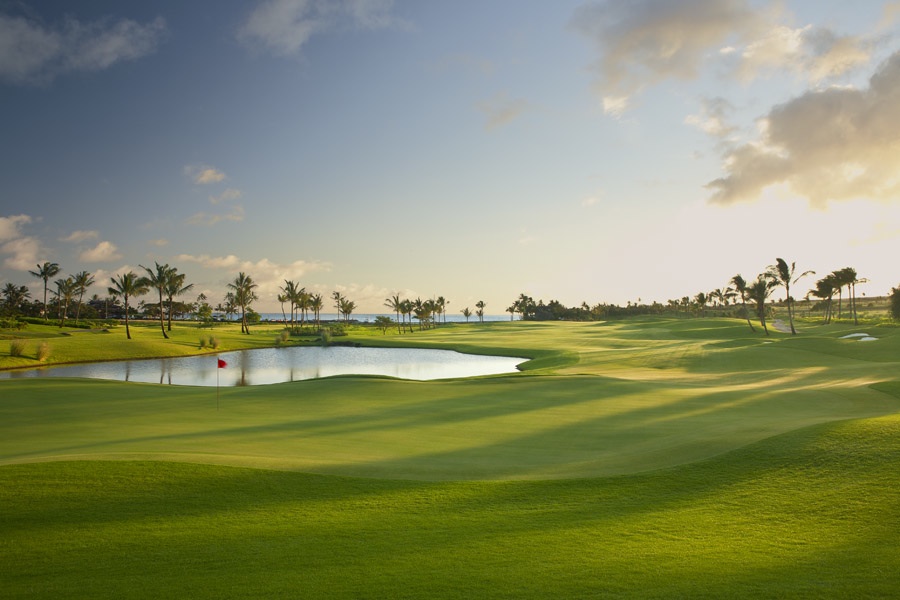 The shortish par-five 18th looks much more peaceful looking back down the fairway from the green.
The measure of a golf course is often in its pacing and Weiskopf has managed to provide you with an enjoyable roller-coaster of a ride that is neither too overwhelming nor ever mundane. Kukui'ula is a course its members should delight in playing over and over again as well as showing off to their guests. There are some golf courses that visually test and challenge you from the moment you put your peg into the ground. Kukui'ula instead soothes and pulls you along without the sense of struggle. The test is neither "resorty" nor stern – a feature that you would hope for if you were to invest in a home here.
And yes, real estate ownership is a prerequisite for membership at Kukui'ula. A low-profile comfortable luxurious plantation-style clubhouse and spa is the centerpiece of the 1,000-acre upscale development of homes in the same style. Aimed toward attracting families, there are beautiful gardens, swimming pools and even a community farm where vegetables, fruits, herbs, and flowers are grown for the Chef and residents. Make no doubt about it, Kukui'ula is a very high-touch, high-service operation that is exquisitely appointed, an environment that will delight even the most sophisticated tastes. As for the golf course, it ranks with Weiskopf's very best and a perfect compliment to a special offering – and I hated to leave!
Below is the $100 million Kukui'ula Clubhouse that is the centerpiece of this exclusive private club.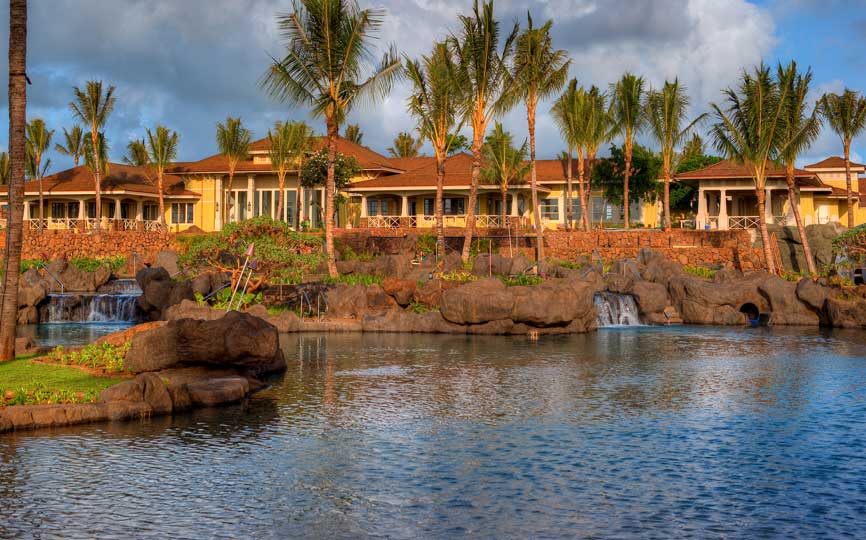 All photographs were courtesy of The Club at Kukui'ula.