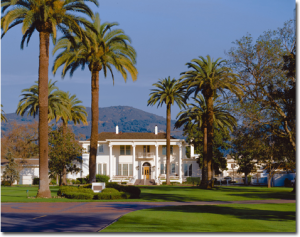 In a deal rumored to be between $30 and $40 million, Northern California-bred Hall of Fame Golfer Johnny Miller and equal partners, Roger Kent and Tim Wall (the Founder and CEO respectively of Rug Doctor) have purchased the venerable 300-acre Silverado Resort in Napa, California.  This property was purchased by the late Japanese industrialist Isao Okawa in 1989 for over $100 million and has steadily declined ever since.  It is speculated that poor management even more than the declining economy has led to Silverado's woes.  Indeed, local management withheld tentative offers in neighborhood of $70-80 million to its owner just a few years ago and now the property has realized far less.
Miller and his partners will have their work cut out to bring this once prestigious resort back into a top rating.  Earlier this year, some suitors backed away from the operation that has been losing millions of dollars annually.  Silverado has hosted major professional events for the PGA TOUR, Champions Tour, and LPGA over its storied past, but complaints of mediocre golf and food service have long sullied its reputation and with its dated, worn physical plant suggest that major overhauls in all areas will be required.  Indeed, such mirrored my own experience.
PKF Capital senior managing director Mark McDermott, a deal team member, says they were assured that the Miller Group will expend significant dollars to upgrade and improve the resort and golf facilities.
Silverado offers two Robert Trent Jones, Jr.-designed golf courses that are "resorty" in nature, pretty and playable.  Homes closely surround the two courses in this beautiful area that has also doubled as a prime second home and vacation area.  Miller who has long maintained a home in the area and, himself a golf designer, must be aware of the challenge and view it as an exciting opportunity.  It will be interesting if he chooses to put his own imprint in upgrading the original layouts.  Given the relative scarcity of other top flight golf courses in this highly visited area, this could be a boost for Silverado and its community.
Fagan Grade – North Course C+, South Course C+. Both layouts are reasonably maintained and pleasant to play, though I would not describe either as remarkable or particularly memorable.  Both are slightly better than average layouts, but not worth making a special trip to play.