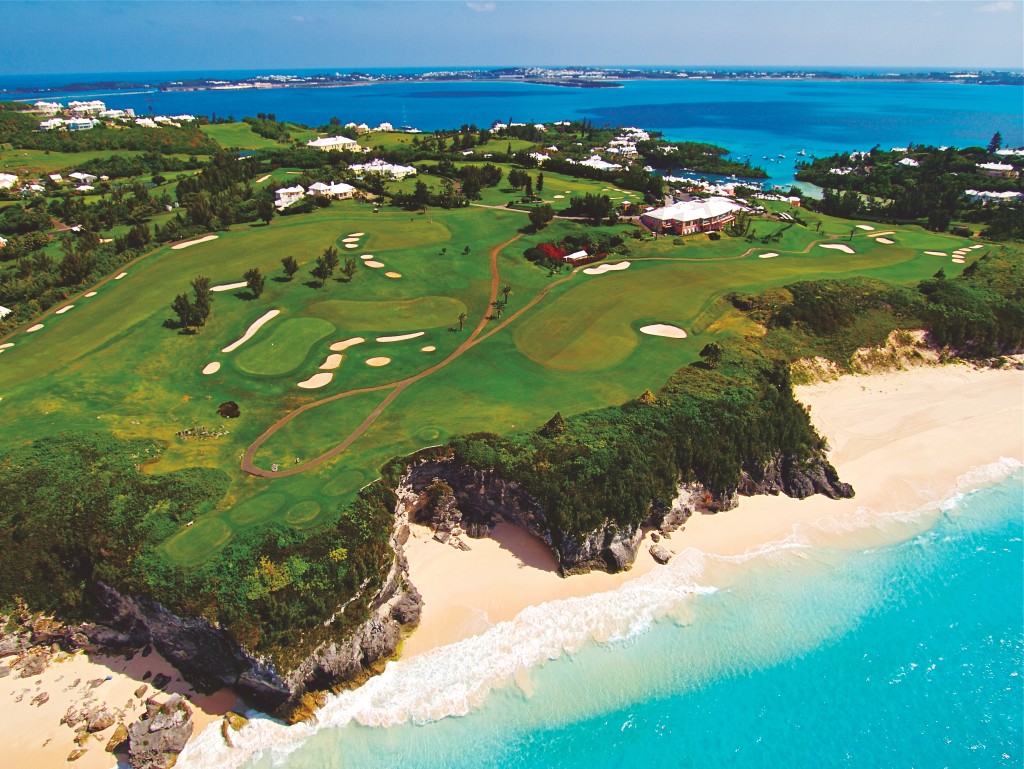 This picture speaks to the sublime Bermuda experience. The venerable Mid Ocean Club is the standard for golf while you will enjoy scenic beaches, hilly terrain, colorful buildings, and the Atlantic Ocean in every direction.
There are few truly unspoiled civilized regions in the world that are not overrun by cars, commercialism, fast food, and 21st Century culture, but Bermuda stands tall in that respect. It is not as much as time has stood still here, but more that it has carefully been preserved and guarded under vigilant stewardship. Bermuda is also a destination of gorgeous golf that will leave an indelible impression upon your golfing senses and surely your memories, but there is more to this story of unspoiled paradise golf.
Heading out eastward over the blue depths of the Atlantic waters my heart quickened as we approached a tiny string of volcanic mountain tops – the gems of the Atlantic, classic, colorful, and refined. The summits peak above the Atlantic to form Bermuda. Everyone in my family except for me has visited Bermuda and finally it was my turn. How would it measure up?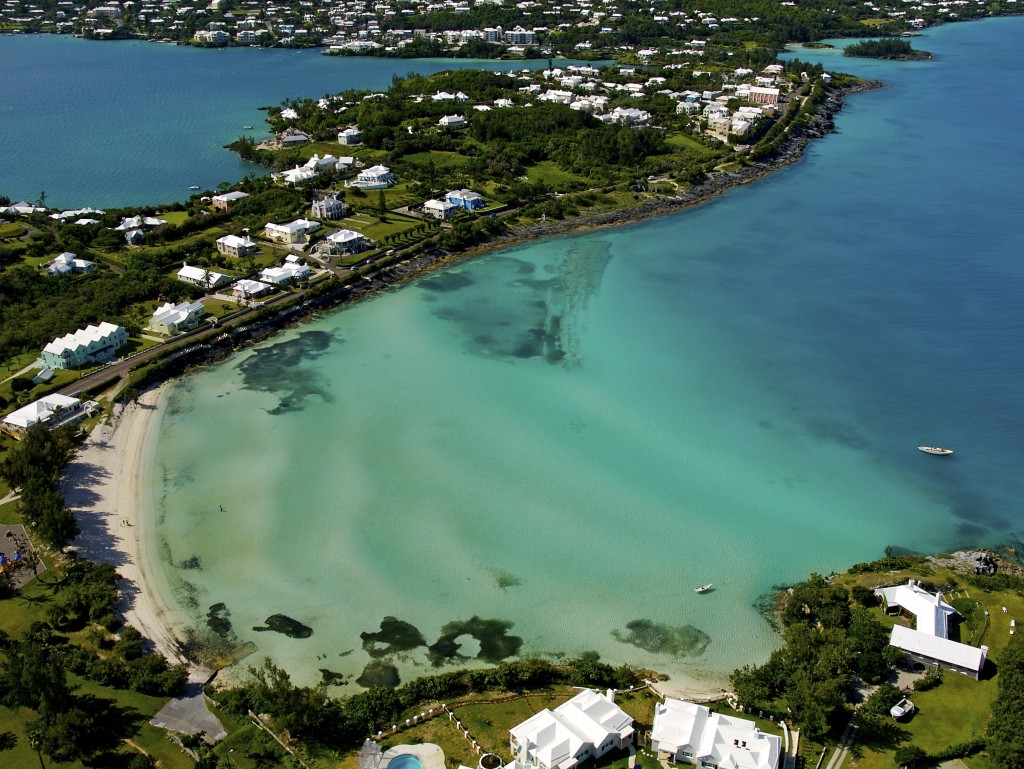 Bridges connect the many tiny islands that make up Bermuda.
Yes, indeed Bermuda is situated nearly out in the middle of the Atlantic and its nearest neighbor is North Carolina's Cape Hatteras some 650 miles away. Shaped like a fishhook, it is just over 21 miles long, but is, in fact, about 180 little islands, linked by bridges and divided into nine picturesque parishes.
Finally landing, I could not help but being first impressed by the colors that greeted me. Stately well-cared buildings and homes fashioned with a myriad of pastels walls all with the white roofs (that double as catch basins to capture water for their usage) dot the hilly verdant green landscape. Bermuda's construction is uniquely dazzling. As a semi-tropical island, there are a host of green hues to include flowering shrubbery, trees, ferns, and grasses that combine with various shades of turquoise blue waters that gently kiss its shores – sometimes featuring pink sand beaches! And then there are the elegantly Bermuda shorts worn by men at even the most formal of occasions. It's all quite something to behold.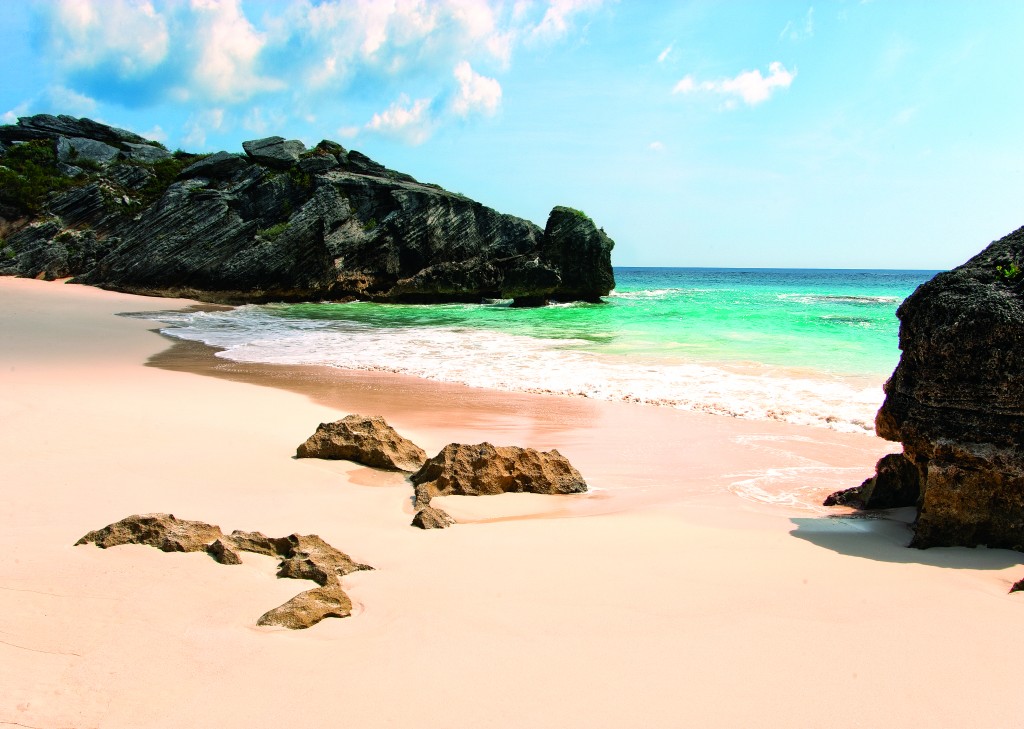 Bermuda's beaches rank with the finest anywhere. 
Discovered in the 1600s, Bermuda had no human population. Today Bermuda may be more British than Britain itself and it is the oldest English-speaking colony. Here tight controls preserve the cultural heritage that lives on and makes for a delightfully unique experience. There is a strong sense of civility and dignity that I have typically experienced only in private clubs, yet in many ways Bermuda with its modest 60,000 population almost survives as "one giant club."
Bermudians pride themselves on their friendliness and the nation certainly stands at the top of the list. Those who are not related to one another will at least know everyone. That extends to motorists who honk out of affectionate recognition of one another. That kindly treatment might extend to someone cleaning your room to the golf pro to a Member of Parliament or banker, to a construction worker. In other words, there is no "edge" or frustration to be found anywhere in this semi-tropical paradise.
Washed by the Gulf Stream waters, the climate is more moderate than you might otherwise assume given its relatively northern latitude with only little differences between the daily high and low temperatures. Speaking of semi-tropical, I found the narrow colonial roads adorned with colorful plants, trees, ferns and rigid stone walls an intimate throwback to yesteryear. And thankfully, golf is easily enjoyed all year long.
Interestingly, Bermuda is surrounded by reefs that have caused numerous shipwrecks and buffer the currents. Most of the terrain (including the golf courses) seems to be in an endless state of tumbles. As you travel the island, it is never lost on you that this tiny land mass is married to the Atlantic Ocean at every twist and turn, and is the very tonic to refresh me from the constant noise and pressure that we seem to live with.
My trip would include three of Bermuda's best golf courses, plus a very engaging 18-hole par-three layout. This Bermuda golfing sojourn began with the Tucker's Island Club (formerly known as Castle Harbour). In all my golfing travels, few courses compare to the head-twisting water views you can enjoy here. My host was the very engaging Director of Golf, Paul Adams. A Brit who married a Bermudian, he is happily ensconced living the Bermuda life. With all the local knowledge abounding and points of interest, it was really a treat to play alongside him. And did you know that Bermuda has more golf courses per square mile than any country in the world? That would equate to seven 18-hole layouts and one 9-hole one on 22-square miles.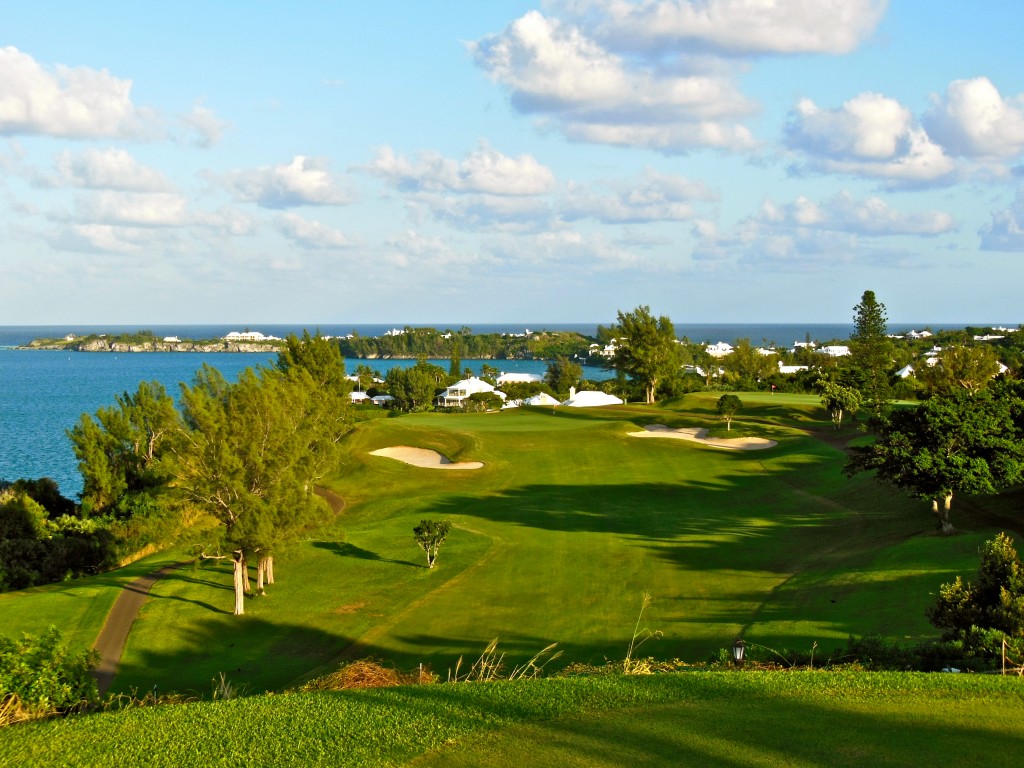 The par-four 17th at Tucker's Point Club is one of those rare holes you just can't wait to tee off from!
As for Tucker's Point, it is not a particularly long golf course, but you will seldom encounter a flat lie or a target that either isn't above or below you. Yes, Tucker's Point is a "billy goat" layout of ups and downs, and it may take a round or two playing here before you begin to settle into your comfort zone. As for those fantastic vistas, I counted only one hole that did not feature a view of the ocean! There are so many fun holes that I hesitate to highlight one, but the short par-four 17th deserves mention. From its elevated tee, it is tantalizingly drivable and with the bunkering and ocean to the left and beyond, it is one hole you will want to photograph. Challenge-wise the par-threes and particularly the 8th and 11th holes are noteworthy and also strikingly spectacular. The layout is of vintage pedigree, but was modernized with stylized bunkering to impress those who prefer today's look.
Speaking of modern styles, the Port Royal Golf Course is the epitome of the modern look by the hand of the "Father of Modern Golf Course Architecture" Robert Trent Jones, Sr. Dramatic bunkering punctuates and defines the ribbons of green fairways that adorn this more expansive site. Perhaps you have enjoyed the picture postcard views of Port Royal on television as the PGA Grand Slam has been held her each fall from 2009 through 2012.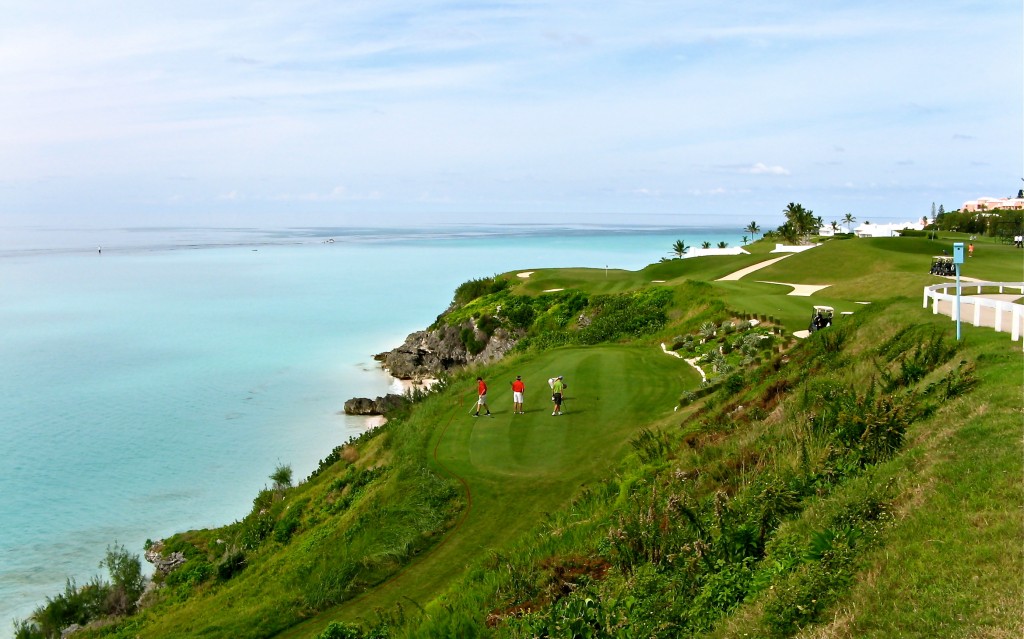 Port Royal is impressive right from the elevated first tee. Through the opening holes Jones develops a sense of anticipation as you leave the ocean and venture down into a valley area where you can't see or feel the presence of the water though you know that it is coming. You don't encounter the sublime ocean views until you reach the elevated par-five 7th putting surface. From that point on, the course flows within a contiguous area with the water visible from some point on every hole. For my money, the par-three 16th set on cliffs high above the Ocean is not only one of the most spectacular holes in Bermuda, but in the entire world!
The third course I played was the most anticipated one, the Mid-Ocean Golf Club. This venerable club will likely be on the "Bucket List" of every discriminating golfer; and for architectural aficionados Mid-Ocean is "pure vintage golf." Usually positioned among the "Top 100 Courses in the World" lists, Mid-Ocean was designed by "The Father of American Golf" Charles Blair Macdonald. Thoughtfully, the changes to this timeless treasure have been minimal as a student of golf course architecture will notice many of Macdonald's copied holes that often work even better than the originals. There are nuances to every twist and turn of every hard-running fairway, and the putting surfaces are as interesting as you will find. Mid-Ocean is a private club, but with advanced planning, several of the hotels may be able to arrange a round of golf here – it is certainly worth the effort.
The par-four 5th hole at Mid Ocean is one of the most famous "Cape Holes" in the World. The strategy is that the more water you you choose to hit over, the closer and easier shot remaining into the green. The problem is, of course, the water and your ability versus your ego.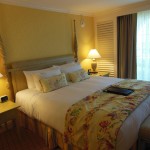 Speaking of hotels, I enjoyed my stay at the Fairmont Southampton. During my stay, the four PGA TOUR golfing stars playing in the Grand Slam of Golf  (Bubba Watson, Webb Simpson, Keegan Bradley, and Padrig Harrington) along with the PGA of America leadership were all staying there, an indication of how special this hotel property is. For me, I have previously stayed at several Fairmont properties and have always been delighted with the service – and the Southampton was no different. Situated high on a hill, it features commanding views of the island from every point. Clean, attentive, and friendly just begin to describe it. Excellent restaurants and a luxurious spa are located here, but to my delight so is an excellent 18-hole par-three golf course!
Below the Fairmont Southampton Hotel occupies a high spot on the island.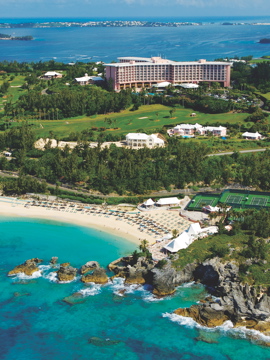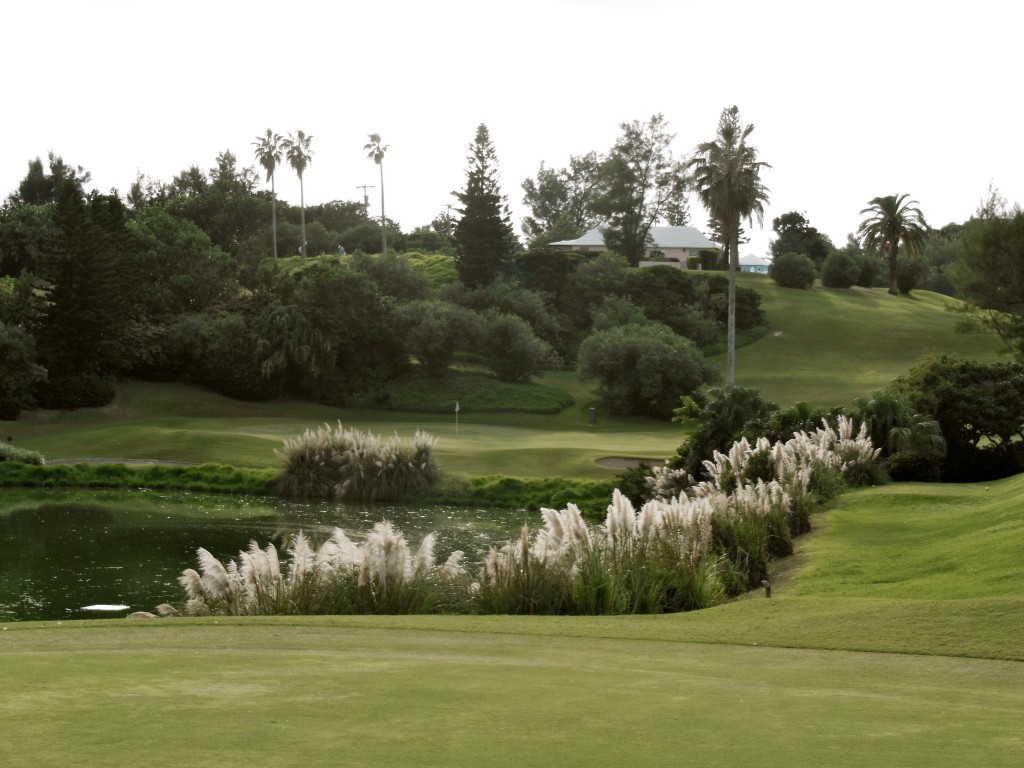 The Fairmont Southampton Golf Course features many interesting one-shotters and some beautiful scenery.
The Fairmont Southampton Golf Course is not just another little dinky hotel layout, but a full-fledged par-three one of 18 holes designed by the late Californian Ted Robinson Sr. Just steps away from the front entrance, the layout sits aside the property in a gorgeous little valley and includes holes ranging from 126 yards all the way to 216 yards (from the tips). Though you may encounter new golfers exploring the game here, you can usually get around in a fraction of the time making it a worthwhile place to warm up.
As you might imagine, there are so many outdoor things to do and explore in Bermuda though you can't go wrong with golf. SCUBA diving and snorkeling around the reefs and shipwrecks makes for quite an adventure. Bermuda is the "shipwreck capital" of the Atlantic with more than 400 wrecks. and also features a myriad of colorful fish and reef formations. Or perhaps you are a fisherman, cyclist, or rock climber. No matter your preference, you will find it here along with ten featured beaches that range from quiet pools to the famous pink sand of the south shore. Or maybe your interests tend toward the arts and history. Again, there is much to engage you in Bermuda.
As far as wildlife is concerned, outside of some feral cats and chickens there isn't much though 375 species of birds are present. You don't have to fear snakes and most of the spiders are harmless. Thankfully there are few bugs or mosquitoes to bother you. In the water, sharks are rare, but you will want to avoid the purple Portuguese Man-O-War jellyfish that causes a painful sting.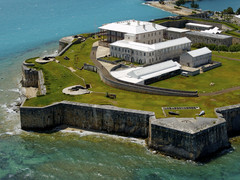 Bermuda's Dockyard area combines cultural history and shopping opportunities.
You will encounter quality shopping and delight in restaurants dating back centuries in Bermuda. Tours of the cities of Hamilton or St. Georges, or the Royal Naval Dockyards reveal an interesting British colonial history as well as a variety of shopping options.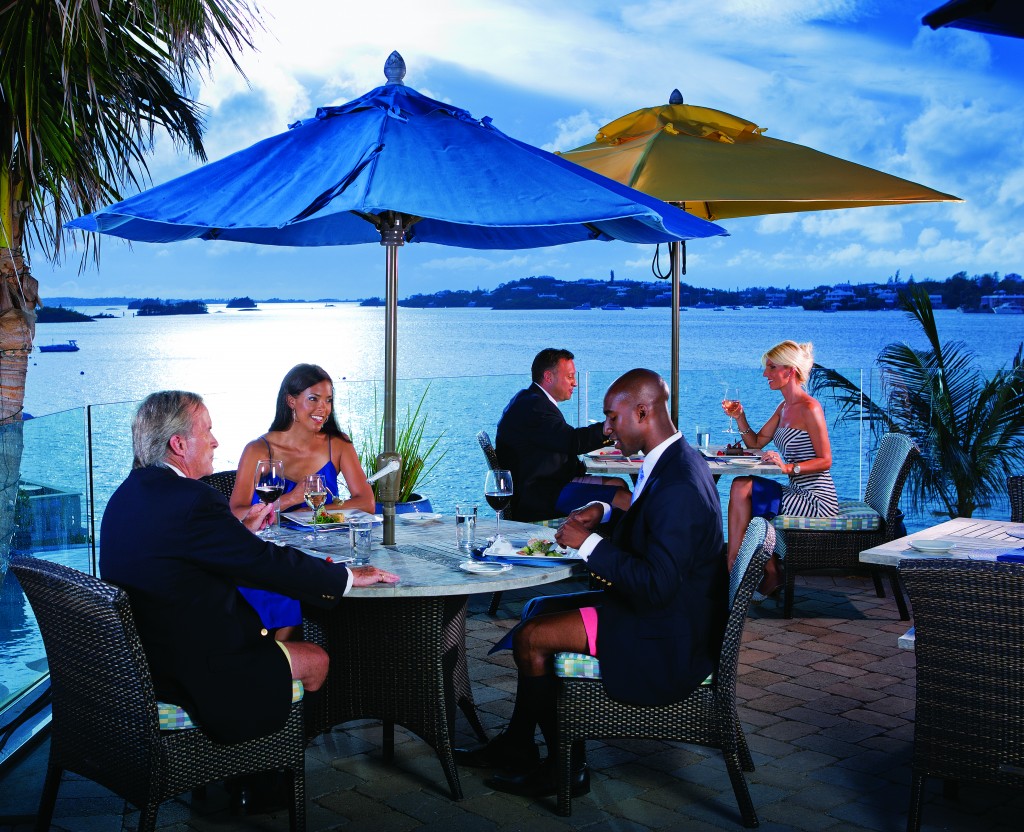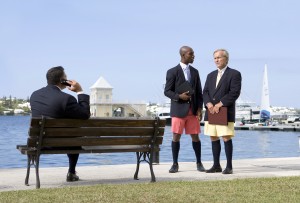 There is a unique genteel quaintness to Bermuda. On one hand, you have the narrow old roads that extend the length of this narrow chain of islands. Their tight twists and turns preclude speeding and wisely foreigners are not allowed to rent cars. You will also encounter men of importance and status dressed in shorts and blue blazers at even the most important and formal occasions. As a British colony, the British influence naturally blends with the semi-tropical laidback ambiance to feel like worlds apart from others – yet it is less than a two-hour plane ride from many East Coast U.S. cities.
In my three days in Bermuda, I packed in playing four golf courses, some wonderful sightseeing, sampling some delicious food, and making several special new friends, but I only began to scratch the surface. Even with all that activity, I felt surprisingly relaxed and refreshed. Just think what a day or two longer might have done? I look forward to my return to Bermuda – a place I would truly describe as "Unspoiled Paradise Golf" and more! Won't you join me?