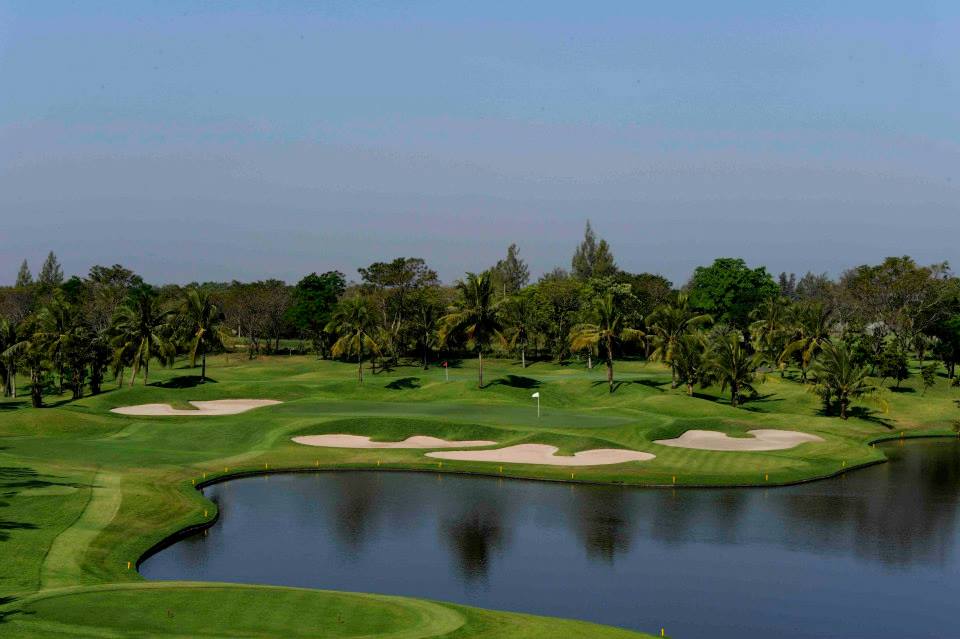 Many courses, but not all, feature the tropical cut-and-fill (lakes and mounds) look that you might also find in Florida. Shown above is the attractive par-three 6th hole at Thai Country Club in Bangkok.
Thailand boasts more than 270 golf courses, designed by famous golf professionals including Jack Nicklaus, Nick Faldo, Gary Player, Greg Norman, along with world-renowned course architects Robert Trent Jones Jr.,  and Pete Dye designing notable ones. The majority are situated in or around the popular tourist destinations of Bangkok, Phuket, Pattaya, Hua Hin, Chiang Mai, and Chiang Rai. Perhaps the feature that will impress you the most is the depth of really solid, well-maintained golf courses. Wherever you should decide to play, you will find superbly maintained and manicured courses. Impressive  clubhouses with excellent facilities will typically  pamper you after your round. On the course, drinks huts and refreshment houses are strategically located every three or four holes to offer you a break in play, and a cool refreshing drink and snacks.
The green fee cost for this special quality of golf ranges typically range around $50 USD in most areas to around $200 in the pricey tourist area of Phuket during the peak season. Either way, you'll likely be very impressed with how far your golfing dollar goes in Thailand.
Thai golf courses have exceptional facilities with full locker rooms, bars, and restaurants. It is not uncommon to also find spas and massage services in the locker room. These are all worth the while so bring a change of clothes if you plan on sticking around after your round, because you can count on the fact that your clothes will be soaked with sweat from your round because Thailand is typically hot!
Speaking of heat, before you schedule your golf trip to Thailand, you will want to be aware of the climate and seasons.  Thailand has a tropical climate featuring a dry season and a wet one, but both are typically hot though count on February for the best weather. The rainy season typically begins in May and extends into October, but don't let that stop you. Here is the deal. You can count on an afternoon shower lasting from 60 to 90 minutes and then the sun will reappear. GolfAsian Managing Director Mark Siegel shares that in 11 years of hosting golf events year round, he has only lost one single day to rain. If you are comfortable with the heat and humidity, it's the best time to play in Thailand as the courses are not crowded, the rates are reduced, and you can get around quicker.
Gorgeous colors surround you on the courses in Thailand. Shown here is the 17th hole at Siam Country Club – Plantation. (Photo by Robert S. Fagan)
Speaking of the climate, the sun is another factor to consider. Bring your sunblock and umbrellas are not only used for rain, but quite common to shield yourself from the bright sun. In other words, lather up!
Drink lots of water as well during your round, but make certain it's bottled water. Tap water is not drinkable anywhere in Thailand, even at the resorts, and even ice cubes can sometimes make Westerners sick. Most hotels provide free bottled water and if you haven't consumed it, take it along to the golf course. And if you are a beer drinker on the golf course, the recommendation is that you consume two bottles or water for each beer or you may end up with a bad headache or dehydration. And with all your perspiration, it's a good idea to bring along your own clean golf towels to wipe it away as the golf facilities typically do not offer ones.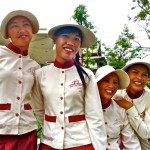 GolfAsian's Mark Siegel points to Thailand's female caddies as it's uniquely wonderful attraction – the Thai game's "Secret Weapon." They are compulsory at all golf courses and will pull your clubs in a trolley if you walk or ride with you if you take a cart. These friendly attractive young ladies will be assigned to you as you arrive and look after your clubs until you leave. They are attentive, friendly, and helpful and will not only direct you around the golf course, they will also mark and clean your ball, read your putts, and try to keep you cool. I've even received a massage or two during a round. Their cost is bundled into the green fee and it is suggested that good caddies receive a gratuity of $10-15 USD. Suffice it to say, for that bargain price, you will enjoy the memories of a wonderful golf experience and a terrific bargain.
Golf is typically a walking game in Thailand although there are a few courses where because of the hilly terrain it is mandatory. And don't be surprised if each golfer is assigned their own riding cart. Either way, your female caddy is likely to drive you.
Next bring plenty of golf balls and enough gloves if you wear them. While caddies, massages, transportation, and most food and lodging is incredibly inexpensive in Thailand, golf equipment is not. If you are apt to lose golf balls, the jungles adjoining many courses are not good places to search for lost balls although I have time and again experienced my caddies amaze me returning with my errant shot. The other thing is that your hands will sweat profusely and you will want a couple of extra drive golf gloves to rotate among. Again, bring more balls and gloves than you would otherwise.
It is a good idea to stock up on the Thai currency, the bhat. For Westerners, Thailand is quite inexpensive, but you will want to have a generous amount on hand for tipping for incidental services. A locker attendant and bag boys might fetch at least 20 bhat.
As a good visitor there, there are a few sensitivities you should observe in Thailand whether on the golf course or beyond. Quiet politeness, smiling, and exhibiting good manners are much appreciated. Thais don't normally shake hands when they greet one another, but instead press the palms together in a prayer-like gesture called a 'wai'. The 'wai' is layered with intricacies of class, gender, and age – each of these dictates a certain height at which the two hands must be held. Visitors are not expected to be familiar with these complexities and the easiest method is simply to mirror the greeting given to you.
The head is regarded as a sacred part of the body, literally and figuratively. Therefore, avoid touching people on the head and it is considered very rude to point your feet at people or a religious object. Remember also that the Thai people have a very deep, traditional reverence for the Royal Family, and a visitor should always show respect for the King, Queen, and the Royal Children.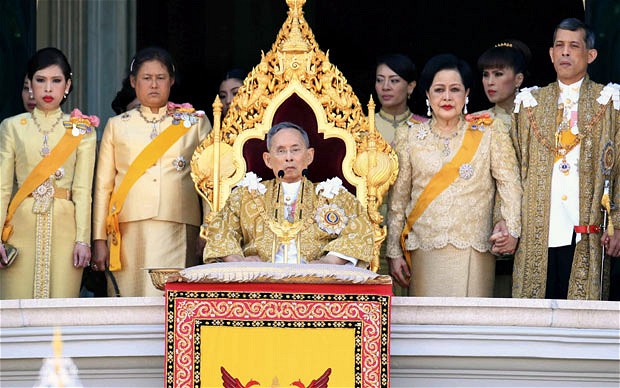 The King of Thailand is revered by all throughout the country.
Finally, I can save you a great deal of time and effort by suggesting that you contact GolfAsian to set up all your travel and golf needs in Thailand (www.golfasian.com) and while you're at it, check out: www.tourismthailand.org as the site has a wealth of helpful information.
Now if you can drive it straight, hit some solid approaches, and make some putts, you'll be ready for a memorable golf adventure in Thailand!
Bunkers and backdrops are both beautiful at Chiang Mai Highlands where the terrain is more varied. Shown below is the par-four 5th hole. (Photo by Robert S. Fagan)