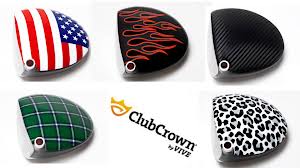 I play golf for fun. I mean the only reason I play is to have fun. You wouldn't think that there is anything out there I could purchase for my game that would really, truly be fun, but there is. No, I'm not talking about some device that promises to convert me into a par-buster, but just something I just pull out and have fun playing with. I've just discovered it and it's called ClubCrown by VIVE.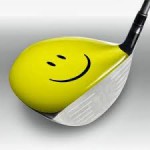 ClubCrown is essentially a heat-shrunk covering that transforms your current driver, fairway metal, or hybrids into a customized piece of artwork. It's really a facelift for your clubs and you can choose some pretty wild, some incredibly beautiful, or sentimental designs to completely change your club's appearance. I recently selected ClubCrown designs for two of my drivers. One was several years old, scuffed up and nicked on top as it's the one I travel with. The other was a brand, spanking new brand-name driver. Utilizing their easy-to-use prepaid UPS labels, I simply shipped them away and in less than two weeks, I had two of the most fun, wild drivers ever!
I was anxious to get out with my friends and was curious about, no couldn't wait to see their reactions. As I struck my normal first tee pose, I asked them which one I should hit? Immediately, those two clubs were the hit of the round, the talk of the town. Only the cosmetics had changed, but everyone wanted to hit them. And now, I was the COOL GUY.
What a fun idea and an instant conversation piece. More importantly, I just love looking down at each of the clubs as I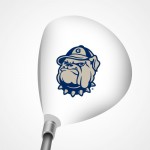 address the ball. Essentially, ClubCrown utilizes revolutionary graphic technology using high-tech 3M films, heat, and Knifeless Tape Technology to transform your driver, fairway metal, or hybrid into your own custom design. They professionally apply the design to your equipment and you have it back in 4-10 business days. While the design has the permanency of the usual paint finish applied to your clubs, it can be either peeled off or removed with the heat of a hairdryer if necessary. From a playing standpoint, it only adds 2-3 grams to the weight so don't worry about that. Just keep your headcovers on as you would normally and the finish will look wonderful for years to come.
I'm very particular about the appearance of my clubs. Inspecting the finish like a fine tooth comb, it is perfect – no bubbles or ripples, and the designs work equally well or either left or right-handed equipment. What's more, you can even custom design your own head finish. Anyway, the ClubCrown comes with a no-questions asked 30-day full guarantee. The fee for all this is $49.99 per club and includes all shipping.

I will share with you the only problem I encountered with ClubCrown. There are so many darn fun and attractive designs, it was really a challenge to pick two. There are hundreds of designs to choose from what I counted, 18 categories including collegiate and country themes. You can do all your shopping easily online or find one of many retailers that may be convenient to you. ClubCrown is GUARANTEED FUN, I guarantee it!
For further information and a complete review of the many designs, refer to: www.clubcrown.com.
P.S. I now have this intense urge to give all my clubs a ClubCrown makeover!