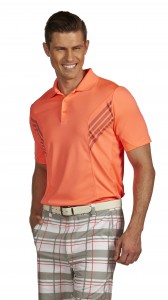 Great style, color, and feel keep Antigua's 2015 golf shirts on target!
This is not my first rodeo in reviewing shirts or the clothing manufacturer Antiqua. Quite simply, the main criteria I evaluate are look, feel, and value. If a shirt looks good on me, I feel better. Don't you? If a shirt also feels good and allows us to make a nice stretching move while playing golf, it helps your golf game. Doesn't it? Lastly, when price, durability, and ease of laundering come together, that spells value. Antigua continues to deliver!
Having already passed its 35th year in business, the Peoria, Arizona-based clothing manufacturer continues to impress with its comfortable, wrinkle-free, smart-looking wide array of both men's and women's golf shirts. Not only will you see their shirts on the golf course with course logos, but they are one of the leaders in the sports licensing market with the PGA, LPGA, NFL, NBA, Arena Football, MLB, Minor League Baseball, NHL and hundreds of colleges and universities among their clients.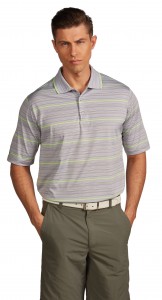 Like many of you, I also enjoy wearing my golf shirts beyond the golf course. In either case, I don't want to be caught wearing what many might consider my father's shirts. Looking and feeling good goes a long way. I just reviewed Antigua's newest line and sampled three Desert Dry Xtralite shirts. Just a few in the wide arrange of styles and colors, my selection included a classic grey, a white with two tones of blue stripes, and a hip olive green with grey, sky blue and blue stripes with blocks of contrasting color. These 2015 Spring/Summer colors are a bit less intense than some in the past, and evoke an easy, casual elegance. As a testament to the breadth of the product line, this season saw the introduction of eleven additional new men's shirt styles so your chances of running into someone sporting the same look are rather remote. Not only are these not my father's style, but as Antiqua states, this is where technology meets nature.
As much as I liked the color and style of the three shirts I sampled, the technology also impressed me. The ultra lightweight, high-tech fabric that quickly and easily manages to wick away moisture when it's uncomfortably hot or humid is thanks to its Desert Dry technology. This is the magic of a 40-percent polyester and 60-percent cotton blend that feels like cotton, but handles perspiration much better. Then throw these shirts into the washing machine and dryer, and they come out virtually wrinkle-free ready to wear.
A number of its models include "self fabric" and flat knit collars, adding style to what is clearly well-constructed and long lasting athletic fashion. Typically, the majority of short-sleeve golf shirts will retail between $49.95 – $64.95 making them good values as well. Yes, Antigua continues to hit my targets!
Find Antigua at: www.Antigua.com and ShopAntigua.com. Like Antigua on Facebook at:facebook.com/Antigua or follow Antigua on Twitter at: twitter.com/AntiguaWear, You can also watch Antigua YouTube videos at: youtube.com/AntiguaWear.