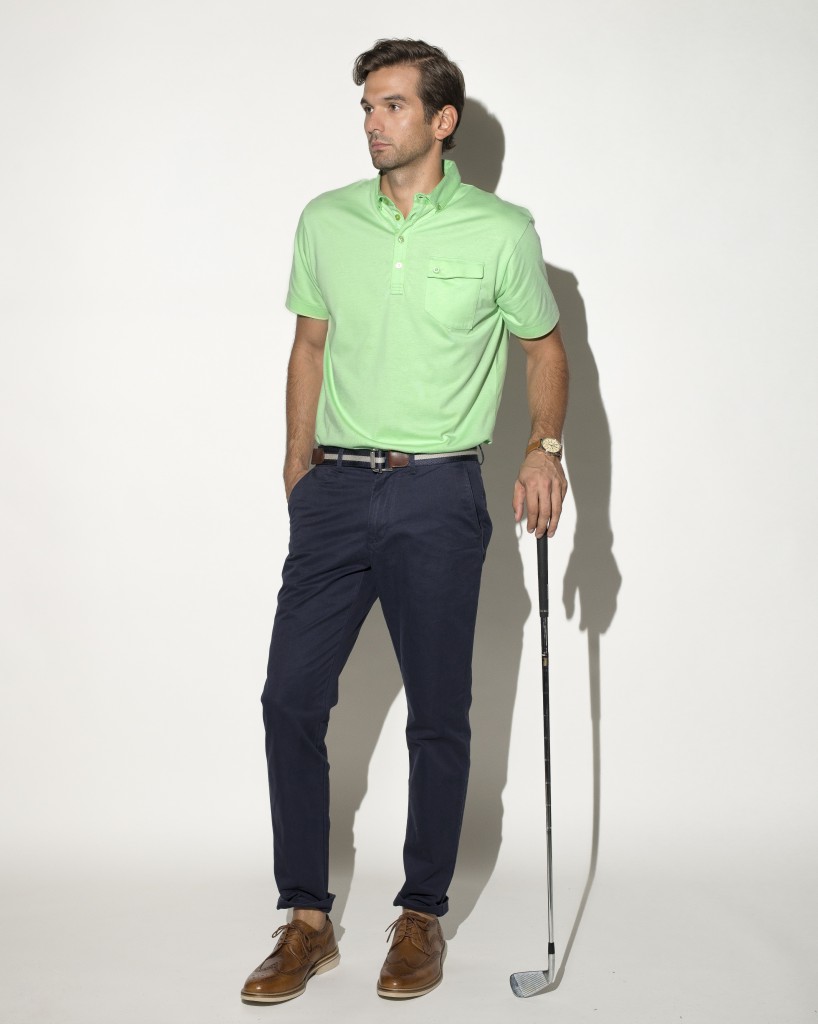 I like the fresh green palette of the Devereux shirt and note the angled button-down pocket.
Don't all of us men secretly want to look and feel good? Well, there's probably no secret about it, of course we do and I recently discovered a new name in men's golf apparel that fits the bill – Devereux. Sleek, cool, and sophisticated enough not to yell out "Golfer!!" the line of shirts can easily transfer into the clubhouse and even out on a Saturday night on the town.
Named after their grandmother, brothers Robert and Will Brunner started the Devereux collection at the beginning of 2013, inspired by the gentlemanly sportsman look of Ben Hogan, Byron Nelson, and Arnold Palmer to name a few. What the Brunner brothers have done is to add their own creativity to modernize this classic masculine look with 21st Century styling that's hip and sophisticated. What you won't find are the same old bright in-your-face colors or dizzy patterns, but rather subtle, fresh coloring and style that includes longer, thinner placards, button-down collars, and button-down angled chest pockets on some of the lines.
Featuring a unique blend of Pima cotton and polyester, this Los-Angeles-based company currently has three collections of meticulously crafted shirts:
• The Signature Pocket Collection: It pays tribute to the great golfers of the 1960s, 70s and 80s. It offers a unique and abstract look.
• Essentials Collection: Colors such as black, steel, white and navy can be found here, with steel the primary color.
• The Spring 2014 Collection: It introduced seasonal colors such as sea green and coral.
If you are a discriminating dresser that wants up-to-the moment styling and proper threads that perform, provide effortless comfort, and are as comfortable on the course as off, I invite you to check out the Devereux line as I did. It is competitively priced for the higher-end private club market while expertly tailored with the highest standards; just what adds to our confidence!
For more on the clothing line, visit www.dvrxgolf.com.