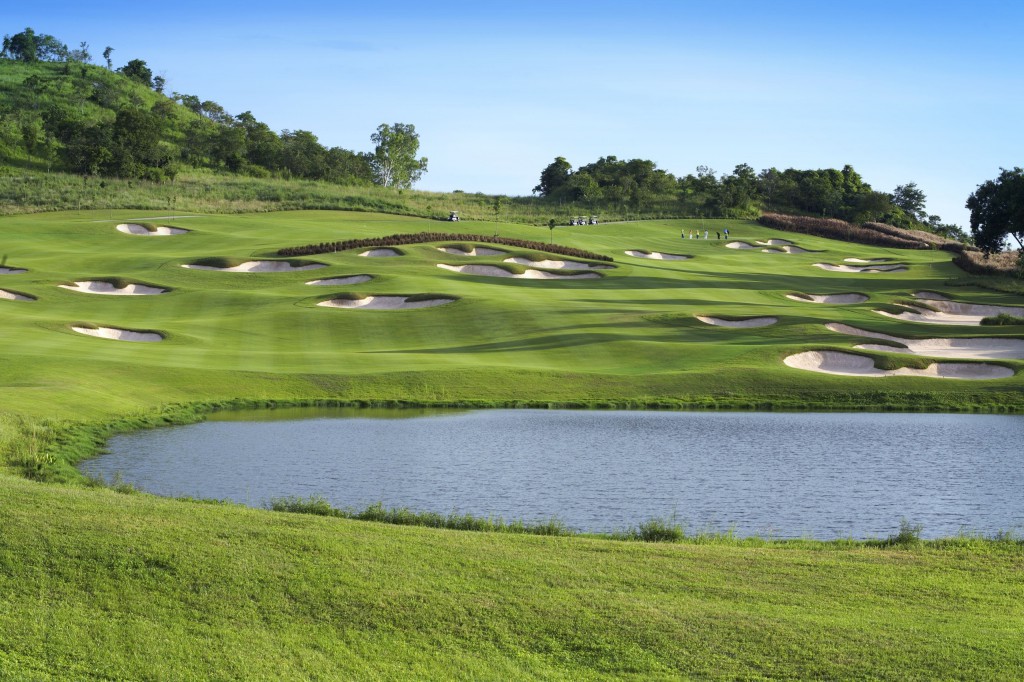 This picture doesn't capture all the bunkers on this uniquely split fairway of the par-five 5th at Siam Country Club's Plantation Course.
Jaws drop and heads turn when GolfAsian Managing Director, Mark Siegel, states from the podium or in conversation, "You won't come to Thailand because of our golf courses." Why would such a savvy operator of Southeast Asia's premier on-the-ground golf tour company make such a comment? Siegel continues, "But, you will come to savor our Thai golf experience that is second to none!" Siegel must be correct as Thailand with its 270 plus golf courses is now the third leading country in the World for inbound golf tourists and, if trends continue, may bypass the United States and Spain in the next ten years. Now that's some heady stuff!
Siegel wisely points out that most every significant golf country or major region in the world has great golf courses, ones like Pebble Beach or St. Andrews or Casa de Campo where locals can travel a relatively short distance to play. He correctly assesses that most North Americans will not make the long flight to Thailand just to play another great course as there are so many nearby. Why then the reason for Thailand's unheralded success? It's the Thai golf experience.
Yes, Thailand has some excellent golf courses, I've played more than two dozen and have yet to experience a disappointing one. That said, many look, play, and feel as the really good courses you might find in Florida. Alternatively, those in the higher elevations with more undulating terrain and views might be described as a bit more spectacular. In other words, you can count on excellent conditioning, fun and playable layouts with many possessing the trademark designs of their illustrious golf course architects, many of whom are world-famous. That said, there is nothing particularly unique about any of them. This special uniqueness comes with the Thai people and their approach to the game – "The Thai Golf Experience."
When visitors come to Thailand for any reason, the Thai people treat them literally as they would be guests in their own homes. From the hotels to the eateries, and throughout the country, this treatment is not only extended to foreigners. It is the way the Thai people treat each other with facing hands clasped, and a respectful bow always extended to on another. So, too, are their sincerely friendly smiles. It's no accident that Thailand is called by many, "The Land of Smiles."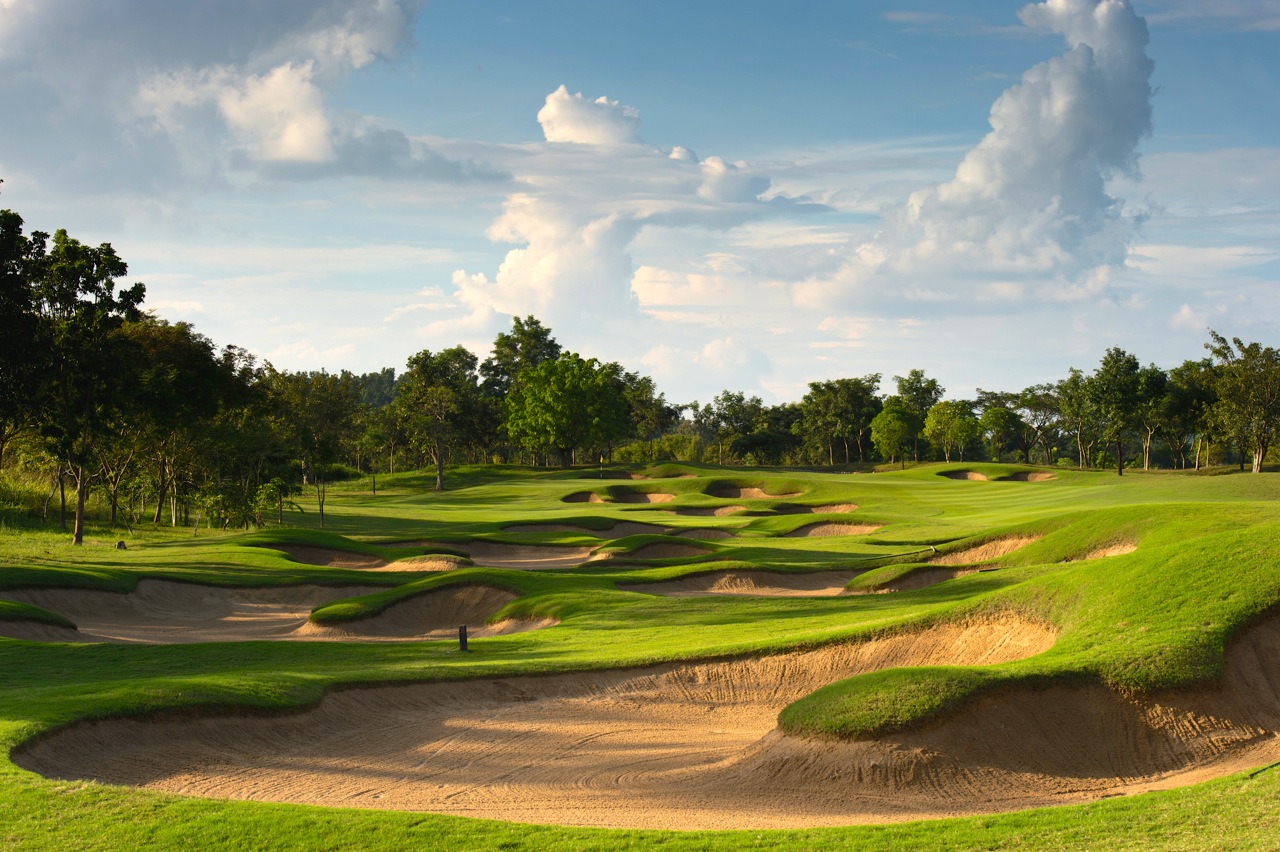 The American design team of Schmidt and Curley apply their bold trademark bunkering in abundance on the par-four 8th hole at the beautiful Chiang Mai Highlands Golf Club.
Now with this warm, friendly hospitality, you add what Mark Siegel calls Thailand Golf Tourism's "Secret Weapon" – their cadre of female caddies. All golfers in Thailand regardless of one walks or rides are required to take a female caddie. These women are trained and schooled on everything imaginable to assist your golf experience ranging from yardages, scoring, rules, finding golf balls, reading putts, and I believe giving massages. Often they are housed nearby and this all takes them away from the factories, farms, and prostitution. These women know when to joke and interact, and when to be silent. The only challenge for many of us Westerners is that English is not the second language in Thailand with many others competing so you may periodically encounter a caddie with which you can't carry on much of a conversation. That said, all know how to read putts and provide yardages as well as keep an accurate scorecard. (Many caddies also have playing privileges so they can show you as well as tell you how and where to aim.)
I've played with some pretty serious and quiet golfers in Thailand – the grinding sort. Here the caddies remained in the background not speaking unless asked. More often than not, I enjoyed the company of some boisterous, expressive friends who loved to joke, chat, and have fun. Quickly enough the caddies would join in and soon became an integral popular part of the group. Some of them would laugh, tease, and even flirt, but never inappropriately. On a particularly hot, sunny day, they will pull out an umbrella to shield you from the sun. One caddie even told my friend that he was taking things too seriously and that he should relax and have more fun. After he picked his jaw back up, he realized the caddie was absolutely correct, and he credits his fun and better golf during the remainder of the trip to her. As for me, I routinely got massages when we had to wait, and even some fun kisses for birdies!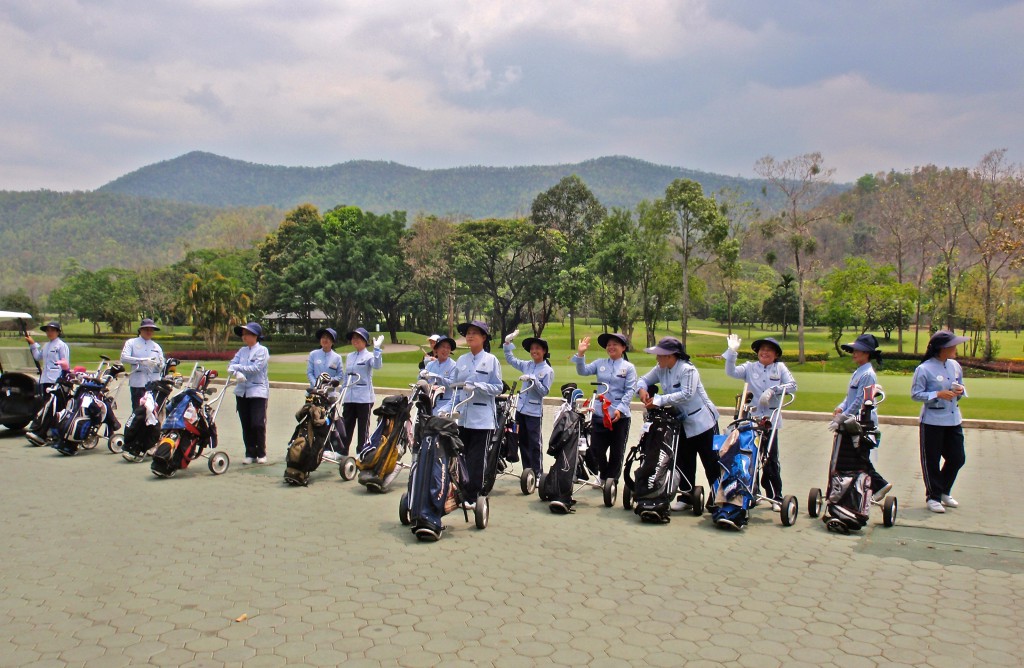 Thailand Golf's "Secret Weapon" – the caddies are all set for the golfers at the Alpine Golf Resort where the player walk.  (Photo by Robert S. Fagan)
Regardless, the caddies take care of your equipment from the  moment you step foot on the property to the time you leave. You provide anonymous written feedback on them at the conclusion of the round and tip of $10 to $15 USD is much appreciated for a good job. Nothing is left to chance, they not only do they sand divots, but they also pick up loose pieces of grass. Of course, they also keep  your squeaky clean clubs as if you were an important touring professional. A group of mostly petite woman who wear uniforms and are attractively adorned with makeup and finger nail polish, they and their golf courses take this all very seriously. And understand this; on average my Thai caddies outperformed better than those I've had over fifty years in the United States!
I am sure that if you asked your caddie to tee up your ball and pick it out of the cup, you could play an entire golf Thai golf vacation without ever so much as bending over. When you add in their smiling charm and giggles to their professionalism, you will surely be asking to have your picture taken with them to reserve these special golfing memories.
Make no mistake about it, Thailand has so many other attractions besides golf, but as Mark Siegel says, the "Thai Golf Experience" is amazing and should definitely be on any golfer's bucket list while Thailand continues on track to be the world's number #1 golf destination!
 Above is the spectacular Red Mountain Golf Club in Phuket. I haven't  played there yet, so it is on my short-list of those to play!
For valuable information about golf and other attractions in Thailand, see also:  www.golfasian.com and
www. tourismthailand.org.
Below the author, Bob Fagan, gets an impromptu on-the-tee massage at Chiang Mai Highlands.