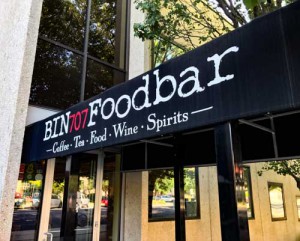 Bin 707 Foodbar in Grand Junction, Colorado qualifies as one of the State's "hidden gems!"  (Photo by Robert S. Fagan)
For Bin 707 Executive Chef Josh Niernberg, his sources are local first, Colorado second, and domestic third. Peppers that populate his Sriracha come from local Okagawa Farms, the fruits from nearby Palisades, the meats come from Roan Creek or alternatively from Colorado, and most anything else he will manage to get domestically. That includes the local beer, wine, and ciders.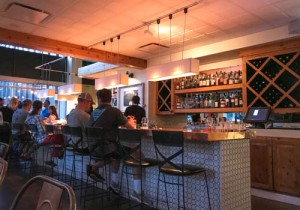 The casual, friendly atmosphere complements the excellent cuisine at Bin 707 Foodbar.  (Photo by Robert S. Fagan)
Don't you get excited when you discover somewhere new to eat that's really special? I do. Reminiscent of excellent urban offerings, Bin 707 Foodbar was just that culinary surprise – and in Grand Junction, Colorado of all places!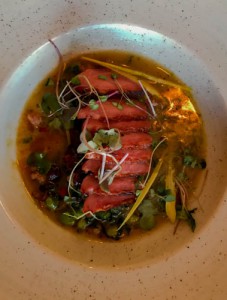 (Photo by Robert S. Fagan)
My party and I, all critics, unanimously enjoyed the freshness, artful presentation, and delicious combinations we experienced at Bin 707 Foodbar located in downtown Grand Junction. The hip, trendy casual atmosphere is nicely serviced – efficient and polished, but not formal. Bin 707 Foodbar features both high-end cuisine alongside the usual burger and hand-cut fries. Seating is first come, first served.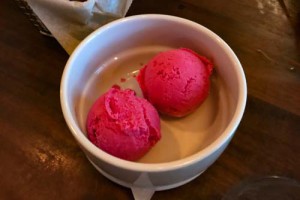 Even though beets are not my favorite, surprisingly the beet ice cream at Bin 707 Foodbar was.  (Photo by Robert S. Fagan)
The menu offering definitely included some items I did not expect such as Beet Ice Cream and Cured Skuna Bay Salmon with Crispy Shallots. The hand-crafted cocktails are made with locally distilled spirits while local wines are presented in polished crystal. The cheese and charcuterie plates are delicious introductions to Western Colorado flavors with one of my cohorts exclaiming the liver pate to be "the best he'd ever tasted!" Similar comments accompanied the Colorado Rosen Lamb and Colorado Pork Tenderloin. And leave room for the crack pie dessert.
The cheese plate highlights very different area offerings.  (Photo by Robert S. Fagan)
Everything considered, Bin 707 Foodbar is reason alone enough to stop in Grand Junction no matter your mission. This is "Farm To Table" done exquisitely and priced right for the value – maybe one of the better eateries to sample in Colorado!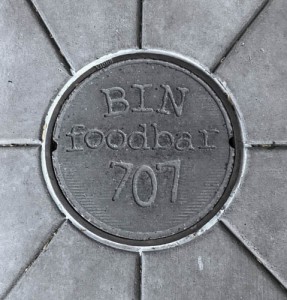 (Photo by Robert S. Fagan)