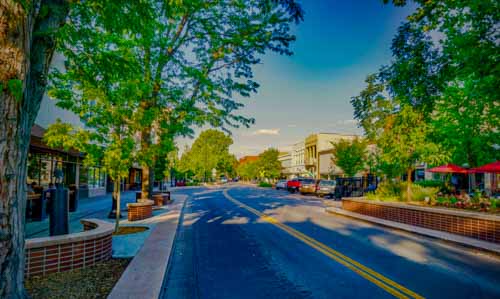 Smart cities are always reinventing themselves and taking advantage of their natural gifts. Grand Junction, Colorado is one of them. While in the past, I would have barely spent a night while traveling I-70 heading east or west, now I will definitely stop… and maybe for several days. Here are a dozen reasons why you may want to as well
A vibrant downtown with more than 100 mixed-media works of art adoring the pedestrian-friendly Main Street sidewalk coupled with more than 100 businesses containing the largest number of antique shops between Denver, Salt Lake City, and Las Vegas.
Eating. Grand Junction is beginning to have so many quality restaurants that is surfacing on the foodie radar. They range from locally sourced, to sushi, to steak, Italian, and so on. A Thursday night Farmer's Market adds to the summer pleasures.
Farm-To-Table Eating. This concept has become wildly popular as local chefs have realized the treats they can create by working with the local farms and ranches.
Biking Adventures of every sort. Mountain biking and road cycling through canyons, high desert bluffs, vineyards, and the like have been acclaimed as some of the best in the United States.
Water Lovers will delight in the Colorado River and more than 300 lakes on the Grand Mesa. Fishing, rafting, stand up paddleboarding, jet boating, and, of course, swimming are all part of the mix.
Golf. Play golf at one of America's most highly acclaimed public-access courses, the Golf Club at Redlands Mesa, or for a somewhat tamer parkland test, the municipally owned Tiara Rado Golf Course is fun. The area with its more mild winters allows for golf almost year round and a half other quality golf courses are within a 90-minute drive.
Wineries. Termed "Colorado's Wine Country," there are 23 wineries and counting make this expanding wine community a treat for connoisseurs as the appellation takes advantage of the local fruits. Tasting rooms are open all year long and can be toured by limo, bicycle, or horse-drawn carriage.
Skiing. Not only is the Powderhorn Mountain Resort nearby, but you can travel further east to the bigger ski resorts. The nice thing is that you will get there much faster than those coming from the Denver area as there is less traffic along Interstate 70 heading in that direction.
The Colorado National Monument. This is simply 20,500 acres of stunning red rock canyons, cliffs, monoliths, trails, and views. The 23-mile Rim Rock Drive extends from one entrance to another just easy drives from anywhere in Grand Junction. This may just be one of America's Best Kept Natural Attractions.
Dinosaurs. Grand Junction is part of the geographical area known as "Dinosaur Diamond." There is the Dinosaur Journey Museum in Fruita where you can interact with model dinosaurs of the region. Or you might accompany a paleontologist and dig something up yourself.
Festivals, Tastings, Concerts, and Cook-Offs. You don't always have to make your own fun in Grand Junction. There are many organized events established to join others in the fun.
A Growing Economy that includes a rapidly growing Colorado Mesa University, first-rate health facilities, and an attractive, modern airport.