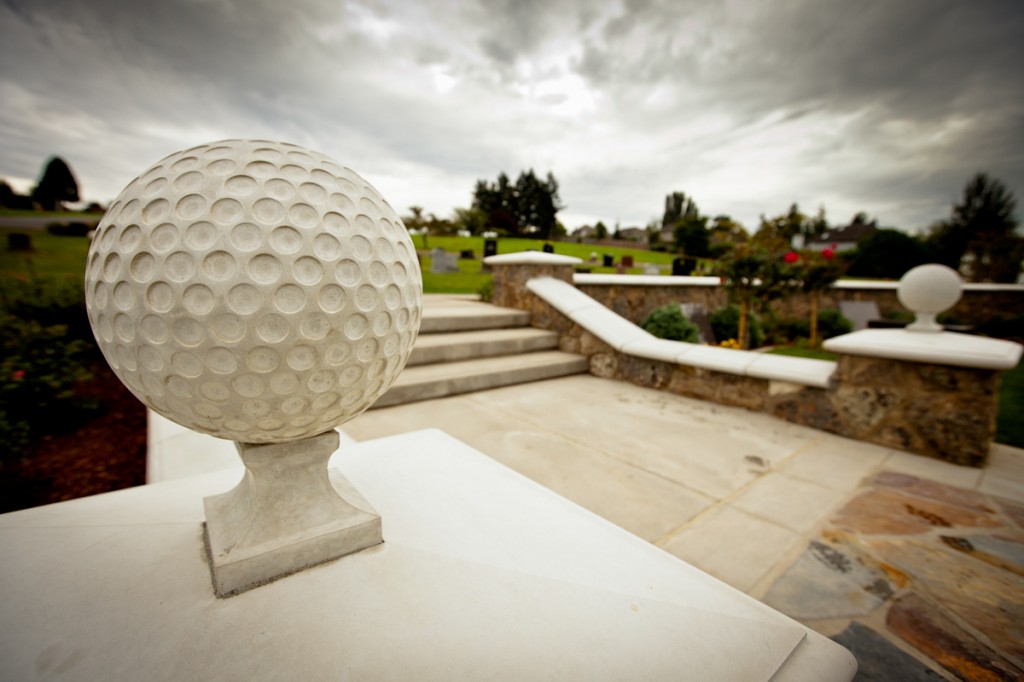 American Golf's First Golf-Themed Cemetery – Sunset Hills
Excuse the pun, but this idea may really resonate with those of us who are diehard golfers – dedicated golfer cemeteries.  The name is Sunset Hills Memorial Golf Park and the place is Bellevue, Washington and it is a new golf-themed memorial site that allows golf enthusiasts a unique option for their final resting place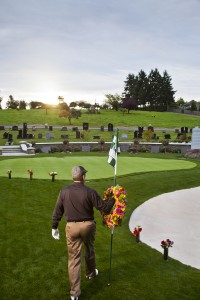 Are you a golfer who understands the simple joys that accompany a day on the course: the smell of a freshly-cut green, the sound of a well-hit drive and the satisfaction of watching a long putt fall into the hole?  If you are, your body or ashes can be positioned adjacent to the new Memorial Golf Park, a complete golf hole which allows committed fans of the game to be buried or placed in a permanent golf setting, the nation's first golf-themed memorial park.
The Sunset Hills Memorial Golf Park, located near Kelsey Creek Park in Bellevue, Washington can accommodate approximately 1,281 golf enthusiasts, between full-casket plots and cremation placements. The golf memorial also features an ossuary located the under the green, accessible through the actual golf hole.  It was designed by a professional golf course designer, the park includes a tee-box, 820 square-foot green, fairway and sand trap. The green features a custom-made bronze cup, which will be used as a passageway to the ossuary.
"At SCI, we strive to serve families and individuals by celebrating lives with individually designed and themed experiences," said Arne Swanson, market director for Dignity Memorials' Seattle Region. "We are proud to be a leader in this area, and Sunset Hills Golf Hole Memorial is a great example of our approach."
The concept of a golf-themed memorial park came to Swanson — an avid golfer — when he saw a group of golfers spreading the ashes at a local golf course, probably without the permission of the golf course management.  "My thought was that there were likely other golfers who would like to be memorized amid the surroundings of a verdant, peaceful golf course," Swanson said.  Swanson began working on his vision for the golf-themed memorial park so it would fit the need for this segment of golf enthusiasts.
The park features both cremation placements and casketed burial plots.  It will also feature five bench estates, giving family members the chance to establish a future place of rest together and inscribe a permanent message.  Sunset Hills Funeral Home is a proud member of the Dignity Memorial network, the nation's leading provider of Funeral and Cemetery goods and services encompassing more than 1,600 funeral, cremation and cemetery service providers.
So hurry to secure your membership for eternity for once the 1,281 memberships are sold, no more tee times will be available.  So why don't you sign up for your tee time?  Of course, there are no penalties for being late to the tee, but once you start your game, you are allowed unlimited play.  Seriously, this is something that some golfers may have been looking for.
Sunset Hills:  Where every putt is a gimmee!