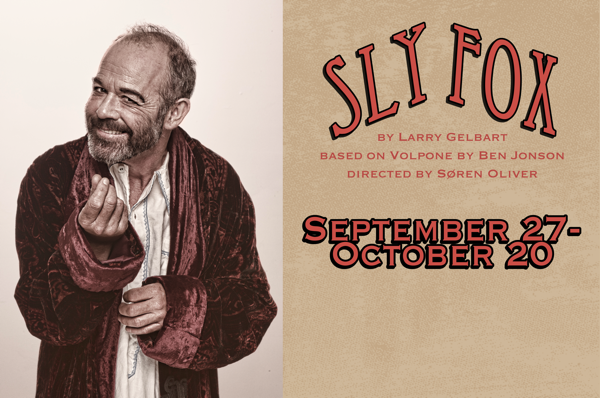 Clive Worsley stars as Foxwell J. Sly in "Sly Fox."
I recently attended the production of "Sly Fox" at the Town Hall Theatre Company in Lafayette, California. If you have been to many productions of community theater, you realize that you will encounter all quality of productions, but here I can thankfully say that this one hit the mark.
"Sly Fox" is an adaptation of Ben Jonson's play "Volpone" by Larry Gelbart- a satire about the greed of man. Director Søren Oliver compares comedy to fine wine, and a lively farce to a sangria made with Pinot Noir. Given that, you would hope that this is not cheap flat wine for the local drunk. And thankfully Oliver and his cast deliver in a pithy, well-timed, fun expression-filled production that never for a moment had me squirming in my seat. I was laughing and felt engaged.
The play involves the fiendishly clever Foxwell J. Sly who along with his accomplice Simon Able fleece the richest men in San Francisco's Barbary Coast in the late 19th Century by leveraging their own green against them.
Clive Worsley (the Artistic Director for this theater) and Dennis Markam (doubles as Box Office Manager and Ads and Promotions Coordinator) were entertaining and hit their marks as the lead Foxwell J. Sly and Simon Able respectively. They were ably complimented by the supporting cast that included Suzanne Dean, Justin DuPuis, Randy Anger, Remi Barron, Molly Rebekka Benson, Matthew Capbarat, Erika March, Elias Slaman, and Reid Smith who each had their share of fun lines to bring the comical farce to life. In any production related to comedy, timing is everything and this offering did a great job at keeping things moving and the audience was engaged throughout.
Martin Flynn designed the set fitting it with its consequential doors to the theater while Leah McKibbin as the Production Stage Manager transitioned each scene in a quick seamless manner, while Sarah Spero (Props Artisan and Scenic Artist) and Maggi Yule the costume designer made this period piece alive and believable. In many ways, the style of the play almost mirrors the very theater itself that was built in 1914. A cozy, yet comfortable arrangement, there are no bad seats that make this a very intimate setting.
Future productions at this Lafayette, CA theater include: "It's a Wonderful Life," "The Farnsworth Invention," and "Measure for Measure." My first visit here confirmed that it will not be my last. If you are in the area, you will enjoy this treasure of a facility and the people who love it. The Town Hall Theatre is organized as a non-profit and continues because of the generosity of its citizens. The existence and use of the Town Hall building for this purpose over so many decades is a testament to this spirit.