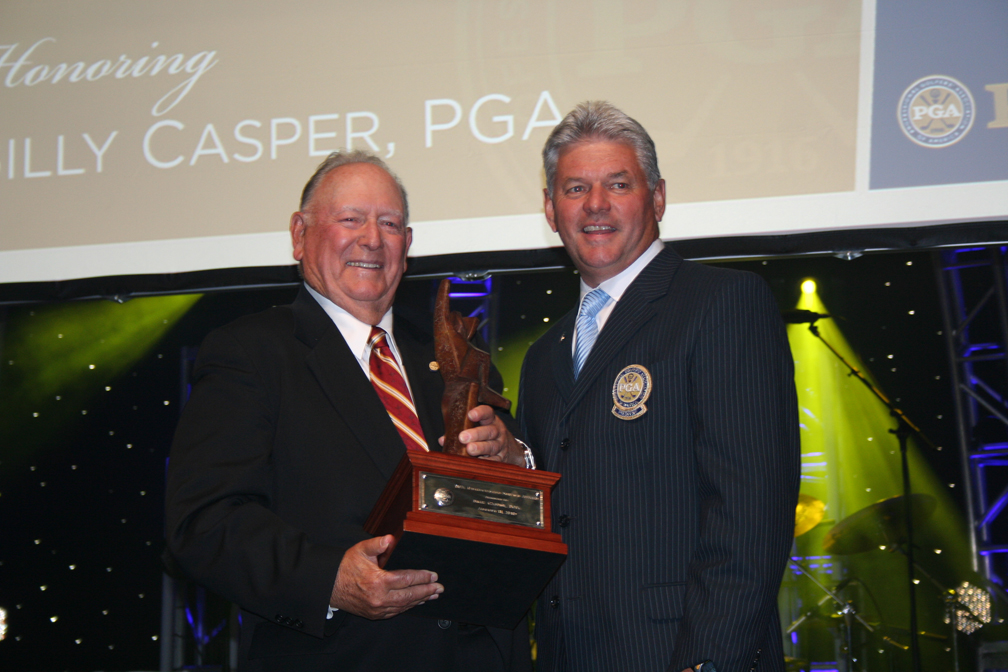 Billy Casper accepted the PGA Distinguished Service Award from PGA President Jim Remy in 2010.
If I were going to choose the most under-rated professional golfer of the 20th Century, one names stands well above the rest…  No, its not Paul Runyon, Cary Middlecoff, Julius Boros, Horton Smith, or MacDonald Smith though many would not have a clue of their excellent playing records.  It's San Diego's Billy Casper who has recently turned eighty. When twenty career wins seems like an automatic Hall of Fame entry today, Casper's total of fifty-one Tour events is monumental.  Only six professional golfers have ever achieved more career victories.
And who was his competition?  It was no less than Jack Nicklaus, Arnold Palmer, Gary Player, and Lee Trevino in their primes.  Sam Snead and Ben Hogan were still around as were a host of other very creditable closers.  Super sports agent, Mark McCormack, did a tremendous job in promoting the "Big Three," of Arnold Palmer, Gary Player, and Jack Nicklaus.  If you were around during the 60's, you might have thought that no one else ever won a golf tournament due to the extraordinary marketing buzz McCormack created for his clients.  They even had their own television exhibition series, Big Three Golf.  So catch this fact:  during one ten-year stretch the Big Three combined to win twenty-two events.  Bill Casper won 17 all by himself.  From 1964 to 1970, Casper won 27 PGA Tour events, eight more than Palmer and Player combined, and four more than Nicklaus.
Two US Opens and a 1970 Masters Title together with a record five Vardon Trophies for the best scoring average puts Casper light years beyond many other players.  Twice the Tour' leading money winner, Casper was the first player to win more than $200,000 in a single season, and with his 43rd victory in Los Angeles in 1969, he became only the second player to bypass $1 million in career earnings.  (My how things have changed.)
Arnold Palmer was known as the charger, but Casper made up huge deficits to beat Palmer, himself, at the 1966 US Open in San Francisco as well as well as coming from way back from a similar margin to beat Lee Trevino to win the Alcan Golfer of the Year Open in Portland.  And if Nicklaus or Palmer were a feared match play competitor, none rivaled Casper's Ryder Cup record of playing on eight Ryder Cup teams winning more points than any other American with 23.5!  Casper was also the non-playing Captain of the victorious 1979 American team.
As a senior Tour player, Casper won nine more times including two Senior "majors."  His last victory was the 1989 Transamerica title at Silverado, some eighteen years after winning the Kaiser International on the same course.
Casper was not known for being a long hitter, but he was a smart player and with his wristy putting stroke and terrific hand-eye coordination, one of the all-time best putters in golf.  Patterning his style of play after his idol, Ben Hogan, he was a thoughtful tactician on the course, never beating himself.  Like Hogan, he seldom smiled or showed much emotion.  Thus, Billy Casper did not attract nearly the attention of the so-called "Big Three" who were marketed full-time.  It seemed that he got more attention for his allergies, his unusual, but long ago abandoned buffalo diet, and his conversion to Mormonism.
Casper was introduced to the game of golf by his father before the age of five and began caddying at eleven.  Assisted by his father and uncle, the junior golfer would practice his game making use of three golf holes that they built in a cow pasture on his grandfather's ranch in New Mexico.  Casper attended the University of Notre Dame on a golf scholarship in 1950 before enlisting in the U.S. Navy.  He served until June 1955 and played on the Navy's golf team before turning professional.
Now eighty years young, it has been a long time since Billy Casper seriously competed, but he kept busy with corporate outings as well as his golf architecture and golf management companies.  Now he is largely retired and together with wife Shirley tends to his large family that includes eleven children, thirty-eight grandchildren, and eleven great grandchildren.  If I had a Fantasy League all-time golf team, you can bet that I would be seeking Billy Casper, quietly one of golf's all-time greatest players.  He could flat out play!
Shown below winning in 1970, none were more efficient around the greens as Billy Casper though he had the all-around game to back it up.
P.S.  Bill Casper passed away in February, 2015 and left a legacy of magnificent golf and an even greater one as a loving man and father!